Ellen DeGeneres Opens Up About The Emotional Last Days Of Her Show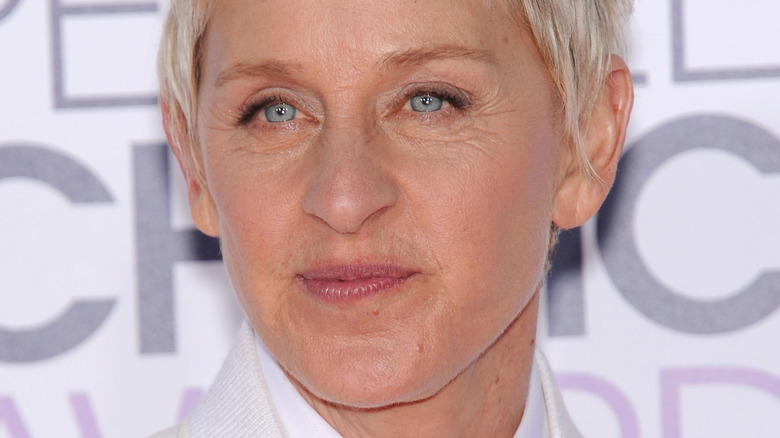 DFree/Shutterstock
Ellen DeGeneres is ending her eponymous daytime talk show, but as you might have guessed, it wasn't the easiest decision to make. Since its premiere in September 2003, "The Ellen DeGeneres Show" has gone on to become one of the most successful and respected shows in modern-day television. Per IMDb, "The Ellen DeGeneres Show" earned more than 120 award nominations and a total of 85 wins.
Given the show's huge success and popularity, it came as a shock to many fans and viewers when, in May 2021, DeGeneres announced that she was drawing the curtains. "I just needed something to challenge me," she told The Hollywood Reporter. "And as great as this show is, and as fun, as it is, it's just not a challenge anymore. I need something new to challenge me." So, if DeGeneres herself decided it was time to find a new challenge, you just might be surprised to learn that it wasn't all that easy for the television host.
Ellen DeGeneres cried for days over the end of her show
In May, Ellen DeGeneres recounted the wave of emotions she experienced over the end of her show. "There was a time a couple of months out where I was crying every day," she admitted to The Hollywood Reporter. "I knew it was time to end this chapter and to do something different, but still it was really emotional."
According to DeGeneres, her show's run-in with controversy over the years, including the toxic workplace allegations, contributed to the rush of emotions she felt while filming her last episodes. "There was a lot that happened during that time that was unfortunate but it is what it is," she reflected. "You go through stuff in life and you just keep learning and growing."
Per E! Online,"The Ellen DeGeneres Show" will air its final episode on May 29, having wrapped up filming back in April. "I'll miss laughing every single day with all of the people who became my family," she admitted. But despite being one of the most sought-after hosts of her time, DeGeneres plans to take a step back from hosting duties. If you are wondering what she will be up to, just know that DeGeneres might be catching a lot of planes. "I'm going to start traveling in a couple of weeks and try to enjoy my time," she revealed.