Did Scott Disick And Sofia Richie Just Make Their Relationship Instagram Official?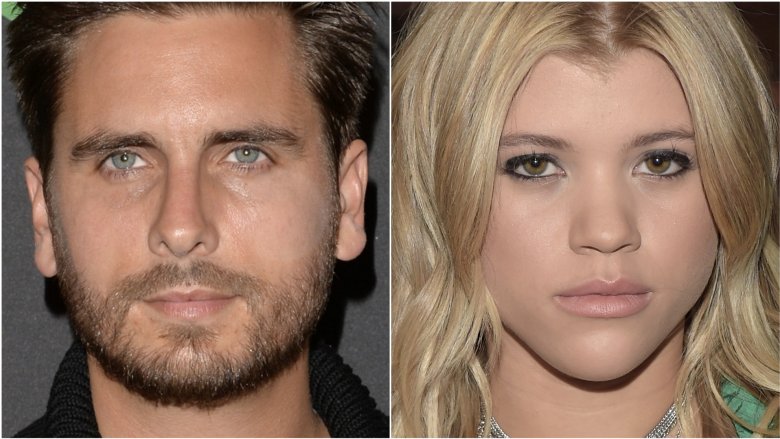 Getty Images
Looks like the Keeping Up With the Kardashians star and the up-and-coming model just went public with their romance.
As People reported, Scott Disick, 34, and Sofia Richie, 19, shared photos of themselves together on their Instagram accounts over the weekend of Sept. 23, 2017, documenting their trip to Miami, Fla. In one picture, the two pose in front of a blue sky. In another, Disick's face is hidden behind Richie's as the pair appear to hold each other close.
Later on, Disick and Richie were captured kissing at dinner, Us Weekly noted. And—what's more—a dessert plate with writing that read, "Congratulations Scott and Sophia," could be seen in front of them. What the two were celebrating is not clear—their social media debut as a couple, a secret engagement, or an unexpected pregnancy (not unlike Kylie Jenner's) could all be possibilities. However, considering that Richie's name was spelled incorrectly and that Richie later shared a photo of the plate's writing crossed out, it wouldn't be too much of a surprise to learn that the whole celebration was just a joke among friends.
Still, it'd seem that Disick and Richie have made their relationship official—though Richie had previously denied a romance with the reality star in May 2017, saying that she and Disick were "just homies."
However, it's possible that the two have grown closer since Richie's statement. In September 2017, a source told People that Disick and Richie have been "inseparable," adding that Disick "takes care of her."
Wonder what Disick's ex Kourtney Kardashian thinks of his new romance? Well, according to a source for Us Weekly, Kardashian, 38, finds the relationship "a little weird, but nothing shocks her anymore."
Sounds about right.
While we wait to learn more about Disick's new rumored relationship, read up on everything you need to know about Sofia Richie.