This Is Who Chicago Med Star Nick Gehlfuss Is Married To In Real Life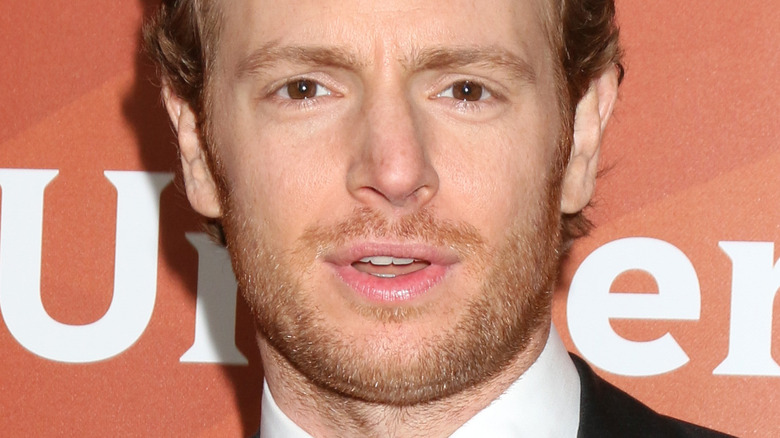 Kathy Hutchins/Shutterstock
Nick Gehlfuss is a "Chicago" stalwart after joining the popular franchise in 2015. He's always portrayed Dr. Will Halstead, appearing as part of the cast of "Chicago P.D." as the brother of Det. Jay Halstead, popping up in "Chicago "Fire" and working the wards amongst the cast of "Chicago Med." The latter was his first starring role. 
Per NBC, "[Dr. Halstead] balances the stresses of being the ER's supervising attending physician." He was central to the medical drama's main plotline, which revolved around Halstead's complex relationship with Dr. Natalie Manning, played by Torrey DeVitto. After Manning fell for the new med in town, Dr. Crockett Marcel, played by Dominic Rains, the tumultuous twosome finally parted ways. However, Halstead clearly still had feelings as he fell on the sword to save Manning's skin. But after the guilt became too much, Manning came clean, setting the scene for DeVitto to leave "Chicago Med" at the end of Season 6. 
Halstead had supposedly moved on from his affair with Manning. In the premiere episode of Season 7, though, he was there to wave goodbye as she packed up the car and headed to New York with her son. "I'm going to be OK," she reassured her longtime lover and colleague. Luckily for the actor, his off-camera love life is much less complicated and dramatic, as he lives in wedded bliss with his wife, dogs, and their baby. Here's who "Chicago Med" star Nick Gehlfuss is married to in real life.
Nick Gehlfuss' marriage is built on respect
"Chicago Med" star Nick Gehlfuss' real-life marriage is far from his doomed on-screen relationship. His wife, Lilian Matsuda, works in the non-profit sector. She started as a policy associate for Illinois Action for Children in 2019. Before that, Matsuda was a marketing whiz, running campaigns for top brands like Svedka Vodka and the Viceroy Hotel Group.
Matsuda and Gehlfuss both share a passion for philanthropy and advocacy work. Matsuda's Instagram feed includes calls to action on behalf of various movements and causes, including Black Lives Matter and Stop Asian Hate. Racial discrimination and injustice are subjects close to her heart. Matsuda is of Japanese American heritage, something both she and her husband celebrate.
Gehlfus is also an advocate for anti-hate campaigns and raising awareness for violence against women from the BAME community. "Proud to repost on behalf of my spectacular Japanese American wife, Lilian Matsuda. Within it is part of her story. Please read," he captioned a campaign notice. Gehlfus urged people to "read up on the history of Asian American policies and communities where you live" and "stop blaming women for experiencing violence." Matsuda is equally as proud and supportive of her husband. "It's been a long time since that Season 1 hair, babe. Happy 100th episode," she captioned a cute selfie of the couple on the "Chicago Med" set (above). So, when and how did the "Chicago Med" star get married in real life?
Inside Nick Gehlfuss' dream marriage
"Chicago Med" star Nick Gehlfuss married Lilian Matsuda in November 2020. It was on Friday the 13th, which may have proved ominous for some, but not for them. "It rained [in the morning], which is good luck," he told People. "And then it was perfect." The actor shared they said "I do" in Ohio in front of their family and friends.
Gehlfuss shared pics of their "perfect" big day on Instagram. "All [camera emoji] credit to @ginaryanphoto for capturing our amazing day," he captioned a beautiful photo of the newlyweds embracing, their noses touching, about to kiss, surrounded by countryside. He posted another pic, showing the two standing under a flower-adorned awning during the ceremony. "Man and woman are like the earth, that brings forth flowers in summer, and love, but underneath is rock," he captioned the pic before continuing with the rest of D.H. Lawrence's famous "Fidelity" poem.
Meanwhile, in addition to looking after two dogs, the couple became parents at the end of 2021. Matsuda shared a gorgeous photo of their baby's adorable, chubby little hand touching a poinsettia. The proud new mom captioned the pic with a loving tribute to her late mother. "Dear mama, I miss you every day. Christmas is not the same without you. I think my baby would laugh when you laugh [yellow heart emoji] we love poinsettias just like you. I will try to be as patient a mother as you were with me. I love you."