Katie Holmes Just Took A Huge Public Step In Her Very Private Relationship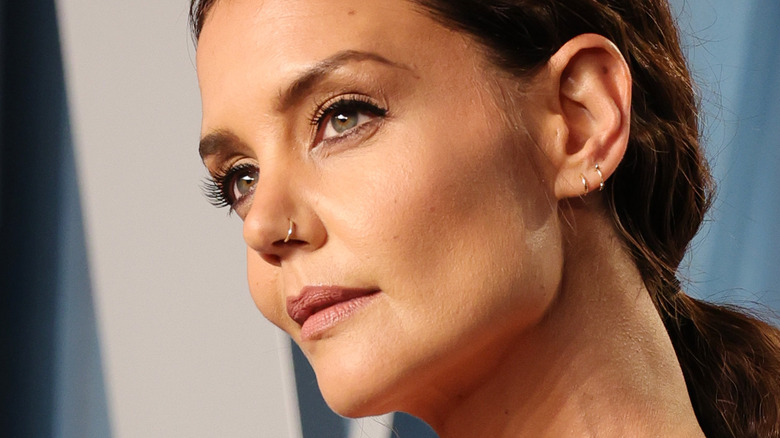 Rich Fury/vf22/Getty Images
After skyrocketing to fame as Joey Potter in the iconic early 2000s teen drama "Dawson's Creek," Katie Holmes received a huge boost in public recognition when her then-boyfriend, Tom Cruise, publicly declared his love for her on "The Oprah Winfrey Show" in 2005. There, he famously jumped on and off Winfrey's couch, fist-bumping the floor in excitement over their relationship. Though it seemed as though this relationship was meant to be (at least for Cruise), that is unfortunately not how it played out. However, Holmes's love life has come a long way since the two divorced in 2012. She has dated a number of men, both famous and non-famous, but has always preferred to keep them on the down-low. 
Keeping relationships private, however, can sometimes be a tricky task to manage as a celebrity, especially considering how high-profile her partners usually are. For instance, Holmes told Us Weekly in 2012 that her "first love" was her "Dawson's Creek" co-star Joshua Jackson. However, sometimes her normally private relationships can't attract the eyes of her fans — which just happened thanks to a very public step she took.
Katie Holmes made her red carpet debut with Bobby Wooten III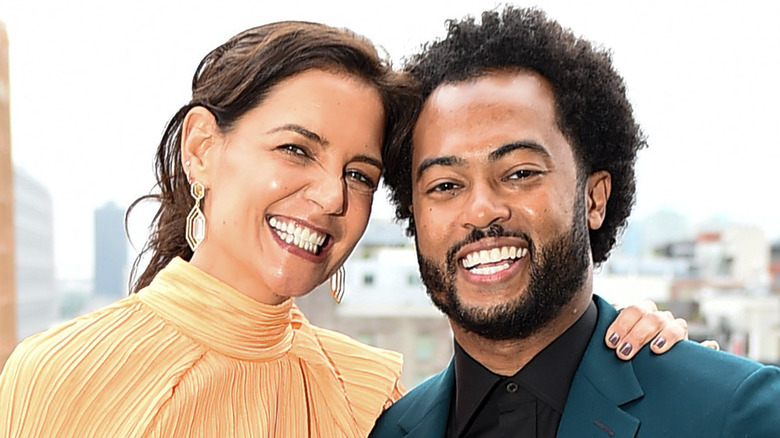 Ilya S. Savenok/Getty Images
Katie Holmes' latest relationship with musician Bobby Wooten III first became public in April, when the two were spotted strolling through Central Park, kissing and holding hands. The two never publicly declared their relationship official, however, until now. On May 26, Holmes and Wooten made a joint appearance as a couple at the Moth Ball Gala in New York. 
According to the Daily Mail, Holmes and Wooten were photographed together Thursday at the Gala, smiling gallantly on the red carpet, in the dining area, and outside on the balcony. This is Holmes' first public relationship since 33-year-old chef Emilio Vitolo Jr., with whom she was in a relationship for eight months, from around September 2020 until their breakup in May 2021. Although the tabloids were able to catch a number of shots of Holmes and the chef seemingly in love, not much else was known about their relationship. As of now, that seems to be the case with Wooten, though there are some things we do know about her new beau. 
Bobby Wooten III is a well-versed artist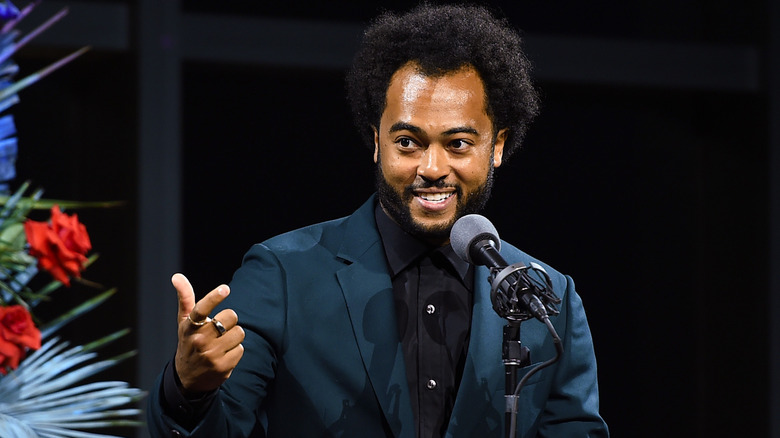 Ilya S. Savenok/Getty Images
Unsurprisingly, when it comes to her boyfriends, Katie Holmes has often gravitated toward artists. Her newest boyfriend, Bobby Wooten III, is no exception. Though he is relatively low-profile, there may be a reason she just decided to take such a huge public step in their otherwise private relationship: He is successful and well-versed in the arts. 
In a December 2021 interview with Bass Magazine, Wooten, a musician, revealed that he is a self-taught bassist, and learned how to play the piano from his grandfather. In addition, the New Jersey native is a Broadway star: He was a guitarist, dancer, and singer in David Byrne's "American Utopia." In addition, he has revealed on Instagram that he is an adjunct instructor at New York University, where he teaches music. He also performed at this year's Coachella alongside Carly Rae Jepsen, is currently performing bass for "Moulin Rouge" on Broadway, and plans to score a film for the first time. 
It isn't surprising why Holmes has no qualms taking her newest relationship public, as the two are no doubt clearly smitten. Only time will tell, however, if this relationship is the one meant to last.