The Unexpected Star JoJo Siwa Is Desperate To Portray In A Biopic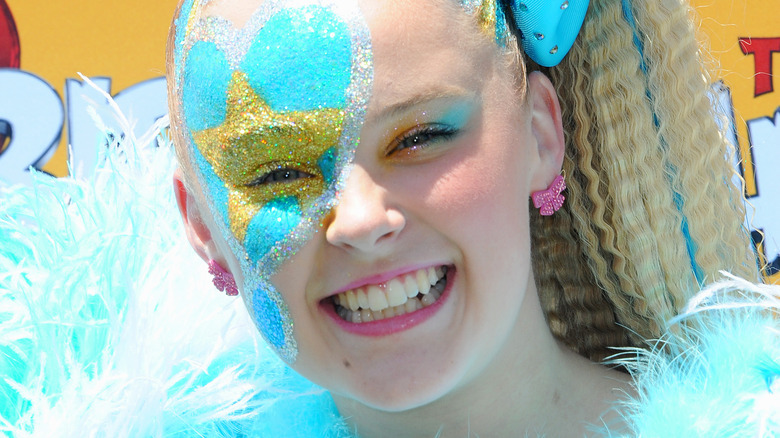 Tinseltown/Shutterstock
Pop superstar JoJo Siwa has lived an extraordinary life that seems more than worthy of getting its own movie treatment someday. But like many other ambitious young actors, she'd like to try on the skin of another star.
Being famous and portraying another celebrity can be a daunting, all-consuming task, as former "The Carrie Diaries" actor Austin Butler discovered when he signed on to play Elvis Presley in a biopic directed by Baz Luhrmann. "I basically put the rest of my life on pause for two years," Butler said while speaking to the press at the Cannes Film Festival, per People. "I just went down the rabbit hole of obsession."
But in an interview on "The Tonight Show," Siwa revealed that she's ready to take on a similar task after proving that the dance floor wasn't nearly big enough to contain her talent. The energetic entertainer was first introduced to reality TV fans on the "Dance Moms" spinoff "Abby's Ultimate Dance Competition," and she soon became a style icon and successful entrepreneur by creating her own line of colorful hairbows. She launched her pop career around the same time, and one of her earliest singles, "Boomerang," has since racked up over 950 million views on YouTube. Siwa also became an LGBTQ+ icon when she came out as gay in 2021, and the iconic woman she wants to further immortalize in film shares the same status within the community. But this is far from the only thing they have in common.
JoJo Siwa has a backup plan if she doesn't get cast as Lady Gaga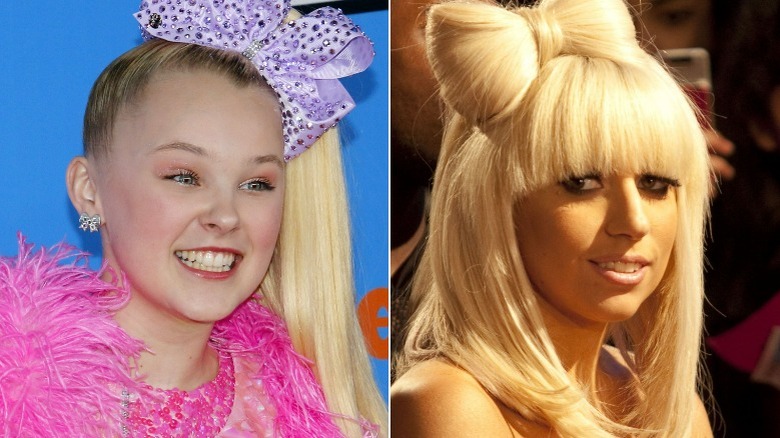 Tinseltown/Shutterstock & Jakubaszek/Getty
JoJo Siwa is ready to go from making history on "Dancing with the Stars" to belting out "Just Dance" in a movie. During a May 19 appearance on "The Tonight Show," she spoke about one of her next big career aspirations. "My dream is to play Lady Gaga in a biopic of her life some day," she said. Siwa does share many similarities with the "Poker Face" singer, including a fondness for oversized hairbows. However, Siwa would have to trade her bedazzled fabric accessories for bows made out of actual hair to accurately portray Gaga during her early career.
According to Siwa, she already knows many of Mother Monster's dance moves. She explained that she and Gaga both get help crafting their stage routines from choreographer Richy Jackson. Siwa confessed that she's even begged Jackson to offer up her services to Gaga as a backup dancer, saying that she's learned around two dozen of the "Born This Way" hitmaker's routines.
If Siwa ever gets to work with Gaga, she might want to ask for her biopic blessing. Gaga didn't extend this courtesy to Patrizia Reggiani, who was not happy when the pop star was cast as her in "House of Gucci." Reggiani told ANSA, "I am rather annoyed at the fact that Lady Gaga is playing me in the new Ridley Scott film without having had the consideration and sensibility to come and meet me."
What JoJo Siwa refuses to do in a movie
JoJo Siwa has done a fair amount of acting since partnering with Nickelodeon, but as she pointed out to Variety, she's usually playing herself. An example is the 2021 movie musical "The J Team," which was released on Paramount+. She got to be her usual peppy, sparkle-clad self, but the storyline about an evil dance instructor who hates all things glittery and fun was pure fiction. Siwa revealed that she hoped to branch out by playing characters that were in no way inspired by her own life, saying, "I want to do a movie kind of like 'The Greatest Showman' ... I think that playing a character in a musical — like Hugh Jackman played P.T. Barnum and Zendaya played the acrobat — that's really cool."
Siwa did eventually get cast in something that would have allowed her to stretch her acting muscles: the holiday film "Bounce," which was about a girl who relives the same Christmas Eve with different families. The role called for Siwa do to something she wasn't comfortable with: kiss a male co-star. She was dating Kylie Prew when she landed the lead in the feature film, and she explained to Entertainment Weekly that being "madly in love" further contributed to her discomfort. "I'm trying to get it pulled so bad," Siwa said of the scene.
The kissing scene did get cut — and the entire film later got scrapped. Siwa told Variety, "It wasn't the one."