The Special Part Taylor Swift Had In Hayley Kiyoko And Becca Tilley's Romance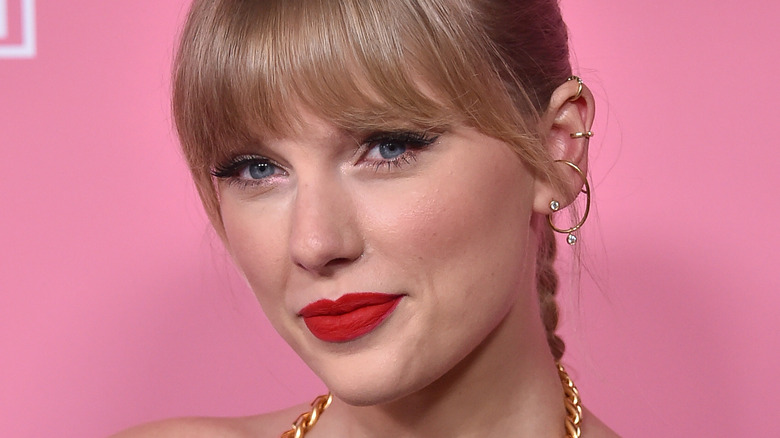 DFree/Shutterstock
It makes sense that some of the hopefuls who appear on ABC's "The Bachelor" are Taylor Swift fans; like the singer, the reality show stars welcome the world into their love lives — albeit in a more direct manner. Swift's cryptic song lyrics often keep fans guessing which ex-boyfriend she's singing about, but Bachelor Nation got a front-row seat when self-professed Swiftie Hailey Malles failed to win Clayton Echard's heart and got sent packing during the first rose ceremony of "The Bachelor" Season 26.
In 2016, "The Bachelorette" star JoJo Fletcher told E! News that she loves belting out Swift songs in the shower, and Hannah Brown actually got an Instagram Story shoutout from the singer when she waltzed to her song "Lover" on "Dancing with the Stars" in 2019. "This performance is so pretty and twirly," Swift wrote, per Entertainment Tonight.
Becca Tilley is another "Bachelor" alum whose existence has been acknowledged by the pop superstar, but before she revealed that she'd met Swift in the flesh, Tilley acted like an average fan by analyzing lyrics and freaking out over the release of "Evermore" on her Instagram Story. "I'm having a perspective shift about 2020 after this news," Tilley wrote of the latter, per Bachelor Nation. "2020 was the year of growth. And the year Taylor Swift released two albums." By then, however, Swift had done so much more for Tilley than drop a treasure trove of new music for her to enjoy.
Becca Tilley met Taylor Swift through girlfriend Hayley Kiyoko
After pursuing love on television (twice) and dating Robert Graham of "The Bachelorette" Season 9, Becca Tilley decided that she wanted to keep her next relationship under wraps. "I've been trying to keep it more low-key ... it's been tricky," she told People in 2018. One reason being sneaky was so tough was because she was dating someone who wasn't exactly unknown, "Feelings" singer Hayley Kiyoko.
Tilley was still trying to keep her romance with Kiyoko a secret in 2018 when she attended one of her girlfriend's performances in Boston. People suggested that it was likely when Kiyoko made a surprise appearance at Gillette Stadium to perform "Curious" with Taylor Swift. Tilley got to meet Swift backstage, and she later realized that being introduced to her idol as Kiyoko's girlfriend marked a big moment in their relationship. "I think that was the first person who knew outside of my friends and family," Tilley said of Swift on "Scrubbing In with Becca Tilley & Tanya Rad." She also revealed that the singer treated her like a friend, adding, "I thought that was a really cool thing."
Tilley and Kiyoko's big relationship reveal came when they portrayed "Bachelorette"-like characters in Kiyoko's "For the Girls" music video and they received an outpouring of support from members of Bachelor Nation, including Tilley's ex. "YESS!!! I love this so much," Graham wrote in response to an Instagram video celebrating the couple's love.