The Truth About Tom Holland's Brothers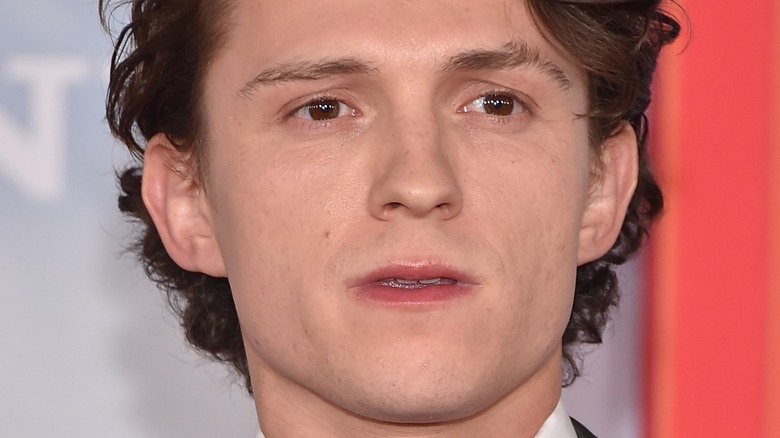 DFree/Shutterstock
British actor Tom Holland is arguably one of the biggest names in Hollywood right now thanks to his starring in one of the highest grossing movies of all time in the US, "Spider-Man: No Way Home." For someone who portrays such a high-profile character like Spider-Man, Tom prefers to stay out of the spotlight and keeps his family close anytime he may need a reality check. "No one will ever say no (to you) and no one will ever tell you anything bad. That is why I keep my brothers, my family very close because they will tell me that I am being a d*** or an idiot," Tom revealed, via KoiMoi.
With just a quick scroll through the star's Instagram, one can tell he is close with his family, and as it would turn out, he comes from a very creative-minded one. His mom Nikki Holland is an established photographer with her own business. Meanwhile, Tom's dad, Dominic Holland, is famous in his own right as a successful stand-up comedian, author, and radio host. With parents like that, it's not hard to tell where Tom got his talent from. But interestingly enough, it would seem the apple also doesn't fall too far from the tree in the case of his younger brothers Harry, Sam, and Paddy.
Harry Holland is talented both in front of and behind the camera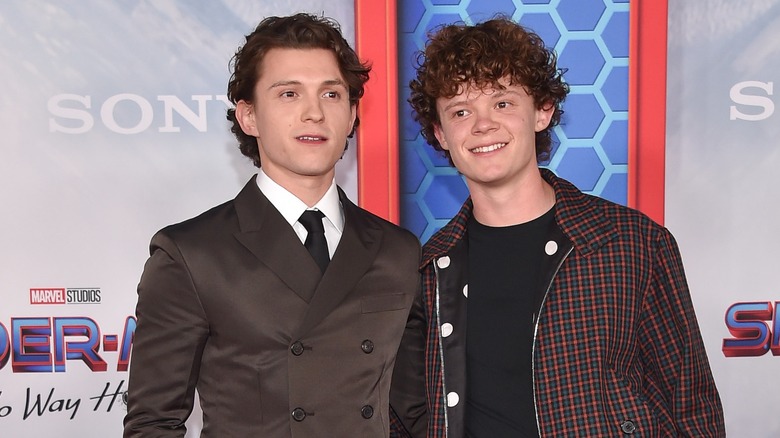 DFree/Shutterstock
Following the most closely behind in Tom Holland's footsteps is his brother and one of the Holland twins, Harry Holland. The 23-year-old has been in a number of films alongside his famous older brother, albeit mostly in cameo roles, per IMDb. Harry first appeared in the 2012 survival flick, "The Impossible," which happened to be Tom's first major on-screen role. Since then, Tom has made a habit of getting his younger brother cameo roles in his films. 
Harry had a minor role in the 2021 drama film, "Cherry." According to Tom, Harry's cameo in "Cherry" led to another minor role in the most recent Spider-Man film, "No Way Home." "My brother Harry has a small little cameo in ['Cherry'] where he plays a character called 'the shaker kid,'" Tom explained in an interview with ET. "So we now have this ongoing joke that the shaker kid is going to appear in every movie that I'm in." Tom goes on to say that they found a small role for Harry in "No Way Home," but unfortunately that scene never made it to the final cut of the movie.
Outside of acting, Harry works behind the camera and has directed five short films, two of which he's written himself. He also participates in charity work, alongside his other brothers, in The Brothers Trust, an organization aimed at raising funds for less-recognized charities.
Sam and Paddy Holland are equally as talented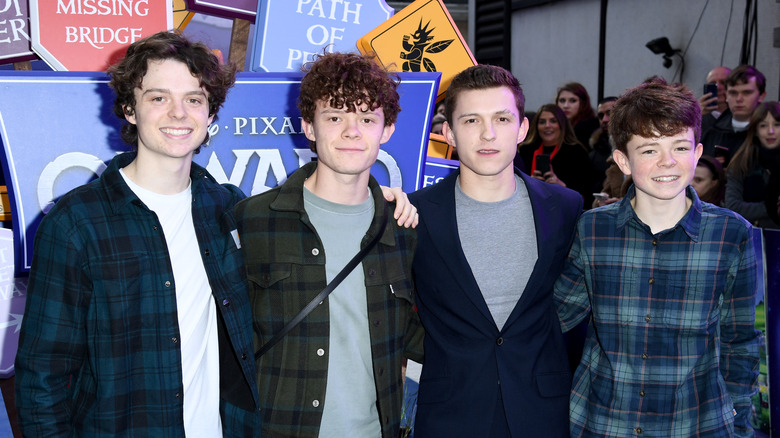 Gareth Cattermole/Getty Images
Unsurprisingly, Tom Holland's other two brothers have their feet in showbiz. Sam Holland has a few acting credits under his belt, all of which include his twin brother, Harry. Sam has a brief appearance on "The Impossible," alongside his twin and older brother. He also starred in Harry's short films, "Tweet" and "Roses for Lily." Outside of the entertainment industry, it would seem Sam has a deep affinity for cooking, enjoys golf, and has a special someone in his life he calls his "other half."
Meanwhile, the youngest Holland brother, Paddy Holland, is starting to carve out his own name in Hollywood away from his older brothers. The young actor has a number of acting credits to his name, including both of Harry's short films "Tweet" and "Roses for Lily" alongside his brother Sam, as well as a small role in the 2018 comedy, "Holmes & Watson." Paddy then landed the role of Montgomery (Monty) Cuttermill in the Apple TV+ series, "Invasion," which got his famous older posting on Instagram. Tom captioned a cheeky photo of the two, "Proud of you Padster man! I can't wait to watch it. Hopefully soon we'll get to work together." Additionally, Paddy is set to star in the Netflix adaptation of the young adult book series "Lockwood & Co." All in all, it would seem the Holland brothers are nothing short of talented.