The Truth About Stassi Schroeder And Brittany Cartwright's Friendship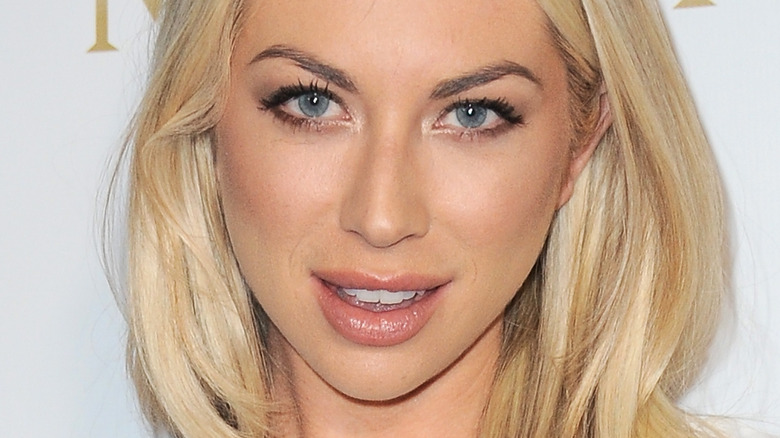 Albert L. Ortega/Getty Images
Stassi Schroeder and Kristen Doute were fired from "Vanderpump Rules" in 2020 for seriously problematic behavior. The duo was axed after they pulled a "racist "prank" against Faith Stowers in 2018 that involved filing a false police report about her. The two quickly apologized, but it was way too little, way too late. They were cut after 8 seasons on the reality TV show. The so-called Queen of Mean still manages to steal the spotlight, though. Schroeder hogged the headlines again in May 2022 after marrying Beau Clark for the second time.
Schroeder and Clark's first wedding took place in September 2020. They'd planned an extravagant wedding in Italy, but settle for a small California affair due to pandemic restrictions. However, Schroeder finally got her Roman holiday two years later. Us Weekly obtained photos of the wedding weekend. Some "Rules" cast members were there including Katie Maloney, Tom Schwartz, and Taylor Strecker. However, Stowers, Lisa Vanderpump, Scheana Shay, Tom Sandoval, Ariana Madix, Brittany Cartwright, and Jax Taylor were noticeably absent.
Schroeder and Taylor used to date, but despite an acrimonious split, they managed to rebuild their friendship, which is even more impressive given that he married Cartwright, their coworker, in 2019 after four years of dating. Schroeder and Cartwright are reportedly good friends, even going on double dates with their husbands. But what's the real story behind Stassi Schroeder and Brittany Cartwright's friendship? Are they genuine friends? Or are they dueling handbags at dawn frenemies?
Stassi Schroeder and Brittany Cartwright's friendship can be somewhat awkward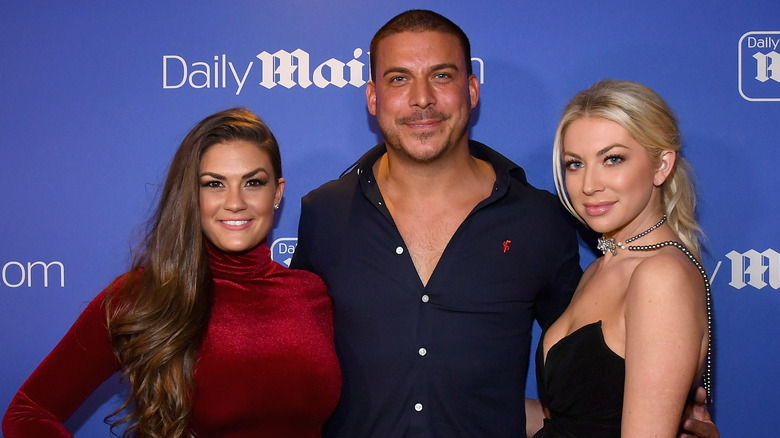 Slaven Vlasic/Getty Images
Stassi Schroeder and Brittany Cartwright's friendship can be a tad awkward. Like, do they compare notes about Jax Taylor? Schroeder credits herself with launching Taylor's career, claiming she was responsible for his big break. "He was not even supposed to be on 'Vanderpump Rules,'" Schroeder explained on the "Give Them Lala...with Randall" podcast, via Page Six. "I own him!" she (presumably) joked.
It soon became apparent, however, that the two weren't meant to be after Taylor cheated on Schroeder during a lads' trip to Vegas in Season 1. Schroeder discovered that what happens in Vegas doesn't stay in Vegas and dumped him. The two reunited for a hot minute before splitting again after he cheated on Schroeder with her BFF, Kristen Doute. Taylor worked his way on to Cartwright, and it seemed he'd finally found "the one" after a year together.
However, Cartwright spent the day with Schroeder instead of Taylor on their anniversary. They'd "become really close," Schroeder explained in a Bravo video. Oh, and Taylor had just had an affair with Faith Stowers, so Cartwright thought his ex could dole out some advice, as she'd "been there before." Schroeder actually did help, and the two reunited, going on to marry. But, when it came to jetting off to Europe, Cartwright and Taylor were nowhere in sight. So, what's the happs with Stassi Schroeder and Brittany Cartwright's friendship? Is it as shady as "Vanderpump Rules," or do they actually keep it real?
Stassi Schroeder and Brittany Cartwright keep it real in the friendship department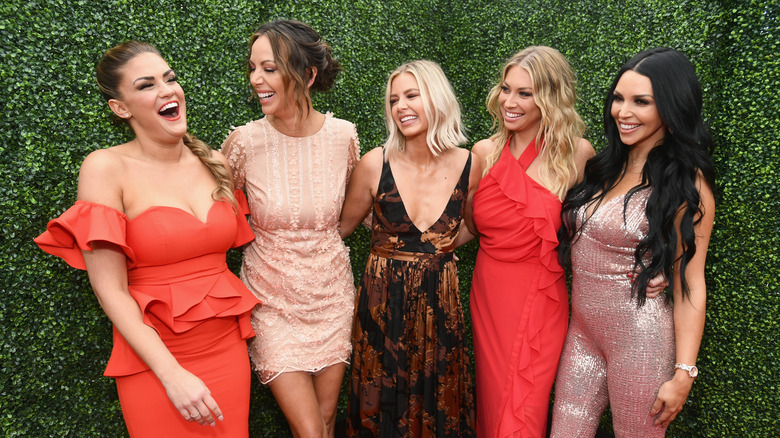 Emma Mcintyre/Getty Images
People have questioned whether Stassi Schroeder and Brittany Cartwright's friendship is actually genuine or if they just fake it to make it look real. It's a fair assumption, given that Cartwright, Jax Taylor, and most of the other "Vanderpump Rules" stars weren't at her wedding. Schroeder had asked Cartwright and Taylor to come to her second ceremony, but they reportedly declined. "Jax and Brittany were invited but canceled their trip," a source told Bravo and Cocktails. "Funds low?" they added, hinting that the couple might be a little strapped for cash right now.
However, according to Schroeder, it's the other way around — she's the one running low on funds. Shroeder said she had been forced to "disinvite" Cartwright, Taylor, and the others because of her personal finances. "Times are tough," Schroeder told "The Skinny Confidential Him & Her" podcast. She admitted she had to drastically cut back on the guest list and keep it small because the Italian wedding cost a fortune. Schroeder insisted she had not acted out of spite or malice.
Following Schroeder's racism scandal, Taylor and Cartwright had been among the few "Vanderpump Rules" crew to fight in her corner. Taylor got on board with the campaign to get Schroeder reinstated on the show and congratulated her on expecting her first baby with her husband, Beau Clark. Meanwhile, Schroeder was among the guests celebrating the first birthday of Taylor and Cartwright's son, Cruz.