What We Know About Sarah Hyland's Health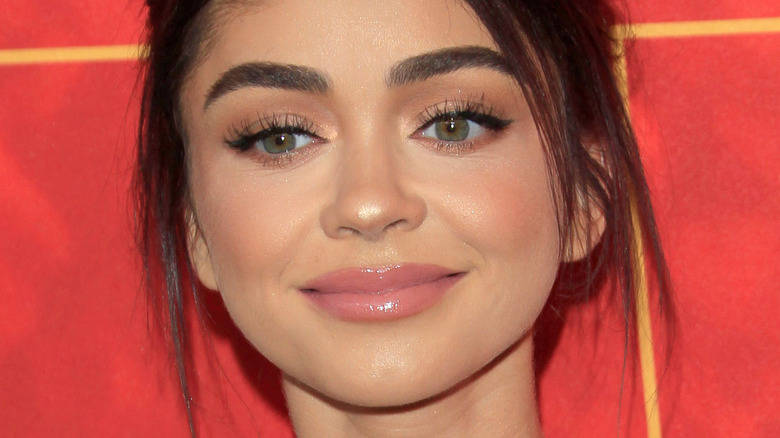 Kathy Hutchins/Shutterstock
On "Modern Family," Sarah Hyland played Hailey Dunphy, who was introduced to viewers as a popular high schooler with a feisty, rebellious spirit. The teen had an active social life and was always ready to squabble with her younger sister, Alex (Ariel Winter). But behind the scenes, Hyland was experiencing health issues that made it impossible to be as energetic as her character.
By the time she got cast in "Modern Family," which premiered in 2009, Hyland had already been hard at work in Hollywood for years. Per Insider, she began acting at the age of 5, with one of her first on-screen roles being that of Howard Stern's daughter in the 1997 movie "Private Parts." That entire time, Hyland was dealing with a condition she'd had since birth: kidney dysplasia. "I've always had health issues, and it's a really helpless feeling," she told Self in 2018. "Things like this can be really hard on a person."
Because "Modern Family" was so successful, Hyland spent 11 years shooting the show, which also meant that she had a busy schedule packed with interviews and red carpet events. But for a while, the actor didn't want fans to know that she was having a difficult time juggling it all. "I think a lot of people hide their struggles because they don't want to be seen as weak," she told Cosmopolitan. But when her kidney condition took a turn for the worse, making it through a day at work became a monumental task.
Sarah Hyland can't remember filming some Modern Family episodes
Sarah Hyland's kidneys eventually began to fail, causing her to suffer extreme exhaustion at work. "There are some episodes of 'Modern Family' where I do not remember filming because I was asleep," she said on the "Quitters" podcast, which is co-hosted by her former TV mom Julie Bowen.
One episode that has been completely erased from Hyland memory aired during Season 4 in 2011. When she was filming it, Hyland knew that she would soon need a kidney transplant. "You have to be a certain level of sick in order to receive a transplant, so I was reaching that certain level of sick," she explained. "I was not able to be awake for eight hours at a time."
Hyland's health issues caused physical changes that became a hot topic of discussion on social media. After losing a great deal of weight — in a 2018 post on her Instagram Story, she revealed that she weighed 75 pounds at one point (via ET) — Hyland denied speculation that she was struggling with an eating disorder. "I haven't had the greatest year. Maybe one day I'll talk about it but for now, I'd like my privacy. I will say that this year has brought a lot of changes and with that, physical changes," she tweeted in 2017. She also revealed that she'd spent months resting and recuperating, and she eventually opened up about why her health had worsened.
Family members helped Sarah Hyland in a huge way
In 2012, Sarah Hyland revealed that she'd undergone a kidney transplant. The donor was her father, actor Edward James Hyland. Sarah told Seventeen, "You know that family is going to be there for you no matter what. My dad gave me a freakin' kidney!" Unfortunately, she had to rely on help from a family member again when her body started to reject the organ in 2016. Her brother underwent tests to see if he could be a potential donor, and Hyland began dialysis treatments. Her weight plummeted during this time period.
In addition to her physical issues, which also included chronic pain and side effects from medication, Hyland had to deal with the mental toll of her unique situation when her brother proved to be a viable match in 2017. "I was very depressed. When a family member gives you a second chance at life, and it fails, it almost feels like it's your fault," she told Self. "I didn't want to fail my little brother like I failed my dad." 
Luckily, the transplant was a success, and Sarah's incredible support system has continued to grow. In 2019, she got engaged to "The Bachelorette" star Wells Adams, who went on his first date with Hyland three days before her second transplant surgery. Wells told Us Weekly, "I know Gal Gadot is Wonder Woman on film, but Sarah is the real-life version."