Was Lady Gaga Friends With Any Of Taylor Kinney's Chicago Fire Co-Stars?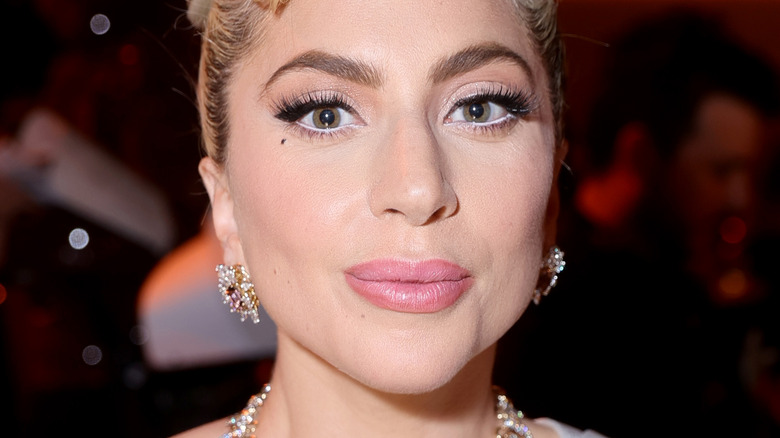 Emma Mcintyre/Getty Images
Stupid love! That is certainly what Lady Gaga was feeling after breaking up not only with her fiancé Taylor Kinney back in 2016, but also her friend Monica Raymund.
Back in 2011, Lady Gaga and Kinney met on the set of her "Yoü and I" music video. From there, the two began a whirlwind romance before Kinney popped the question in 2015. Taking to Instagram following Valentine's Day, Gaga announced to fans that her heart, and her left ring finger, were officially taken by Kinney. Following the announcement, the "Born This Way" singer continued to gush about her new fiancé saying how much she loved his support in all of her musical endeavors.
But by 2016, that support turned into a sore spot for the couple. At the time, a source revealed that long distance was impacting their relationship, per People. With Gaga working on a new album and Kinney starring in "Chicago Fire," the two simply couldn't make it work. Confirming the split, Gaga took to Instagram to say she and Kinney still loved one another despite the breakup, "Please root us on. We're just like everybody else and we really love each other." But now, it seems like not only was Gaga going through a romantic breakup with Kinney, but she also lost some "Chicago Fire" besties along the way.
Lady Gaga was best friends with Taylor Kinney's castmates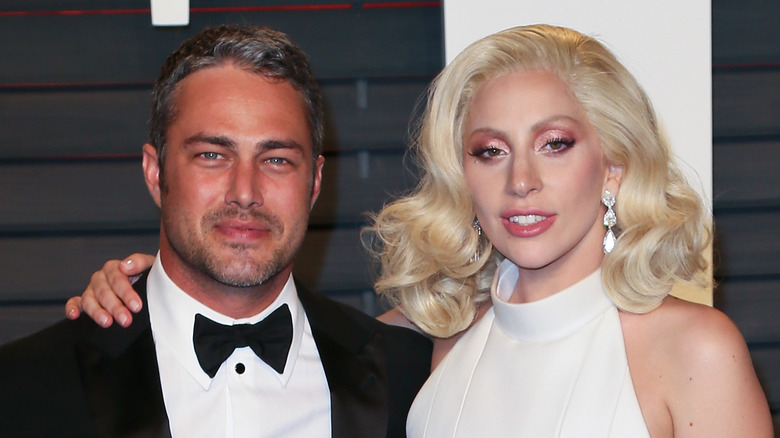 David Livingston/Getty Images
One of the best parts of Lady Gaga and Taylor Kinney's relationship was their support for one another — the one thing about Kinney that Gaga loved the most.
Back in 2016, following the pair's engagement, Gaga gushed that her fiancé had a soft spot for her and her music. "He's the first man that I have dated that, when I sing onstage, he cries," Gaga said. "That means more to me than anything," she continued, per People. But Gaga also returned the favor for her fiancé, explaining that the two bonded over their work, which was obvious because, during their romance, Gaga was spotted several times with one of Kinney's cast mates on "Chicago Fire," Monica Raymund, who seemed to become one of Gaga's best friends.
In 2015, Gaga posted several now-deleted photos on Instagram of her and Raymund, per the Daily Mail. In one, Gaga is sporting her short, blonde, Marilyn Monroe-inspired hair, while Raymund is seen looking off to the side with her hair swept back. "Actress sh**," Gaga captioned the photo, "More premiere night antics. I love her miss Monica Raymund." In another deleted post, Gaga posted the two "smizing" at the camera in seemingly yin and yang inspired outfits, with Gaga dressed in all white and Raymund in all black. Gaga captioned the post, "Chaos angel conversation with Monica Raymund." 
Lady Gaga and Monica Raymund had a friendship breakup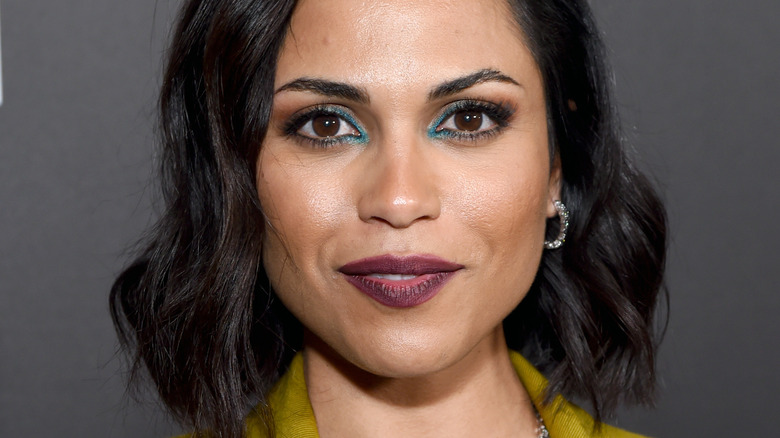 Michael Kovac/Getty Images
A picture is a worth a thousand words! And obviously, after the Instagram photos of Lady Gaga and Monica Raymund, it is obvious their friendship only continued when Taylor Kinney popped the question to Gaga!
In fact, Kinney and Raymund even worked to help Gaga prepare for her role as Countess Elizabeth in "American Horror Story: Hotel." Speaking with E! News back in 2016, Kinney said he and Raymund wanted to help Gaga be the best she could be. "We've gotten together Friday nights, Saturday nights to help my girl prepare, to help read, to get her off book, to give her choices," Kinney said.
However, despite lending a helping hand, when Kinney and Gaga spilt, it seems the "Chicago Fire" star had to pick a side and end her friendship with Gaga. Following the breakup, Raymund no longer appeared on Gaga's social media channels — and the photos Gaga once posted of the two of them have since been deleted. But, luckily, that doesn't mean Gaga feels the same way about Kinney. In fact, while Gaga attributes their breakup to her acting — and possibly intimidating Kinney with her success — her photos of her former fiancé are still on social media. And Kinney feels the same way. In 2019, when Kinney liked a shady comment about Gaga, he quickly took to social media to tell fans it was an accident and that he is "only proud and happy" for Gaga.