What Really Happened Between Kendall Jenner And Justin Bieber?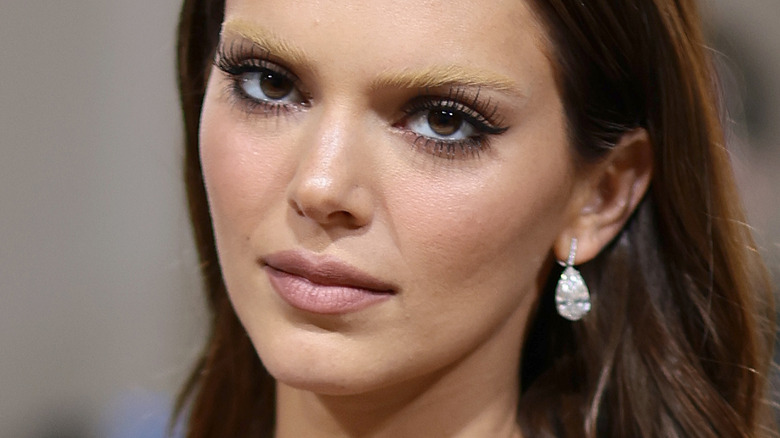 Dimitrios Kambouris/Getty Images
Hollywood is a small world, but it gets even smaller when you consider Justin Bieber's relationship with the first family of reality TV, the Kardashians. Per E! News, Kourtney Kardashian was once neighbors with the pop star before her younger sister, Khloé Kardashian, purchased his Calabasas mansion in 2014. Momager Kris Jenner has also been dating Bieber's former manager, Corey Gamble, for around eight years. The family's Bieber connection makes sense, given that the "Peaches" singer is close in age to the youngest KarJenner sisters, Kylie and Kendall Jenner, but the relationship web is even more convoluted than that.
In 2010, Kim Kardashian earned the wrath of Beliebers everywhere when Bieber jokingly posted a picture with her to his Twitter page and called her his girlfriend, per MTV. Shortly thereafter, Kim took to Twitter to let Bieber know that she was getting death threats from his fans, leading Bieber to ask everyone to calm down. "[Kim] is a friend. A very sexy friend but a friend. No need 4 threats," he tweeted (via MTV). Over the years, it seems like there have been flirtatious vibes between Bieber and several of the KarJenner sisters — who could forget his short-lived fling with Kourtney in 2016!? — but he has most often been linked with Kendall and Kylie. As of this writing, Bieber is married to one of Kendall's closest model friends, but there was a time when Beliebers everywhere wondered whether The Biebs might settle down with Kendall.
Kendall Jenner and Justin Bieber denied reports of a possible relationship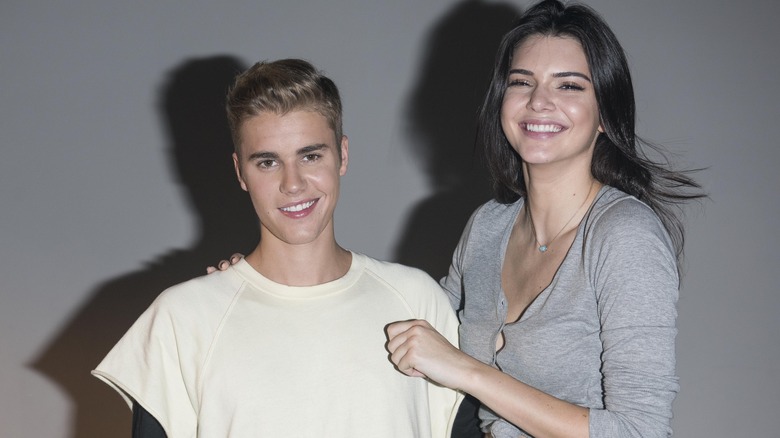 Xaume Olleros/Getty Images
In November 2014, Kendall Jenner was asked whether she and Justin Bieber were dating, given they had been spotted spending time together. "He's a longtime friend of our family," the model told "Nightline" (via E! News). "Everybody loves to assume things, but no." She added that prioritizing her modeling career didn't leave much time for a relationship. "I'm truly focusing on my career. If [a romance] comes, it comes," she added.
In April 2015, Jenner and The Biebs posed for a photoshoot for Vogue's spring issue. The twosome were in good company, as Hollywood's next-gen starlets — including Ansel Elgort and Gigi Hadid — also posed for the magazine. However, it was Bieber and Jenner who really got fans talking. The duo looked especially cozy in the spread. Per CBS News, this only perpetuated rumors that their relationship wasn't strictly platonic, though both parties continued to deny reports of anything romantic.
By November 2015, Bieber casually hinted that there may have been something going on with Jenner, after all. The "Yummy" singer gave an in-depth interview to Billboard about what he looks for in a woman, leading the reporter to state, "He says it was never serious with Kendall Jenner." The phrase "never serious" implies that they'd once been together. Of course, this is now ancient history as The Biebs is happily married to Hailey Bieber, while Jenner has been dating NBA star Devin Booker since 2020.
Did Justin Bieber ever date Kylie Jenner?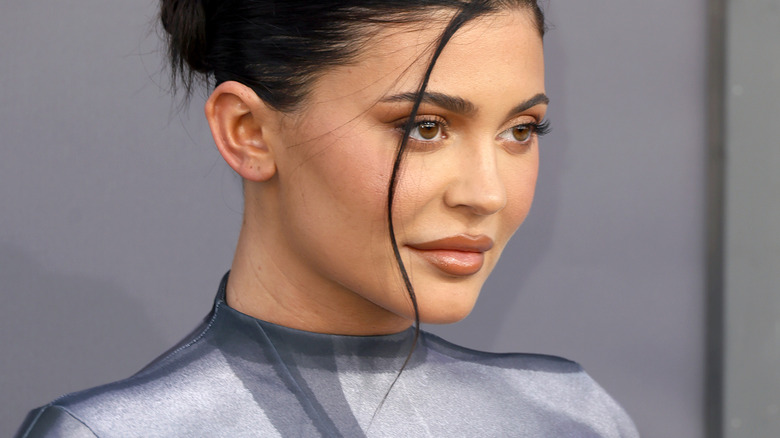 Frazer Harrison/Getty Images
While Justin Bieber may have been hooking up with Kendall Jenner, there's evidence that he could have been involved with Kylie Jenner, too. In 2014, Selena Gomez — who was then dating The Biebs — allegedly discovered suggestive photos and text messages from Kylie on Bieber's phone. "Selena flipped out and there was a huge fight between the girls," a source told Radar. "She now wants nothing to do with Kylie or Kendall." The Daily Mail backed up the reports, adding, "Kylie sent sexy pics of herself to Justin and that's what started the fight." Gomez unfollowed both sisters on Instagram shortly thereafter.
Like Kendall, Kylie maintained that she and Bieber were merely friends. In 2016, the mother-of-two gave an interview with ELLE, where she explained that she and Bieber were so close because they understood each other. "He's been through exactly what I've been through in a completely different way but very similar," Kylie said. "He just ... gets me. ...He helps me a lot." This interview came after Bieber praised Kylie, when speaking to Billboard in 2015. "I want people to be more kind to young celebrities. Like Kylie," he said. "Look at her world: She has been living on TV since she was a kid. Every time she's looking around she sees a camera, and that's affecting how she's thinking." Regardless of any possible flirtation, it seems like these two have been lucky to enjoy a supportive friendship, which continues today.