Does The Cast Of Stranger Things Actually Get Along?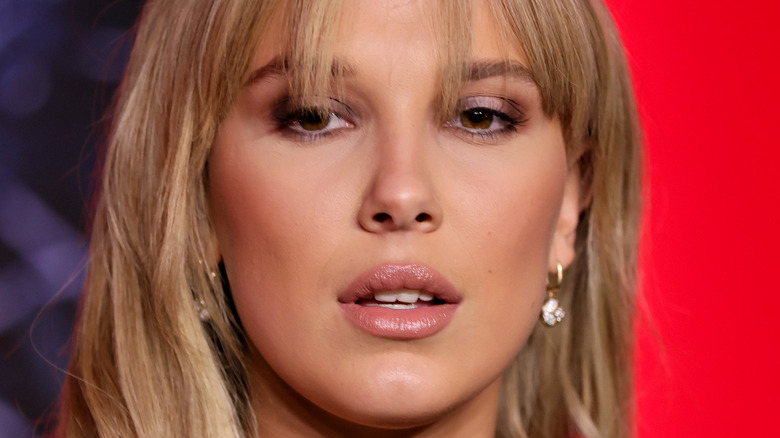 Theo Wargo/Getty Images
The hit Netflix show "Stranger Things" is arguably one of the streaming platform's biggest shows to date. The sci-fi drama series, which premiered in 2016, follows a group of kids as they battle demons, ghouls, and other creatures from a dimension known as the Upside Down. The show's third season broke a record for the streaming service in 2019, with 40.7 million global household viewers, setting the series up for an even more monstrous fourth installment.
The show stars actors Finn Wolfhard (Mike Wheeler), Noah Schnapp (Will Byers), Millie Bobby Brown (Eleven), Gaten Matarazzo (Dustin Henderson), and Caleb McLaughlin (Lucas Sinclair). And while the cast members are now between the ages of 17 and 20 years old, the group began filming the show when they were preteens. Casting director, Carmen Cuba, told Backstage in 2019, that they were lucky to find child actors with "individual traits." "What was great about this process was that we were able to find kids who had so much of their own individual traits and energy that they shaped their own characters organically," Carmen told the publication.
However, with the abundance of vivacious energy, one could be left questioning whether the cast of the hit series actually gets along off-screen.
There used to be 'rivalries' on set of Stranger Things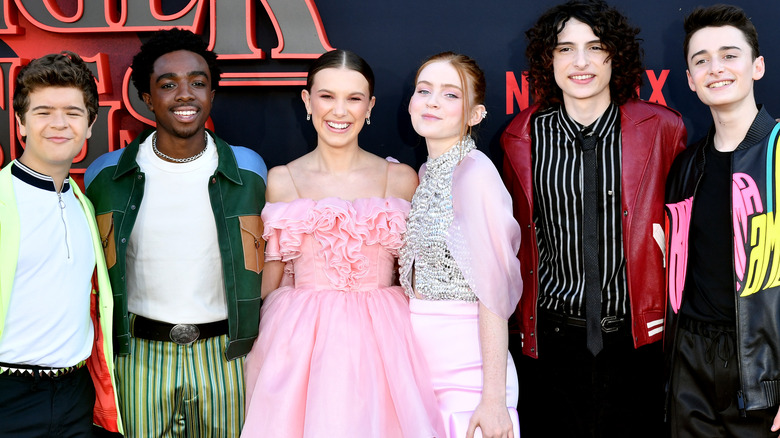 Amy Sussman/Getty Images
Netflix's "Stranger Things" is a hugely successful series. The show, currently airing the first half of its final season, has also catapulted its starring cast into superstardom. Finn Wolfhard, who stars as Mike Wheeler, previously opened up about "rivalries" between the cast members, but explained that it was due to immaturity.
"When you start a show that young, there's drama and there's rivalries because it's like school. And then you become older, and you stop caring," Wolfhard told The Washington Post in November 2021. He added, "I think it's actually such an incredible thing to come back to each other and be like, 'Wow, I really understand you. We're all going through this thing together. I love you.'"
Wolfhard's statements echo those made by co-star, Millie Bobby Brown, who said that while the group has a loving relationship, they often bicker like family members. "We are actually siblings. We argue all the time," Brown said, while speaking on a panel at PaleyFest in 2018 (via Daily Mail).
The Stranger Things cast gushes over one another
If there was ever any doubt that the cast of "Stranger Things" were friends in real life, their loving Instagram photos are proof of their close bond. Days after the show premiered in 2016, Gaten Matarazzo — who stars as Dustin Henderson — posted a photo of the cast on Instagram. "Love these guys," Matarazzo captioned the selfie. "Couldn't have done this without you guys. Love you with every little bit of my heart. WE MADE IT!"
More recently, Finn Wolfhard shared a collage from Season 4 of the popular series, which includes several behind-the-scenes photos and video from the new installment. "Volume one of @strangerthingstv is out on Netflix now," Wolfhard wrote in late May. "And my god do I love the people I made it with."
Noah Schnapp has also gushed over his castmate-turned-friend, Millie Bobby Brown, during an interview with Extra TV. "To get to work with Millie, it's been such a blast," Schnapp said the same month. Adding, "She's so talented and just working off of her is amazing and I just learn so much with her, so great ride."