Here's What Julianne Hough Looks Like Without Makeup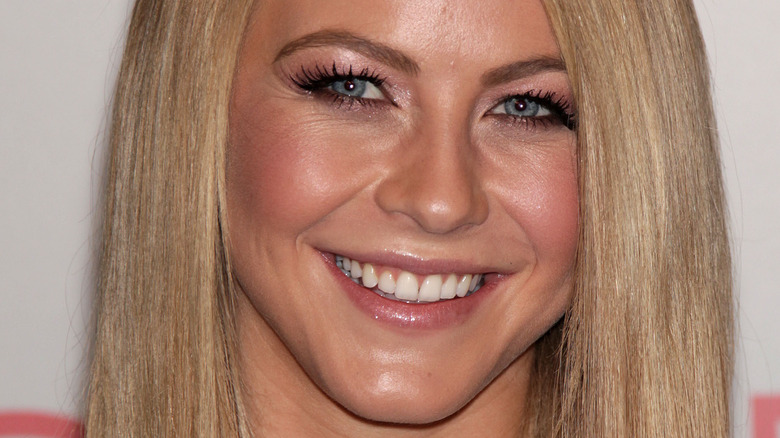 DFree/Shutterstock
Julianne Hough is a stunning natural beauty, that's for sure. We're mainly used to seeing the dancer turned actor all glammed up for a dancing gig, whether she's hitting the dancefloor with a celebrity partner or slipping behind the judging panel to give her critiques on "Dancing with the Stars." You'd be forgiven then for thinking that Hough may be so used to rocking the cosmetics that there aren't any barefaced snaps of her out there — but you'd be wrong.
In fact, it seems like Hough has really hit her stride when it comes to being comfortable in her own skin, often sharing snaps to Instagram without a stitch of makeup. Much of that comes with her age, as she explained to People in 2015. "I used to wear so much makeup. I think that also had to do with having to cover up my zits. I think we tend to feel comfortable and it becomes a sort of security blanket to have a lot of makeup on. That's why I love when my skin is fresh," the former "America's Got Talent" judge said. "I'm so much more comfortable in my skin today than I was at 18. I think a lot of that had to do with [being] focused on who I thought people wanted me to be rather than who I truly am."
So now we know Hough embraced those no makeup days, what does she actually look like under the cosmetics?
Julianne Hough's makeup-free Instagram moments
Julianne Hough has been known to share no makeup snaps with her followers on Instagram, including posting two gorgeous cosmetic-free photos in September 2021. The first image showed the "Safe Haven" star rocking a white robe during what she described in the caption as being a "solo retreat" where she switched off from the world for a little while. Hough's skin glowed as she enjoyed a little rest and relaxation, making it very clear this star glows from the inside out.
That's hardly the first time Hough has given fans a look at the natural her without makeup and filters, though. In May 2016, the star shared a super cute video from bed as she let her followers in on her early wake-up call in New York City. She was clearly in a pretty good mood (much better than we'd be in waking up at 5am, anyway!) as she showed off her blemish-free complexion and flashed a smile.
But those aren't the only times Hough's gorgeous makeup-free face has been seen on social media. The dancer revealed how much she loves a day away from the makeup chair in April 2019 when she shared a stunning selfie on Instagram while enjoying some outdoor time in the sun. "The best days are the ones spent with no make up on, in workout clothes, at home with loved ones," she wrote in the caption, before asking fans to share what their happiest days consist of.
Julianne Hough's glowing skin
It's pretty obvious that Julianne Hough has flawless skin, and she's been pretty vocal about how she achieved such a gorgeous complexion. Hough told Byrdie in May 2019 that she always uses moisturizer and SPF to shield herself from the sun, telling the outlet, "It's so important to protect your skin!" But just because she loves a makeup-free day, that doesn't mean she doesn't enjoy some time in the makeup chair and it sounds like she prefers to keep things a little more natural when she gets glam. Hough revealed that she sticks exactly to her skin's natural color when it comes to foundation and likes to use concealers that don't get cakey and give off a natural finish.
The star explained her decision to tone things down a little while speaking to Us Weekly in 2019. "The older I get, the less makeup I wear, which is funny because as a kid, you're always trying to look older and look like everyone else, but as you get older, you're like 'Wait, I want to look like me! I don't want to look like everyone else, so let me find what enhances, but doesn't change me," she admitted. And, clearly, we're not the only ones who think Hough looks jaw-droppingly gorgeous with or without makeup. "She's so beautiful. Without makeup," Hough's makeup artist Mira Parmar told World of Victoria Beckham in July 2020, revealing that the professional dancer loves her skin to have a glow.