The Truth About Maya Hawke's Brother, Levon Thurman-Hawke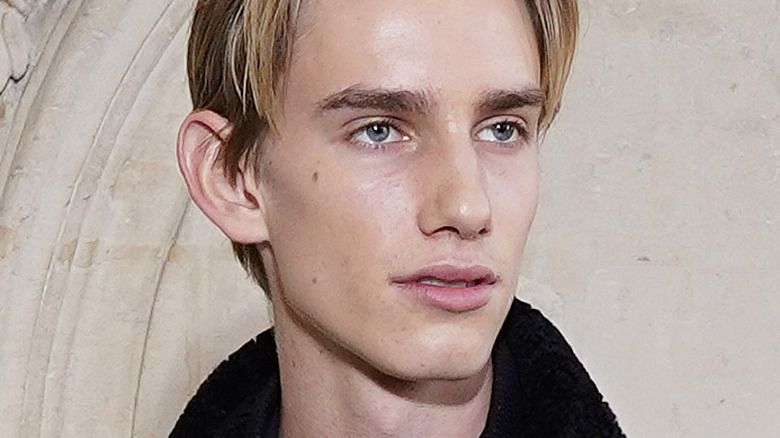 Francois Durand/Getty Images
Maya Hawke has made a big splash as Robin Buckley on "Stranger Things." Since her Season 3 debut, she has sparked rumors of a romance with her co-star (spoiler alert: the rumors aren't true) and she's landed some high profile roles, like Quentin Tarantino's "Once Upon A Time In Hollywood." "Maya is an incredibly smart, fearless, strong, young woman," director Gia Coppola, who hired Hawke for her movie, "Mainstream," said, per WWD. "I've learned so much about how to approach life by just being around her. It's no doubt she's going be a big star."
Perhaps her rise to stardom was pre-destined, considering she comes from golden Hollywood stock. Her parents are none other than actors Uma Thurman and Ethan Hawke. While they divorced in 2005, they still co-parent like superheroes, and according to Maya, they have offered her a plethora of acting advice, which has guided her through her career. Speaking with The Guardian in October 2021, she revealed they tried to warn her about the perils of Hollywood life. "They wanted to ensure I had a strong enough backbone, my own passion for it and work ethic. They didn't want ... me [to] do bit-parts in their movies. Once I was old enough, and it was clear they were my choices, they were very supportive."
That supportiveness has apparently transferred to their other child, Levon Thurman-Hawke, who's taking the plunge into acting alongside his sister.
Levon Thurman-Hawke is trying his hand at acting alongside his family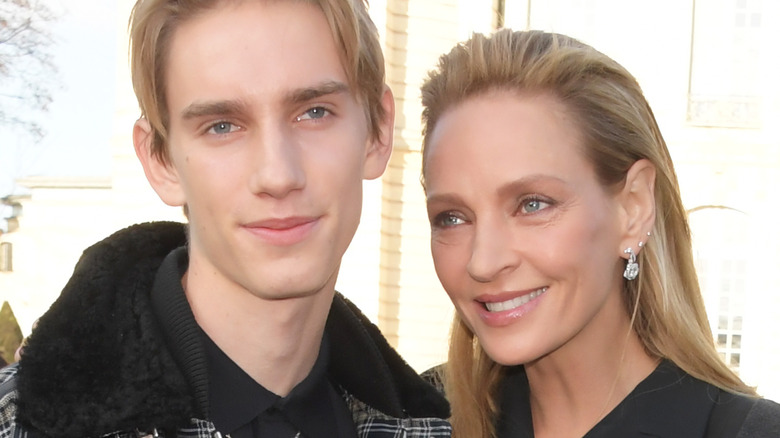 David M. Benett/Getty Images
In October 2020, paparazzi photos of Levon Thurman-Hawke made waves as it seemed he had joined his sister Maya Hawke as a cast member on "Stranger Things," formally taking the plunge into the family dynasty of acting. We now know, as Season 4 debuted in 2022, that so far, he's just been seen as an extra in the background of scenes by many disappointed Levon stans. Of course, as the season progresses, we could see more of him, but he also has a thriving acting career already in the pipeline.
In 2018, he made his debut in the movie "Blackout," per Vogue, and in May, he was spotted filming the Apple TV + series "The Crowded Room" on the streets of NYC, per the Daily Mail. In fact, the outlet reports that he received a pep talk from none other than his famous Oscar-nominated pop, Ethan Hawke. Photographs of Ethan visiting Levon on the set and the pair chatting and smiling in between shots prompted the outlet to speculate Levon was asking his "Dead Poet's Society" star father for some tips. 
Ethan surely would have a lot of advice to give, as he has wowed audiences for more than 30 years in classic hits like "Reality Bites," "Training Day," "Before Sunrise," and "Gattaca." It was on the set of the latter film that he met "Pulp Fiction" actor Uma Thurman, and their tumultuous relationship has left an impression on Levon.
Despite Uma Thurman and Ethan Hawke's divorce, Levon Thurman-Hawke is all about family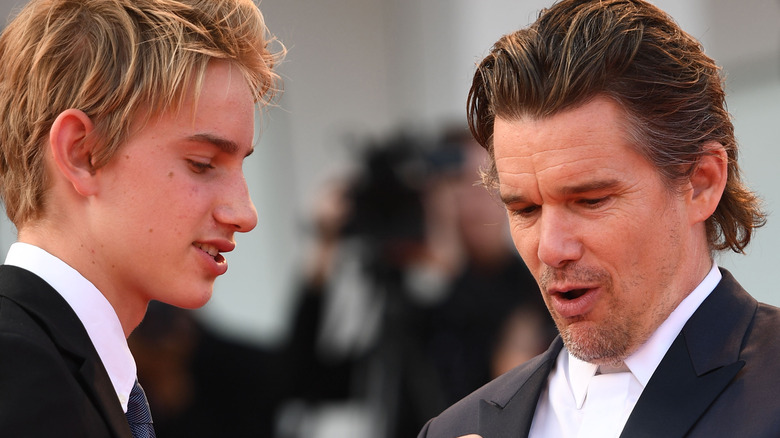 Ian Gavan/Getty Images
In December 2018, Levon Thurman-Hawke posted to his official Instagram a throwback of his mother and father, Uma Thurman and Ethan Hawke, cradling him and his sister Maya as kids. He captioned the pic with a series of heart emojis so we know his family is hugely important in his life. The "Kill Bill" and "Before Sunset" stars were married from 1998-2005, per Hollywood Life, and their divorce was especially difficult for the entire family. Ethan told GQ in 2018 that, "I got divorced and my personal life fell apart."
The "Batman and Robin" star spoke candidly about their divorce during her appearance on "The Oprah Winfrey Show" in 2005, admitting that she could "hardly talk" to her ex-husband at some points, but that they had to pull it together for their kids. "When you have two children, I think that's such a priority to protect them and to never lose sight of the fact that even if you're in a fight or even if things are going badly, it's in their best interest that everybody comes out okay."
We'd say Uma got her wish, as not only do Levon and Maya spend every Christmas together, but he is incredibly family focussed, posting to his IG happy snaps with his mom, his sis, and mom and sis together.