Britney Spears' Debut Music Video Almost Looked Very Different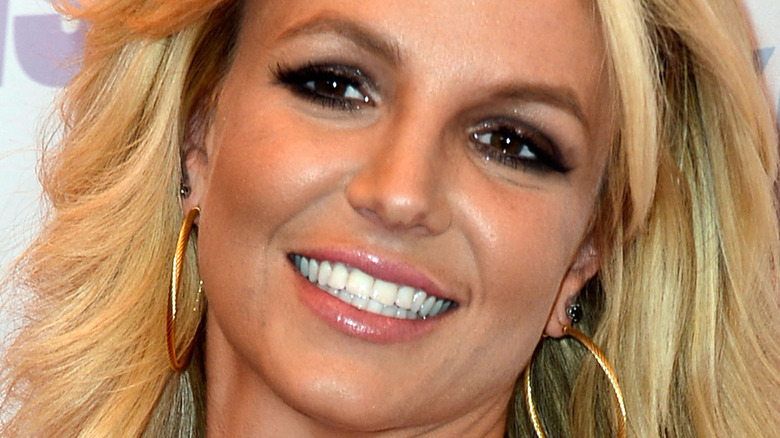 Frazer Harrison/Getty Images
Britney Spears broke onto the scene in the late 90s. Her debut song, "...Baby One More Time," was released on October 23, 1998, and quickly climbed the music charts. The then-16-year-old singer's popularity skyrocketed and her debut album went on to sell more than 14 million copies, according to Billboard. Spears would become the princess of pop, selling out arenas, traveling the world, and being one of the most popular names in pop music.
Spears often calls back to her hit debut single and has often performed some rendition of it whenever she's on stage. The song is a Spears classic and is recognized as such whenever discussing the entertainer's career. Although she didn't write the track, there were plenty of ways that Spears was able to make it her own. "I remember when we got it back with Britney on it, she had that 'oh BAY-BAY BAY-BAY,' these ad libs. We thought it was really weird at first. It was strange. It was not the way Max wrote it. But it worked," president of Jive Records Barry Weiss said, according to Entertainment Weekly. 
After the single was released, Spears and her team turned their effort toward the song's music video. And while just about everyone may be familiar with Spears' schoolgirl outfit and pigtails, that wasn't actually the original idea for the shoot.
Britney Spears came up with the school theme for '...Baby One More Time'
Britney Spears was just 17-years-old when she recorded her first music video. When she met with her production team, they told her their vision for "...Baby One More Time." However, Spears was not a fan. "They had this really bizarre video idea, this animated Power Ranger-y thing," she told Rolling Stone. "I said, 'This is not right. If you want me to reach four-year-olds, then OK, but if you want me to reach my age group ...'" she added.
Spears had a completely different idea that she proposed to team. "So I had this idea where we're in school and bored out of our minds, and we have Catholic uniforms on. And I said, 'Why don't we have knee-highs and tie the shirts up to give it a little attitude?' — so it wouldn't be boring and cheesy," Spears told Rolling Stone. Director Nigel Dick totally went for it and one of the most iconic music videos of the late 90s was born. According to Huff Post UK, the video was filmed at Venice High School in Los Angeles. The outlet also reported that all of Spears' outfits worn in the video were from KMart and her original, video-worn, schoolgirl uniform is on display at the Hard Rock Hotel And Casino in Las Vegas.
Britney Spears' first single was originally offered to other entertainers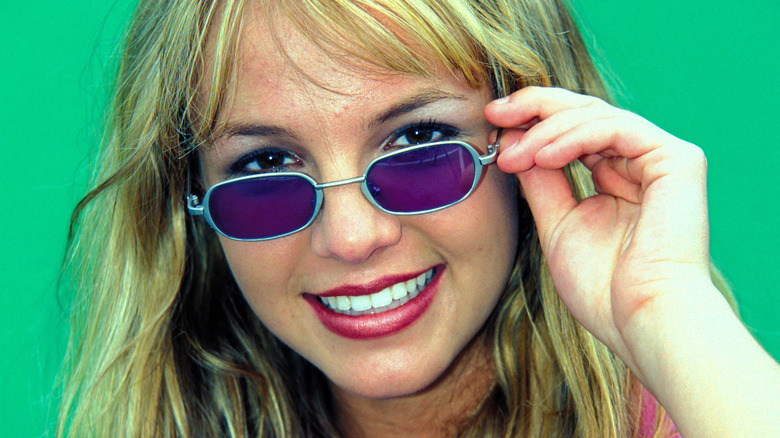 Larry Marano/Getty Images
Interestingly, Britney Spears' "...Baby One More Time" almost didn't even happen. The pop star was offered an opportunity to record the track after several other people in the music industry turned it down. According to MTV, the song was originally meant for TLC but the girl group decided they didn't want to record it. "I was like, I like the song but do I think it's a hit? Do I think it's TLC? I'm not saying 'hit me baby.' No disrespect to Britney," TLC's  T-Boz told the outlet. Huff Post UK reports that the song was offered to the Backstreet Boys and to the boyband known at 5ive but was turned down each time.
Perhaps it was fate as the song shaped Spears' career. "There's some songs that just have a timeless feel. I imagine if you said, 'Sing a Britney Spears song to me,' that's the one people would sing the hook to. That's what's ingrained into your mind as what she is," president of CHR Programming for iHeartMedia John Ivey said, according to Entertainment Weekly. And Ivey is probably right. The music video for "...Baby One More Time" has been viewed more than 700 million times on YouTube.