The Most Iconic Britney Spears Moments
This content was paid for by Netflix and created by Nicki Swift.

There's a reason Britney Spears continues to be one of the most beloved artists of all time. Ever since she was a child, Spears has been an electric force in show business, and she continues to reign as the "Princess of Pop" after decades of making highly memorable music. Spears has also become legendary in recent years for her personal strength and resilience in overcoming a myriad of very publicized obstacles — some of which are detailed in the new documentary "Britney vs. Spears" — and emerging from it all as the ultimate entertainer. 
Her ability to remain at the tippy top of the A-list and continuously evolve, while always remaining true to her individual spirit, makes Spears one of the most impressive talents in the industry. So, to celebrate Spears' career, here's a look at some of her most iconic moments ever.
A true talent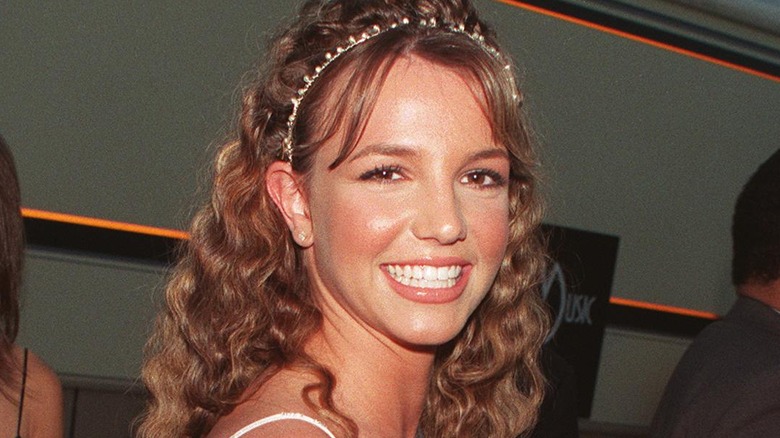 Denny Keeler/Getty Images
Spears was always a natural when it came to performing for a crowd. Born in McComb, Mississippi, her innate star power took over as she embraced having an audience. And eventually, her family moved to New York where she became an understudy for the leading role in an off-Broadway musical called "Ruthless!" She also memorably performed on the hit reality competition series "Star Search" and starred in several major commercials at a very young age.
Things really progressed when she became one of the rising mega talents who appeared on "The All-New Mickey Mouse Club" in 1993, performing alongside a bevy of other eventual superstars like Justin Timberlake, Christina Aguilera, Keri Russell, JC Chasez, and Ryan Gosling. Even then, when she was barely into double digits, it was clear that her star was on the rise. Indeed, Spears nabbed her first record deal at the age of 15, and soon, her name would be known around the globe. 
An instant icon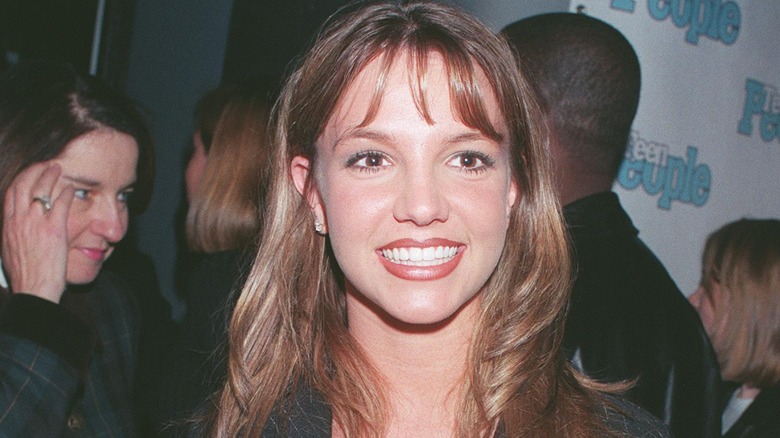 Denny Keeler/Getty Images
Few singers have ever had quite as big a breakout as Spears did when her first song hit airwaves in late 1998. Her leading single, "Hit Me Baby (One More Time)," was a massive success, and her accompanying music video was hailed as the most iconic ever on "Total Request Live." Not only did she dominate the charts with her unforgettable number, but she also earned her first two Grammy nominations – Best New Artist and Best Female Pop Vocal Performance – and she even set a world record for best-selling album in the United States by a teenage solo artist.
Credit goes to Spears for conceptualizing the video that continues to rack up millions of views because she was the one who suggested to director Nigel Dick that they make a video featuring her and other dancers in classic school girl gear with a modern twist. The song instantly cemented her status as a pop sensation, and her subsequent singles from the album "...Baby One More Time" — "Sometimes" and "Born to Make you Happy" — showed off her vocal versatility and utter command of the music video screen. The album's third single release, "(You Drive Me) Crazy," was also the leading track on a popular 1999 romantic comedy film "Drive Me Crazy." 
In 2000, Spears kicked off her second studio album release with another dance-pop sensation and energetic video drop in "Oops! ... I Did Again," which featured her in an indelible eye-catching red leather jumpsuit and plenty of power. Spears has since continued to impress with her catchy music and inventive and stylish music video performances that have become a hallmark of her artistry. Spears' ability to continuously surprise and delight fans with her bold — and sometimes semi-biographical — videos has never wavered. She even won a Grammy for her unforgettable video for the 2004 song "Toxic," which featured her as a flight attendant with her head in the clouds, and it was legendary from liftoff. 
Put simply, Spears has been smart right from the start about coupling her exciting new releases with some edgy visual dynamics to ensure everyone would take notice of her work for decades to come.
A stage sensation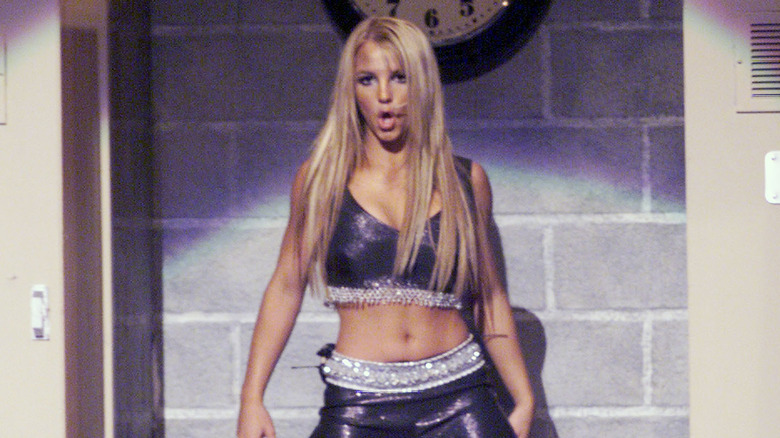 Frank Micelotta Archive/Getty Images
It's not just her sharp songs and creative videos that made Spears a major titan of the music industry from the very beginning of her career. She's also consistently brought her A-game to the stage to become one of the most memorable performers, even in evenings packed with other acts.
Her stunning series of performances at the MTV Video Music Awards, for example, are still among the best that have ever happened at the show. Her debut at the 1999 awards was a powerhouse, as she performed her debut single in a coordinated showcase with *NSYNC that harkened back to her high school-themed video. The following year, she knocked off all the socks with her unplugged split performance of a "Satisfaction" cover and her own hit single "Oops! ... I Did it Again," during which she shed her sleek business suit for the tan bodysuit heard 'round the world. Her VMAs dominance reached an absolute apotheosis in 2001, when she hit the stage to perform "I'm a Slave 4 U" with an albino Burmese python draped around her neck. There was already no question that Spears was a standout of the show before, but this was a moment, and she knew it better than anyone.
Spears' supreme stagemanship wasn't limited to the VMAs, of course. She also rocked the house during her 2001 Super Bowl halftime show performance of "Walk This Way," sharing the stage with other pop and rock royalty like Aerosmith, *NSYNC, Mary J. Blige, and Nelly. And, as if to answer anyone who doubted her ability to hit the right notes, she blew audiences away with her authentic, delicate performance of "I'm Not a Girl, Not Yet a Woman" at the 2002 American Music Awards. But when she did return to the VMAs stage in 2003, she joined forces with some serious all-stars in Madonna, Christina Aguilera, and Missy Elliott, even sharing an unforgettable smooch with Madge on-stage.
Perhaps her most breathtaking stage ownership happened at the 2016 Billboard Music Awards, when Spears treated audiences to a full-on medley of her greatest hits, including "Work B***h," "Womanizer," "I Love Rock 'N Roll," "Breathe On Me," "I'm a Slave 4 U," "Touch of My Hand," and "Toxic." Not only did she bring the heat with her signature bold ensemble and energetic dance routine, but she also radiated with confidence and the knowledge that she's one of a kind. Spears' kinetic stage presence is the reason she became such a scorching hot act during her residency in Las Vegas.
A fashion frenzy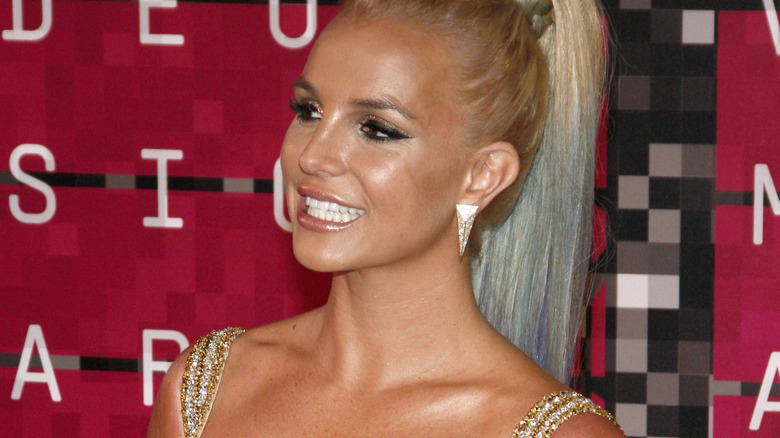 Tinseltown/Shutterstock
Another essential element of Spears' pop culture dominance has been her savviness with style. From the moment she catapulted onto the A-list, Spears has always been committed to maintaining her own unique fashion sense, from her signature ultra low-rise jeans and bold halter combos in the earliest days to her trendsetting hats and reimagination of athleisure wear and message shirts.
Spears has never shied away from wearing what works for her, and she's also broken the mold in some unforgettable ways with her sartorial excellence as well. Consider how instantly iconic her all-denim dress was when she showed up with Justin Timberlake in a Canadian tuxedo to the 2001 American Music Awards. Not only did she manage to make the jean gown high-fashion, paired with some great accessories, but she etched her place on red carpet history forevermore with the selection.
Spears has also known exactly when to make a statement with her attire, including when she posed in nothing more than a necklace and newly darkened hair for her iconic Harper's Bazaar cover shoot during her pregnancy. And her solid sense of style has continued to impress in recent years, notably with her ultra flattering silver minidress at the 2008 VMAs, where she looked smashing as she collected a trio of new Moonmen trophies. Then, there's also the matter of her breathtaking gold gown and playfully colored ponytail at the 2015 VMAs, as well as her elegant black cutout dress at the same event the following year. Her best accessory at those shows, of course, was her sparkling smile.
A screen star
Britney Spears' pop culture dominance has also earned her a lot of screen time in Hollywood. In addition to being a sought-after commercial star for brands like Pepsi, Candie's, and Kenzo, she's also flexed her acting chops in quite a few memorable screen roles. In the 2002 cult classic "Crossroads," which was written by Shonda Rhimes, Spears was one of the three film leads alongside Zoe Saldana and Taryn Manning, and she more than held her own in the tender coming-of-age adventure story.
She's also enjoyed some unforgettable guest roles on the small screen, including her take-notice turn as Amber-Louise in "Will & Grace," her recurring role as Abby in "How I Met Your Mother," and her meta roles as herself in series like "Glee" and "Jane the Virgin." If that wasn't enough, Spears eventually returned to her reality competition roots as a judge on the sophomore season of the American reality show "The X Factor."
All in all, for more than two decades, Spears has continued to raise the bar with her magnetic presence on the screen, stage, and red carpets, and she's not slowing down any time soon.