The Real Reason Sharon Stone Kept Her Famous Basic Instinct Dress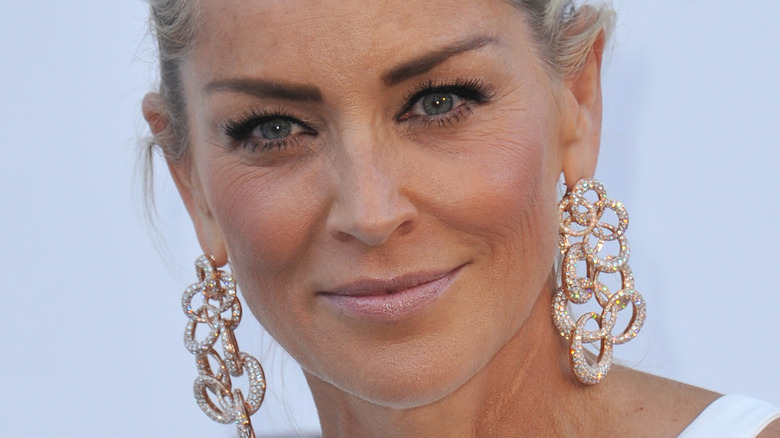 Featureflash Photo Agency/Shutterstock
Sharon Stone has a complicated relationship with "Basic Instinct," the erotic thriller that transformed her into a household name as soon as it came out in March 1992. The Paul Verhoeven film was immediately controversial, with women and LGBTQ+ activists criticizing its overt use of violence and disturbing depictions of gay and lesbian characters, the Los Angeles Times reported. "The linking of sex and violence and the [sexual assault] scene are handled in an obscenely irresponsible fashion," said Jehan Agrama, then-leader of GLAAD's local chapter.
Behind the scenes, Stone contends she was experiencing sexist treatment at the hands of the director and producers as well. To begin with, the actor was reportedly unaware her private parts would be exposed during the infamous crotch scene, she argued. Stone made the shocking revelation in her 2021 memoir, contending she was led to believe she needed to shoot the scene sans underwear to prevent it from reflecting light, she wrote (via Vanity Fair).
Verhoeven denied Stone's version of the "Basic Instinct" notorious moment. "Her version is impossible. She knew exactly what we were doing," the Dutch director told Variety in July 2021. Verhoeven had shared with the team the scene was based on a real-life person who often crossed her legs without underwear at parties. "Then Sharon and I decided to do a similar sequence," he detailed. Despite the actor's reservations about the scene, Stone kept the white dress as a memento — and she has a very good reason for it.
Sharon Stone kept the dress because of gender-pay disparities
Three decades may have passed since Sharon Stone donned the white turtleneck dress known more for what it showed than for its style, but Sharon Stone still keeps it in her closet. She made the decision before "Basic Instinct" was even filmed, though. "I put in my contract that I could keep the clothes," she noted in her February 2022 essay for InStyle. The reasons were also completely unrelated to the infamous scene itself. "People thought I was crazy, but the truth is I wasn't getting paid much compared to my male co-star," she detailed.
According to Stone's version, the pay difference wasn't minimal, either. "I made $500,000; Michael made $14 million. So keeping my costumes was a really smart thing to do," she wrote. In more recent years, Stone has become vocal about the sexism prevalent in Hollywood in the pre-#MeToo era, including pay disparities between male and female actors.
Accepting the low pay to play the role of Catherine Tramell had long-lasting consequences, opening her eyes to many pay-gap issues that plague the industry. "After 'Basic Instinct,' no one wanted to pay me," she told People in November 2015. "I remember sitting in my kitchen with my manager and just crying and saying I'm not going to work until I get paid." But there was nothing she could do. "I still got paid so much less than any men," she told the outlet.
Sharon Stone has come to terms with the infamous scene
Sharon Stone has no regrets about starring in "Basic Instinct," even though she knows mistakes were made. "Regrets are like farts, you can't get them back. Once they're out, they're stinky and gone," she said on "A Current Affair" in May 2021 (via Yahoo!). Stone also had the choice to block the crotch scene before the movie was released and ultimately opted against it, she detailed in "The Beauty of Living Twice" (via Vanity Fair). "I thought and thought and I chose to allow this scene in the film. Why? Because it was correct for the film and for the character; and because, after all, I did it," she wrote.
Over the years, Stone has expressed gratitude for "Basic Instinct" and the effect it had on her career. "I'm really glad that the fame and the clout that that film brought me has allowed me to make other pictures and to do the humanitarian work that I do," she told reporters in Berlin in February 2007, Reuters noted.
Stone also often pays tribute to the neo-noir flick on social media. In June 2021, she shared a photo on Instagram of herself in a black shirt featuring the infamous scene on the front. "Been there, done that," she captioned the post. Stone also marked the film's 30th anniversary in March. "Thank you to [Michael Douglas], [Paul Verhoeven, and] @studiocanal for all the great memories," she wrote in a separate post.