The Truth About Dr. Phil's Relationship With Oprah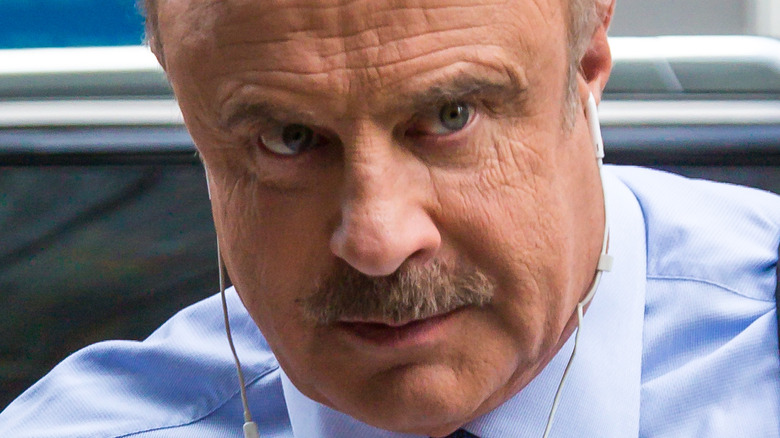 Liam Goodner/Shutterstock
Oprah Winfrey started her career as a reporter for an ABC Baltimore affiliate in 1976 and rose to become the leading daytime TV talk show host. "The Oprah Winfrey Show" premiered in 1986 and ran until 2011. "This show has been my life, and I love it enough to know when it's time to say goodbye," a tearful Winfrey said during the show's last episode, via ABC. The show allowed Winfrey to become one of the wealthiest self-made women in the country. According to Celebrity Net Worth, the TV titan is worth $3.5 billion.
She's so famous, Winfrey even became a member of the elite "first name club" along with Madonna, Cher, and Ellen. She's so influential she's been credited with launching multiple entertainment industry careers. What is now considered the "Oprah Effect" propelled the careers of Suze Orman, Dr. Mehmet Oz, Rachael Ray, and Dr. Phil McGraw, among others.
The controversial and polarizing McGraw landed his own gig in 2002. And despite decades of viewership, Buzzfeed insisted its time that the Dr. Phil show was axed in a 2021 exposé. The outlet claimed, "When it comes to [McGraw's advice], nothing would be better than anything he has to offer." With so much controversy surrounding his alleged "toxic" work environment, many are left wondering: How's his relationship with Winfrey these days? 
Oprah and Dr. Phil have known each other for decades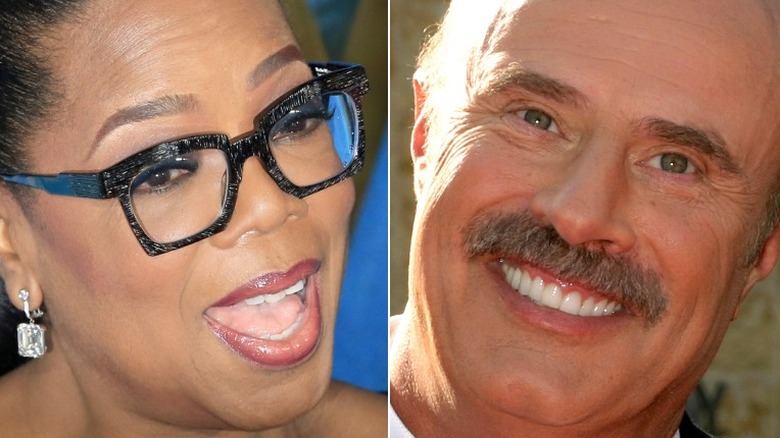 Cubankite & carrie-nelson/Shutterstock
Dr. Phil McGraw's relationship with Oprah Winfrey spans back decades. According to Time, they first met when she hired McGraw's legal firm to represent her against a beef industry lawsuit in 1995. It resulted in a win-win for both parties. Oprah was victorious in court, and McGraw successfully got his foot on the TV ladder.
Dr. Phil began popping up on Winfrey's show in 1998. He appeared as a regular guest relationship advisor and general life coach, per The Richest. His down-to-earth and no-nonsense persona, Texan Southern charm, and relatability made him a fan favorite. So, it was a no-brainer Winfrey's company, Harpo Productions, should develop a stand alone vehicle for McGraw. In 2002 the "Dr. Phil" show was launched and quickly became the second most popular daytime show (behind Winfrey, of course).
Is Dr. Phil really a doctor, though? In 1979, he graduated from the University of North Texas with a P.H.D. in philosophy. McGraw was permitted to practice psychology in his home state. However, per Distractify, following patient complaints, he "voluntarily surrendered" his license in 2006. He's never been awarded a physician's license. But that's never prevented Dr. Phil from doling out the "tough love" — gaining fans and critics alike. Winfrey definitely falls into the former category. In 2009, she congratulated her protégé on reaching the 3,000-episode mark. "I know what [it's] like every day offering service, offering information, offering hope," she gushed. What's Dr. Phil's relationship with Oprah like outside of work, though?
Dr. Phil's full of gratitude for his relationship with Oprah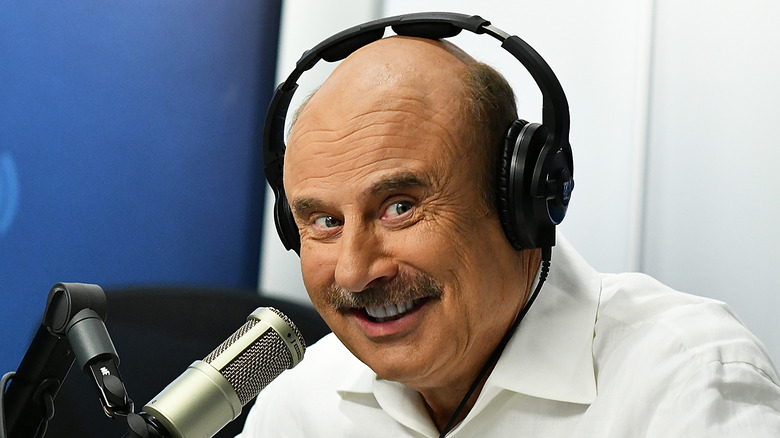 Slaven Vlasic/Getty Images
Dr. Phil McGraw is full of gratitude for his relationship with Oprah Winfrey. McGraw is more renowned for his hubris, however, when it comes to his mentor, he's all about respect. Dr. Phil acknowledges he wouldn't be where he is today if it wasn't for Oprah Winfrey. It's worked out to be a profitable relationship. Per Celebrity Net Worth, McGraw is worth $460 million.
"I had a great life when I met her, and I've got a great life now, but she changed a lot of things," Dr. Phil admitted on "The Kelly Clarkson Show." He said he's spent over two decades thanking Oprah for everything she's done. "It's just been really important to me, every year, to stop, sit down and write her a letter, and say, 'Thank you for the impact you've had on me and my family,'" Dr. Phil revealed. He claimed she said it was the first time anybody had ever thanked her.
"I think the most important thing I've learned from Winfrey is the impact of a generosity of spirit," Dr. Phil told Business Insider. "When she's around people, they feel better about themselves than they did before she got there," he continued. Dr. Phil praised Winfrey's talent for helping others improve their life and self-esteem and leave them in a more positive place than they were before having met. "It's a real great goal to have," he said, :and she does that in spades."