Elliot Page Opens Up About His Personal Struggles During Juno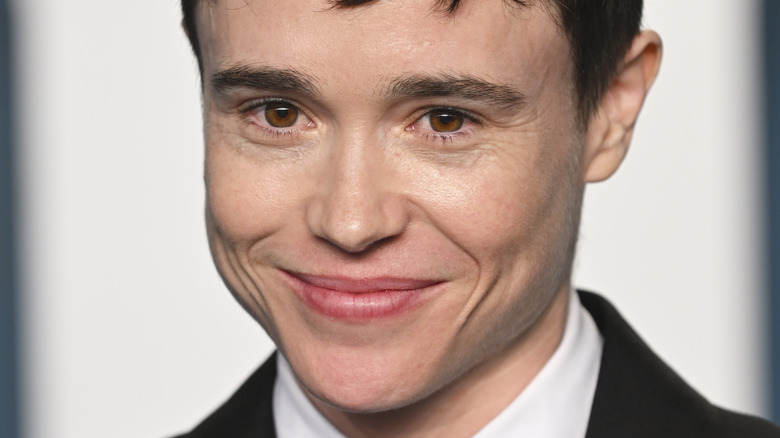 Karwai Tang/Getty Images
After the movie "Juno" came out in 2007 and became an unexpected smash hit, Elliot Page went from anonymous to A-list basically overnight. After that, Page started booking more and more blockbuster movies like "Inception," so you'd think he'd have been on top of the world at this time. But in reality, these period of the actor's life was a lot more difficult than you may have thought. 
Page came out as trans in December 2020, making the announcement in a long post on his Instagram. At the end of his message, he wrote, "I love that I am trans. And I love that I am queer. And the more I hold myself close and fully embrace who I am, the more I dream, the more my heart grows, and the more I thrive." He continued, hinting at some of his own personal struggles, "To all trans people who deal with harassment, self-loathing, abuse, and the threat of violence every day: I see you." 
More recently, Page has opened up about why "Juno" was such a hard time for him. 
Elliot Page says Juno was the worst time of his life
Elliot Page wrote his own Esquire cover story, writing candidly about some extremely personal stuff, including how hard "Juno" was to promote. "I can't pinpoint a 'worst' day. But when 'Juno' was blowing up—this sounds strange to people, and I get that people don't understand," he wrote. "Oh, f**k you, you're famous, and you have money, and you had to wear a dress, boo-hoo. I don't not understand that reaction. But that's mixed with: I wish people would understand that that s**t literally did almost kill me." Page also wrote that in his 20s, because he didn't know how to open up to others about how "unwell" he felt, he would "berate" himself over it.
Page has spoken about his gender dysphoria during this time before. In a 2021 interview with Oprah Winfrey, for instance, he said that the gender pressures caused him to literally collapse during the press tour for "Inception." And while he was supposed to be happy that he got to go to the Academy Awards for "Juno," it was too painful to enjoy. "So, the Oscars for example, I could not look at a photo from that red carpet," Page told Winfrey.
Now, at least, Page is able to embrace his identity. As he wrote in Esquire, "What have I learned from transitioning? I can't overstate the biggest joy, which is really seeing yourself."