Kim Kardashian Confirms What Fans Suspected About Her Latest Career Move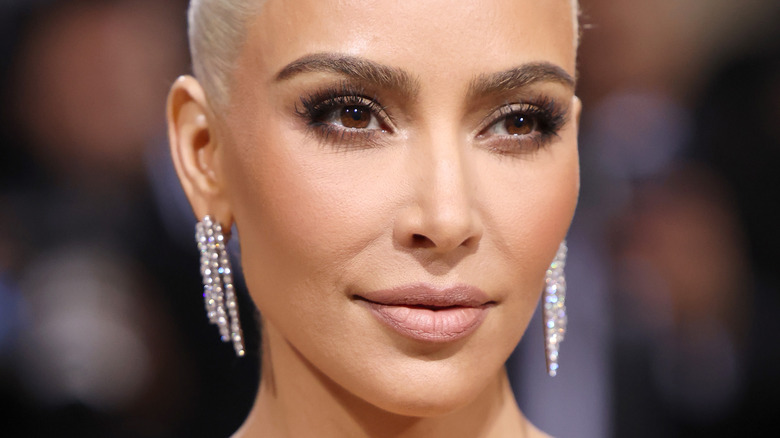 John Shearer/Getty Images
Kim Kardashian is one of the most well-known celebrities on planet Earth, and she's no one-trick pony. The reality star has been in the limelight for quite some time, catching her big break in 2007 with the family's hit show, "Keeping Up With The Kardashians," per IMDb. From then on, Kardashian hit superstar status. The mother of four appeared in the series until it ended in 2021, but in true Kardashian fashion, she didn't stay away from the spotlight for too long.
In 2021, the famous family announced that they would be launching a new show on Hulu titled "The Kardashians." In an interview with Variety, the family talked about the show, and of course, Kardashian's work as a business mogul came up. While some people scoff at the notion that the Kardashians are self-made (à la Kylie Jenner's Forbes controversy), Kardashian insists that she's a hustler, baby. "We focus on the positive ... If that's what you think, then sorry," she told the outlet. "We just don't have the energy for that." Did we also mention that Kardashian is an aspiring lawyer who has already passed the baby bar exam? Plain and simple, she can pretty much do it all. 
Now, Kardashian is showing off her hard work and effort once again with a new line that has fans buzzing.
Kim Kardashian dives into skincare
Kim Kardashian is following in the skincare footsteps of her little sister, Kylie Jenner. The star announced on Twitter her latest project: a skincare line called Skkn by Kim. Remember when the reality star filed paperwork to trademark the name last year (per Page Six)? Well, that dream is now a reality. "I'm excited to finally introduce to you SKKN BY KIM, a rejuvenating nine-product skincare ritual that I have developed from start to finish," Kardashian wrote on June 1.
She also shared a few additional deets. "You will experience refillable packaging, and clean, science-backed ingredients designed to nourish all skin types, tones, and textures at all stages of maturity," she wrote. Many fans commented on Kardashian's tweets and weighed in on her latest career move. "That's pretty dope and amazing," one person commented.
According to the Skkn website, fans will be able to shop beginning on June 21. The Skkn by Kim Instagram page shows that the product line will feature a cleanser, toner, exfoliator, hyaluronic acid serum, vitamin C serum, face cream, eye cream, oil drops, and night oil. The New York Times reports the nine-step routine will set consumers back about $630 smackeroos for all the products. In addition to the skincare line, Kardashian is also the proud owner of the shapewear line Skims, which has done very well. In 2022, CNBC reported that the company is valued at $3.2 billion — yes, billion with a B.