Cyndi Lauper Shares A Heartbreaking Loss In Her Family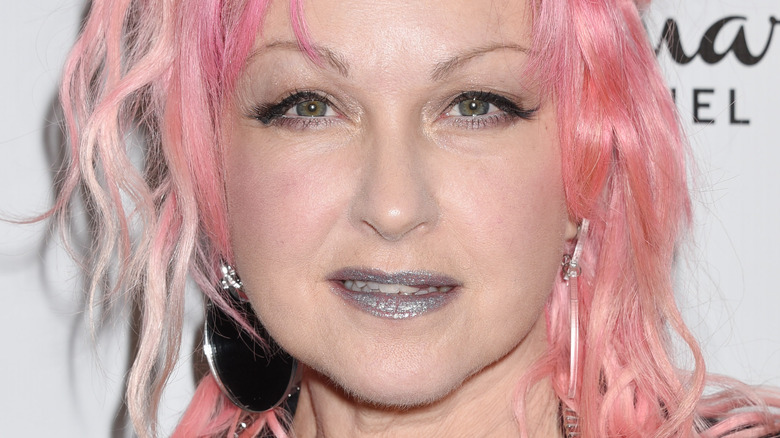 Ga Fullner/Shutterstock
It's no secret that Cyndi Lauper boasts a huge fan base. The superstar is best known for producing hit songs that make you want to sing along, like "Girls Just Wanna Have Fun," "Time After Time," and "True Colors." She is also known for her raspy vocals and unique tone, so it's no shock that she gained immense popularity, especially in the '80s.
While her career is definitely what fans know her best for, family also happens to be a very important part of Lauper's life. The singer and husband, David Thornton, share one son together. In an interview with ABC News in 2013, Lauper talked about the tough times, as her husband played the role of a stay-at-home dad while she pursued her singing career. "We switch back and forth, and then my job kind of never ends, so he stayed," she revealed. "You've got to be there for them. Even if you're not in the same room, you're in the same house." In addition, the star said she worked a lot so she could provide her son with the things she never had growing up.
The star also has a close relationship with her mother, Catrine Lauper. According to Hollywood.com, Cyndi gifted her mother with a trip to Italy on her 85th birthday so she could meet up with relatives, as she's from Sicily. Sadly, Cyndi shared some sad news about her mom with fans on June 1. 
Cyndi Lauper announces her mother's death
Cyndi Lauper is mourning the loss of her beloved mother. The 68-year-old took to Instagram on June 1, sharing two photos of her mother, Catrine Lauper. The first photo captured Cyndi and her mother hanging out in a kitchen, while the second photo appeared to be a shot of Cyndi's mother singing or shouting. Cyndi accompanied the post with a caption that is enough to bring tears to anyone's eyes. "My beautiful Mom has passed. She rocked and wrestled with us and was in a lot of my videos," Cyndi wrote. "It was an honor to work with her. I feel so lucky that I got to play with my mom throughout my life, both as a girl and as a woman." The star added that her mother certainly left "her mark" before passing away. 
Fans rushed to the post's comments section to send their condolences to the singer. Comedian Rosie O'Donnell simply commented, "i love u cyn," while another person wrote, "Oh Cyndi, I am so sorry for your loss. I always loved her cameos in your videos. Sending you so much love." 
Catrine appeared in Cyndi's hit music video for "Girls Just Wanna Have Fun." May 8 marked Cyndi's last post with her mother, as she wished her a Happy Mother's Day. According to Yahoo! Cyndi announced that doctors diagnosed her mother with dementia in 2016, but she said the good news was that she could still chat with her.