Rosie O'Donnell's New Relationship Just Got Even More Serious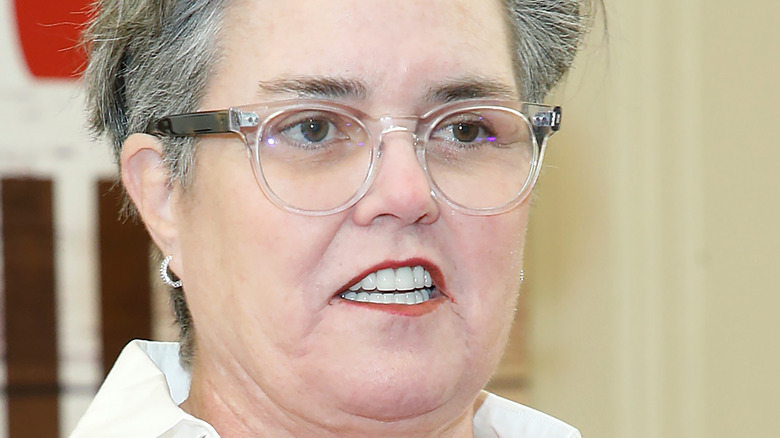 John Lamparski/Getty Images
We love to hear happy relationship news — especially when it comes from somebody we haven't heard from very much lately. So obviously we're tickled to report that Rosie O'Donnell (yes, that Rosie O'Donnell), has just taken her new relationship to the next level. Yay for love!
These days, you're more likely to hear from O'Donnell via one of her social media pages, as she is very active on Twitter, Instagram, TikTok, and YouTube. But back in the day, she was a daytime television superstar. She was also one of the first major TV stars to come out as gay, doing so six years after Ellen DeGeneres came out in 1996, according to The Advocate. O'Donnell has five kids and has been married twice before, with her last marriage to Michelle Rounds ending in 2015, according to Hollywood Life. But it's never too late to find love, as we can see from O'Donnell's latest relationship status update.  
Rosie O'Donnell made her new girlfriend Instagram Official
Rosie O'Donnell has made her relationship with new girlfriend Aimee, as the kids say, Instagram Official, just in time for Pride Month. O'Donnell reposted Aimee's post, a picture of the two women together, which is captioned, "Happy Pride!" Aimee keeps her Instagram page private, so all we can really gather from social media is that she has very cool pink hair and enjoys bike riding. We can also see that O'Donnell has actually posted some Aimee content before, including a lip-syncing TikTok video and (possibly) a photo of her tattooed knee — though this is unconfirmed as there are no tags. 
According to Page Six, Aimee was featured on a podcast called "Lesbian Speaking" in 2021, per Page Six, where she shared that she grew up in a strict Mormon church, married young out of "duty," got divorced, and has two kids of her own — making for a very full house when you include O'Donnell's five, plus three grandchildren.