Rosie O'Donnell Appears To Tease Huge Relationship News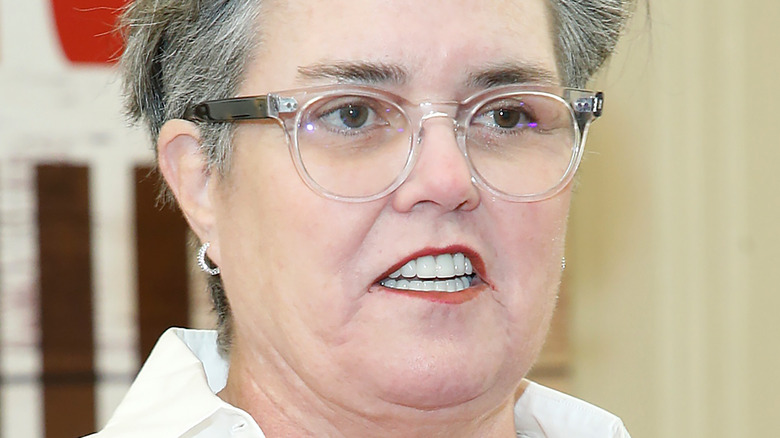 John Lamparski/Getty Images
Rosie O'Donnell is no stranger to making headlines for a variety of reasons, including her love life. The star was previously married to Kelli Carpenter. According to People, the couple tied the knot in 2004. During their marriage, they adopted two children, Chelsea and Blake, and they also welcomed daughter Vivienne through IVF. The couple called it quits in 2007 but didn't publicly announce the split until 2009. According to Radar, O'Donnell spoke with Oprah Winfrey about the divorce, stating that it was ultimately the different ways they wanted to live that tore them apart. "She wanted to play tennis at the country club, and I don't do country clubs. I tried," O'Donnell said. "They made an exception for a gay family, and we joined. It was a big thing: 'They let in a gay family – whoo!' O'Donnell said. 
As many know, O'Donnell was also married Michelle Rounds. The pair wed in 2012, but went through a bitter divorce in court in 2015. Sadly, Rounds died of suicide in 2017. "I am saddened to hear about this terrible tragedy," O'Donnell told TMZ after she heard the news. 
Five years later, it seems like O'Donnell is happy again — at least, if an Instagram post from Spokane, Washington is any indicator. 
Rosie O'Donnell gets cozy with mystery woman
Has Rosie O'Donnell found love again? It certainly seems that way! The former talk show host took to Instagram on May 22 to share a curious photo with a mystery woman. The picture in question captured O'Donnell's hand on a tatted-up thigh. The mystery woman placed her hand on top of O'Donnell's as the pair lounged on a couch together. In her caption, O'Donnell didn't spill much tea. "​​how's ur weekend?" she asked, adding the hashtag "Spokane" at the end of her post.
It didn't take long for fans to comment on the photo, with some asking O'Donnell why she was in Spokane, and others congratulating her on what appears to be a new relationship. "So this is what has been crowding your mind," one follower commented with a heart-eye emoji. "Ugh I love you guys! Im happy you both had an amazing time!" another Instagrammer chimed in.
O'Donnell was previously linked to Boston area police officer Elizabeth Rooney. According to Page Six, the pair got engaged in 2018. Radar Online shares that the couple called it quits in 2019, and O'Donnell removed all her photos with Rooney from her Instagram feed. O'Donnell told Page Six that her fame may have contributed to the split. "It's hard for a person who is a normal person in a normal job. I'm kind of used to it," she told the outlet. "We are trying to figure it out." Maybe this new romance could be the one!