What Do Addison Rae's Parents Do For A Living?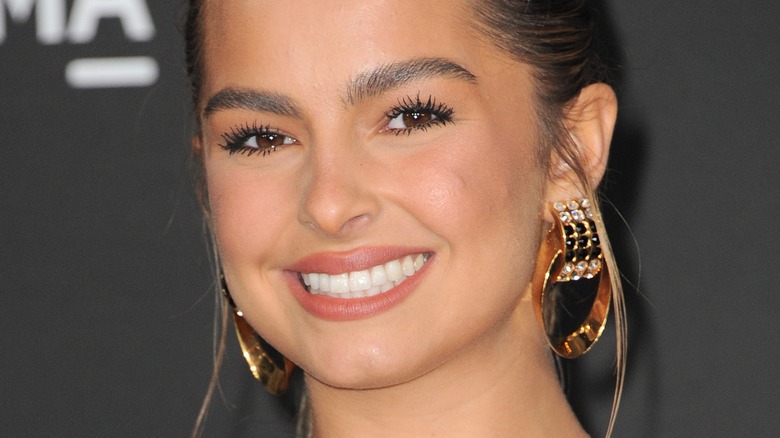 Tinseltown/Shutterstock
Addison Rae Easterling may have come from humble beginnings, but as one of the biggest social media stars, she's Scrooge McDuckin' in the dough. As of this writing, Rae is worth approximately $15 million, per Celebrity Net Worth. That's not too shabby for a girl whose family once lived in a borrowed camper van. Rae and her mother, Sheri Nicole Easterling, spoke about their roots in their podcast, "That Was Fun? With Addison and Sheri."
Addison's parents had a rocky relationship when she was a child, but reconciled when she was about 6. After her brother Enzo was born in 2007, the family moved into a camper. At the time, her dad worked for a trailer company and was able to borrow one of the units. On the podcast, Rae noted that they "didn't have anywhere to live" (via the Daily Mail). She revealed that in high school, "They literally bullied me, like, "You can't afford real Uggs, like that's embarrassing.'"
Rae, however, considers herself lucky to have her parents' support. Her dad, Monty Lopez, played a pivotal role in her TikTok success. On the podcast, she said (via Seventeen), "After a while [my dad] was like, 'If you really believe that you're going to do this and you're going to make it work ... do it. I believe in you.'" And in speaking with ET, Sheri said, "I just always want her to be grateful and thankful." As for Sheri and Lopez, their career paths have changed drastically.
Sheri Nicole and Addison Rae shared personal experiences on podcast
Sheri Nicole Easterling spoke about her career in the podcast "Mama Knows Best," now known as "That Was Fun? With Addison & Sheri." She revealed that as a single mother, she opened a consignment store with the help of Addison Rae Easterling's grandfather, Paul. In the podcast's second episode, "Life Before You Knew Me," Sheri revealed that she didn't give up even though her store crashed. "For me, personally, I never felt like a failure just because my business didn't work out." Per BigStarBio, Sheri was also an engineer.
However, she made a major career change and is now also working as a social media influencer. At the time of this writing, she has close to 14 million followers on TikTok and has racked up millions of views. And like her daughter, Sheri is also signed with talent agency WME, per The Hollywood Reporter. 
Through their social media escapades, Sheri and Rae's bond has grown stronger. Addison noted, per ET, "I've definitely opened up to her, and the audience, especially about my thoughts on relationships and relationship experiences." Sheri also revealed, "She didn't share with me or open up with me through her teenage years. Most teenagers don't. So it's actually fun hearing things — and sometimes not." It seems as if Sheri is now a lot closer to Addison thanks to their fame.
Forbes says businessman Monty Lopez is someone 'to look out for'
Addison Rae Easterling planned a different career path before she became a TikTok star. Like his daughter, Lopez is also maximizing on his family's newfound fame. He spoke to Forbes about how he and his family became cryptocurrency investors. Lopez also opened up to his occupation before becoming a social media influencer since he has also signed with WME. Lopez revealed that he worked in the manufactured housing industry for approximately a decade. "We did a lot of construction for various kinds of homes," he said, noting that at "one point in my career, I worked in the Bahamas." He further added, "Before our family got into social media, that is what I would've thought I would've done for my entire life."
Forbes also listed Lopez as one of the "Top 10 Business Professionals to Look Out for in 2022." The outlet likened him to momager Kris Jenner and her Kardashian brood. Forbes noted how he has managed "The Rae Family" brand and how he managed Addison. Lopez and Ben Ganz, of VEGO Pictures, have founded a new TikTok agency called BAM Social. Lopez seems to enjoy his new job description and told Forbes, "I am just grateful that we're all here together, hanging together and sticking together as a team, and growing through the experience." This family is here for the long haul.