Lady Gaga Featured These Drag Race Stars In Her Applause Music Video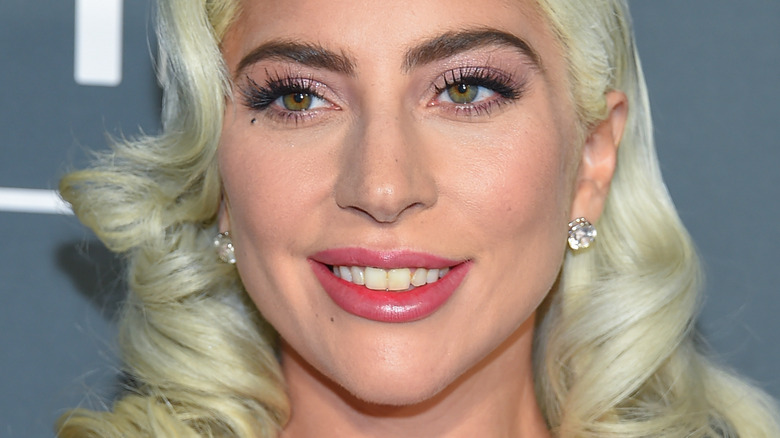 DFree/Shutterstock
When you think of Lady Gaga, you may recall her infamous meat dress, iconic sky-high platform heels, or her dozens of hit songs. But she's also well known for her massive support of the LGBTQ+ community. Over the years, the pop star has been quite vocal about her support for LGBTQ+ rights, and Elton John even called her song "Born This Way" the "new gay anthem," per Entertainment Weekly.
As such a prominent supporter of the LGBTQ+ community, it's no surprise that Lady Gaga is a huge fan of drag queens. To show her love, she took to the biggest stage drag queens have: "RuPaul's Drag Race." In the Season 9 episode, Gaga dresses up in typical Gaga garb and tries to dupe the contestants as "Ronnie," "New Jersey's No. 1 Lady Gaga impersonator." It doesn't take long before the queens see through Gaga's disguise, and they promptly and understandably freak out. Gaga then tells them, "I have always really admired the craftsmanship that goes into what you all do. Drag for me has been an opportunity to leave myself when I didn't want to be me ... Drag has just been part of my life for the longest time."
Looking back at Gaga's track record, it's clear drag has played a significant role throughout her life. Her "herstory" even goes back to 2013 when she featured several "Drag Race" alums in a music video.
Several RuPaul's Drag Race alumni performed for Lady Gaga
The time is August 2013. It was seemingly a normal Monday night for the drag queens about to perform at Micky's in Hollywood., but little did they know they were about to be the stars of a Lady Gaga music video. That night, Gaga strolled into the nightclub decked out in her "ARTPOP" colorful makeup and shot her "Applause" lyric video. For most of the video, Gaga is a mere spectator of the drag show, which featured many former "RuPaul's Drag Race" contestants. Fans will surely recognize Season 2's Raven, Shangela, and Morgan McMichaels, Season 1's Shannel, and Season 5's Detox.
For the drag queens, Lady Gaga's impromptu visit was a complete surprise. Shannel, one of the performances, told MTV News of Gaga's appearance, "It was very last minute, spur of the moment. We knew nothing about it.." Shannel added that the crowd was psyched to have Lady Gaga in attendance, but the drag queens still had a job to do. "Madness! It was lots and lots of energy," she said. "We're, as entertainers, we're on stage and were having to be professional and we're doing our numbers whether Lady Gaga is there or not."
With her "Applause" lyric video as proof, it's clear that drag has made a lasting impression on Gaga. But as it would turn out, Gaga has also made a lasting impression on drag in the form of "RuPaul's Drag Race."
Lady Gaga makes RuPaul's Drag Race herstory
In recent years, "RuPaul's Drag Race" has the tendency to bring out some big names to guest judge. Khloe Kardashian, Demi Lovato, and Ariana Grande are just some of the major celebs to serve as guest judges on the show — but it was Lady Gaga's Season 9 appearance that had all the drag queens gagged. Eureka was particularly emotional and told the pop star, "I have been the closest to death and you've pulled me out of it. You don't even realize what you do for people and how much you inspire people like me and all of us."
Not only did Gaga judge the queens' interpretations of her own looks, but she also sat down with them after the show in the Untucked lounge. "Lady Gaga seemed to do something unusual and make it a point to come back and connect with us," Season 9 contestant Peppermint revealed on Entertainment Weekly's BINGE podcast. "It seemed as though she was genuinely touched that we had put so much into these tribute looks to her." 
Gaga took the time to give constructive feedback to each queen, going so far as giving them each a handwritten note. Peppermint also revealed that Gaga sent the precedent and said, "Now it's like, oh, every single episode when a star comes, here's their walk back, but that was the first time I remember that happened." Let's hope Gaga has plans to return to "Drag Race" sometime soon.