How Emily Ratajkowski Got Into A Feud With Piers Morgan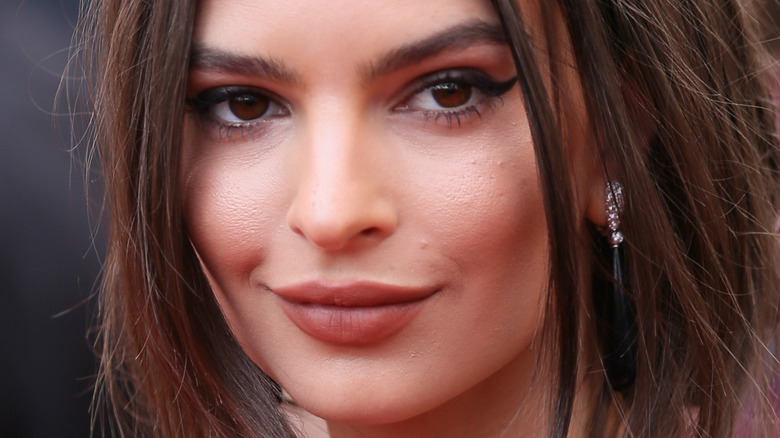 Denis Makarenko/Shutterstock
Emily Ratajkowski rose to prominence as a model who isn't afraid to embrace her body and sexuality. In doing so, Ratajkowski has sought to transform misconceptions about how a self-declared feminism should act or look like. "The implication is that to be sexual is to be trashy because being sexy means playing into men's desires," she wrote in an essay published in Lena Dunham's "Lenny" newsletter in 2016 (via People). After snagging a recurring role on "iCarly" in 2009, Ratajkowski transitioned into modeling by posing for the erotic magazine Treats, which led to appearances in two music videos's, including Robin Thicke's "Blurred Lines."
She went looking for neither. "They came to me ... I was nude for that and a lot people saw that and connected to that. That brought the attention from both jobs," she told Esquire in 2013. The controversial clip put Ratajkowski — who is also featured nude in it — on the map. But with the self-acceptance she often expresses, her sexuality also came heavy criticism.
When Ratajkowski was arrested while protesting Supreme Court Justice Brett Kavanaugh's appointment in 2018, she was shamed for her choice of outfit. "I never expected anyone to talk about why I wasn't wearing a bra under my tank top," she told Australia's The Daily Telegraph. Many have questioned Ratajkowski's claims to feminism, contending she profits off her body, which The Independent's Charlotte Gill argued in 2016. Unsurprisingly, among this group is Piers Morgan, who holds nothing back when it comes to shaming Ratajkowski.
Piers Morgan once branded Emily Ratajkowski as a 'global bimbo'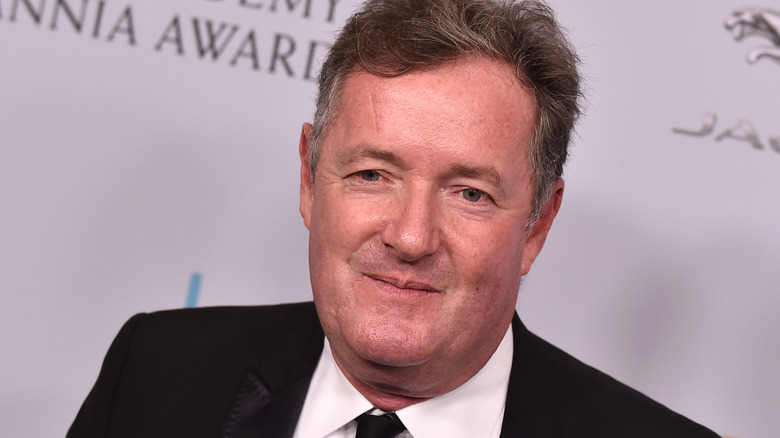 DFree/Shutterstock
In December 2017, Piers Morgan just had to share his opinion regarding Emily Ratajkowski's photoshoot for Love magazine's advent. In a Boomerang she posted to Instagram, a lingerie-clad Ratajkowski struck sexy poses with pasta on her body. Some social media users took a jab at the shoot in the comments section, prompting Ratajkowski to defend it as "empowering," the Daily Mail reported. But Morgan agreed with the naysayers. "I don't know quite what she is. She's a global bimbo," he said on "Good Morning Britain," the outlet noted. 
Morgan didn't rest his case there. He continued his vent sesh on Twitter, where he attacked Ratajkowski's take on women's rights. "What a wonderful testament to feminist empowerment!" Morgan wrote. "Here's how to get on in life girls: strip off & writhe in pasta, then complain about men 'objectifying' you." Ratajkowski had a thing or two to say about Morgan's presumptions. "Lol never said my love video was a feminist statement," Ratajkowski tweeted.
But since he went there, Ratajkowski found it a good opportunity to call out his behavior. "But now it's worth saying that telling women what to do with their bodies & sexuality is actually just classic sexism." That was far from the only time Morgan went after Ratajkowski. In 2019, Morgan also had issues with how she protested Alabama's anti-abortion legislation by sharing a nude photo on Instagram. "Right message, ruined by such a dumb self-promoting photo," he tweeted.
Piers Morgan also went after Emily Ratajkowski's parenting skills
That's not how you hold a baby @emrata - and your millions of followers shouldn't be encouraged to do the same. Happy to give you some tips if you need them. pic.twitter.com/IcduCA4tMQ

— Piers Morgan (@piersmorgan) June 7, 2021
While Emily Ratajkowski has dealt with body- and slut-shaming most of her life, she was introduced to a different kind of backlash after welcoming her first child Sylvester in March 2021. Mom-shaming is real, Ratajkowski quickly learned, and there to prove it was none other than Piers Morgan. In June 2021, Ratajkowski uploaded a photo to Instagram that featured her and Sylvester in matching bathing suits. Morgan, in turn, shared the picture on his Twitter to attack her parenting skills. "That's not how you hold a baby @emrata — and your millions of followers shouldn't be encouraged to do the same," the British presenter wrote. "Happy to give you some tips if you need them."
Unfortunately, Morgan wasn't the only one, and Ratajkowski opted to delete the photo. But many social media users criticized Morgan's shaming tactics. "She posted that picture yesterday. What sort of a creep are you to take photos from her IG to post on your Twitter and then pass judgment. Shameless," one tweeted. Others criticized Morgan's apparent obsession with young women. "Give it up mate," another wrote. 
Ratajkowski didn't specifically address Morgan's jab, but a month later the model used social media to condemn mom-shaming culture. "We talk about how we have to 'do better' as a culture. Meanwhile, my comments are filled with awful remarks about how I don't deserve to be a mom," she wrote on an Instagram Story (via Us Weekly). "Shame on you all."