Inside Nina Dobrev And Paul Wesley's Relationship Today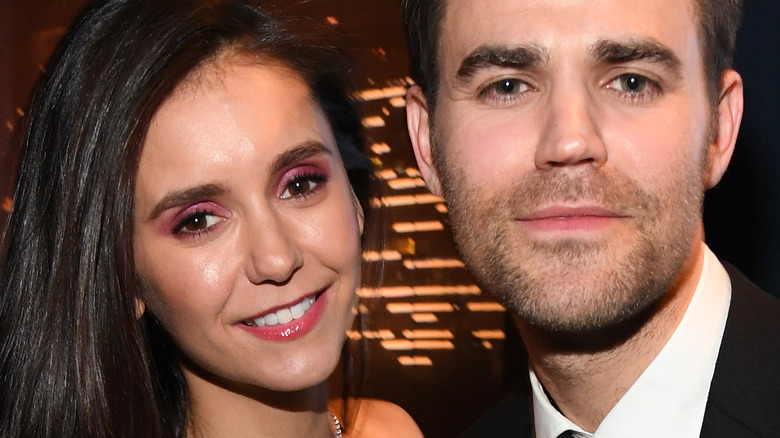 Kevin Mazur/Getty Images
When "The Vampire Diaries" premiered on The CW in 2009, fans were only too eager to sink their teeth into the soapy teen drama. "TVD" had everything: a beautiful cast, interesting mythology, supernatural creatures, and a love triangle. Viewers knew that there was always one big question to ask each other — Team "Delena" or Team "Stelena?" These "teams" referred to the protagonist Elena Gilbert (Nina Dobrev)'s two love interests, Stefan Salvatore (Paul Wesley) and his brooding bad-boy brother Damon Salvatore (Ian Somerhalder).
To make things more interesting, Dobrev and Somerhalder actually dated IRL! Kudos to them — there was never any bad blood, even when they broke up after three years together. A source told Us Weekly at the time that the stars "would continue to work together and remain best friends, which is where the relationship started." The insider also referred to the former couple as "consummate professionals." They reportedly broke up due to the fact that Somerhalder was ready to settle down, while Dobrev, who's 10 years his junior, may not have been on the same page. Happily, however, Dobrev appears to be friendly with Somerhalder's wife, Nikki Reed, whom he wed after he and Dobrev split. "When I heard about the wedding, I thought it was beautiful. [Ian and Nikki] look happy and I am happy," Dobrev told E! News at the time. But while she's chummy with Somerhalder and his wife, what's her real-life relationship with her other vampiric love interest like today?
Nina Dobrev and Paul Wesley didn't get along at first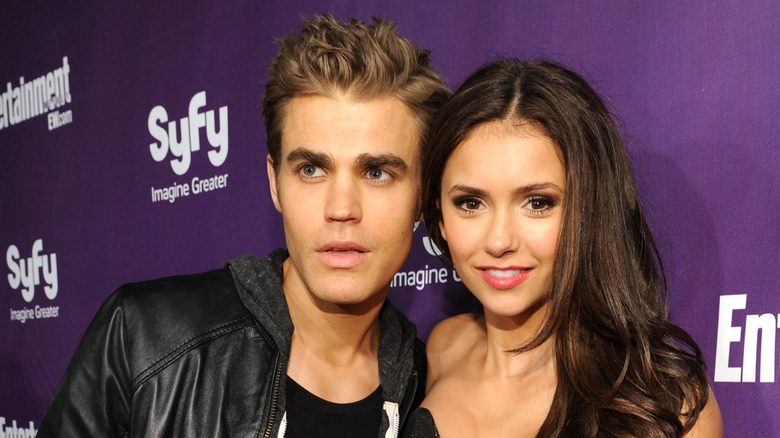 Michael Buckner/Getty Images
Elena Gilbert and Stefan Salvatore were "TVD's" first romantic pairing, so fans were surprised to hear that the actors didn't initially get along. In fact, they flat-out despised each other! "I respected Paul Wesley, I didn't like Paul Wesley," Nina Dobrev told "TVD" co-stars Kayla Ewell and Candice King on their podcast, "Directionally Challenged." She continued, "I realize now that there's a fine line between love and hate, and we despised each other so much that it read as love but ... we really just didn't get along for maybe the first five months of shooting." Eventually, they were able to mend fences and move forward. "[We] ended up getting to a good place and it was fine," Dobrev added.
Wesley backed up Dobrev's claims when speaking to reporters at the Television Critics Association press tour in 2019, per Us Weekly. "We totally clashed [the] first couple years in terms of just getting on each other's nerves, and then developed this wonderful friendship. ...It's like the people that [you] kind of maybe don't get along with in the beginning later surprise you, and I think a lot of my friendships are like that," he explained. In a separate interview with Entertainment Tonight, Wesley called his relationship with Dobrev one of "absolute mutual love." Because they "adore" each other, they tend to hang out together more than with other cast members. And the breadth of "Stelena" posts on Instagram would certainly back this up!
Nina Dobrev and Paul Wesley are besties now
After a rocky start, Nina Dobrev and Paul Wesley are now close friends. In November 2021, Dobrev answered some of the internet's most-asked questions during a Wired interview. Naturally, fans wanted to know whether she and Wesley still talk. "Yes, my friends. I would like to report that the Dubs and I are homies," she said. Us Weekly also reported that Dobrev regularly hangs out with both Wesley and his wife, Ines de Ramon. "I love his wife. My dog and his dog play like best friends that have known each other forever," Dobrev gushed. "And I actually see him a lot. Love that guy."
Ever since Dobrev quit "TVD" after six seasons, "Stelena" has lived on in the pair's regular meet-ups, which both Dobrev and Wesley document on social media. In 2018, Wesley surprised his former on-screen love interest by dropping by the set of her sitcom, "Fam." In the video, which E! News reposted, Dobrev's unfiltered reaction is honestly all of us. Then, in 2019, the pair teamed up for an Instagram video that poked fun at their early history together. "I 'despise' you," Dobrev jokingly wrote, complete with a heart emoji. More recently, Wesley, his wife, Dobrev, and her partner, professional snowboarder Shaun White, went on a ski trip together in 2021. Just look at these cute pics of the foursome posing on the slopes! Gnarly, right? In Dobrev and Wesley's case, the friends that shred together, stay together.