Inside Zendaya's Relationship With John David Washington
Karwai Tang/Getty Images
When co-stars have great chemistry, it can take a film to new heights, and luckily for Zendaya and John David Washington, they did just that. The actors starred in "Malcolm & Marie," which was released on Netflix in February 2021, per IMDb. The Sam Levinson-directed movie was filmed in black-and-white and follows the young couple as they deal with the issues crippling their relationship, which resulted in an almost two-hour long tumultuous argument. Levinson, who's also the creator of "Euphoria," was blown away by Zendaya and Washington's performance in "Malcolm & Marie." 
"This is a rare experience," he told Deadline. "To have two people able to hold their own in such different and unique ways, and who are both so good with dialogue and so captivating and so f***ing charismatic. It's like a jolt of excitement."
The independent film was a massive hit for Netflix, debuting in the No. 1 spot, making it the streaming platform's most-watched film at the time of its release, according to IndieWire. Zendaya and Washington played a vital role in the film's success and what's even better is that their relationship goes beyond simply being co-stars. 
Zendaya and John David Washington bonded over Beyoncé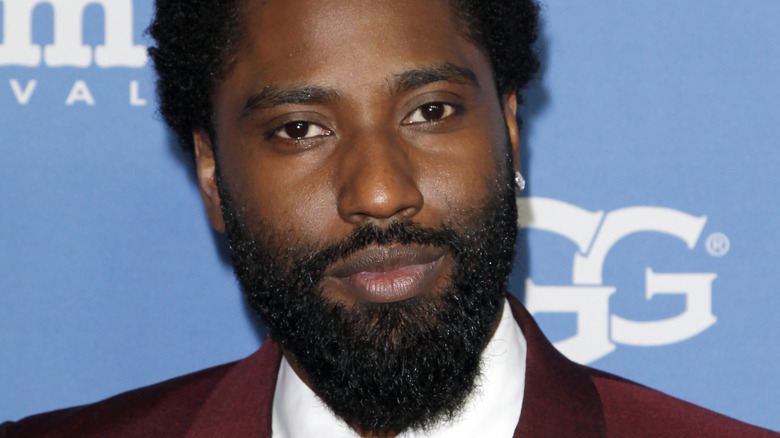 Tibrina Hobson/Getty Images
During an interview with USA Today, John David Washington opened up about what it was like working alongside iconic actor Zendaya. "She is more experienced, more mature in this industry than I am," he told the outlet. "I had to shut up and listen because she knows what she's talking about. She really is my senior." Despite Washington and Zendaya's 12-year age gap, the former Disney Channel star shared her thoughts regarding her more adult role. "People often forget — which is understandable because I've been playing 16 since I was 16, you know — [but] I am grown," Zendaya told People (the TV Show!). Instead, she focused on creating the film and helping Washington navigate through any difficult moments. 
And, funny enough, there was one thing the "Tenet" star had trouble getting comfortable with — sex scenes. "I hate intimate scenes, kissing scenes, lovemaking," Washington told USA Today. "I'm so awkward." But, he managed to get through it and understood how those moments would reflect in the storytelling. "It's important to have that for the characters because of what this devolves into."
He further explained to the outlet that him and Zendaya often bonded on-set because they shared a mutual love for Beyonceé. During hikes and rehearsals, the pair would often indulge in conversation about the legendary singer. Not only do they have great taste in music, but they also have big hearts and were responsible for making sure production crews had work.
Malcolm & Marie was filmed during the pandemic
According to The Hollywood Reporter, "Malcolm & Marie" was filmed amid the COVID-19 pandemic during a time whern most people were forced to quarantine and faced unemployment. Everyone was directly affected at the time — even the film industry. However, Zendaya and director Sam Levinson were determined to help ease some of that stress. The film was reportedly shot in 14 days and most of the production crew had just been furloughed from the "Euphoria" set. "I think it's important that we take care of our people," Zendaya said during the Hollywood Foreign Press Association Zoom panel. 
John David Washington was also responsible for making the independent film possible. According to Deadline, the actor invested a lot of his own money into "Malcom & Marie" and one of the large purchases charged to his credit card included $80,000 worth of black-and-white film stock. Not only did Zendaya, Levinson and Washington ensure all 22 crew members had work, but the trio also made sure everyone on-set had ownership in the film. "We created a financial structure, where people got points on the movie and got paid," she told Essence. 
According to Today, film points are like shares of stock, which add up to about 1% per point. Therefore, if a film does well, people who own even 1% will receive a major payout. Variety reported that Netflix bought "Malcolm & Marie" for a whopping $30 million, which means everyone secured a nice payday.