Are Sarah Hyland And Ariel Winter Friends In Real Life?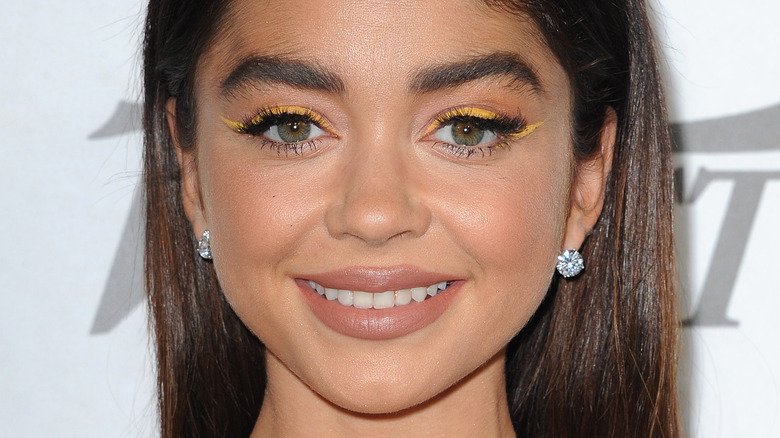 Tinseltown/Shutterstock
ABC sitcom "Modern Family" highlights the realities of a modern-day family in America. All interrelated to Ed O'Neill's Jay Pritchett, the show shines the spotlight on three major families: a blended family, a same-sex family, and a more traditional nuclear family. With over 100 awards and even more nominations, per IMDb, "Modern Family" was definitely a huge success.
This, of course, could not have happened without the stellar performances that the cast — including Ariel Winter and Sarah Hyland — brought. "I love these characters and these actors are amazing and I would work with any one of them again," co-creator Steve Levitan told The Hollywood Reporter. On "Modern Family," Hyland and Winter portray sisters Hayley Dunphy and Alex Dunphy, respectively. These two, alongside their brother Luke Dunphy, make up the nuclear family of Claire Dunphy and her real-estate husband Phil. Together, this family gave us all the fun, all the laughs, and even better, a little bit of chaos.
But given that Hayley and Alex got on each other's nerves a lot through the years, fans have always wondered what their relationship off-camera is like. Well, let's just say it's better than you might expect!
Sarah Hyland loves her 'little sister'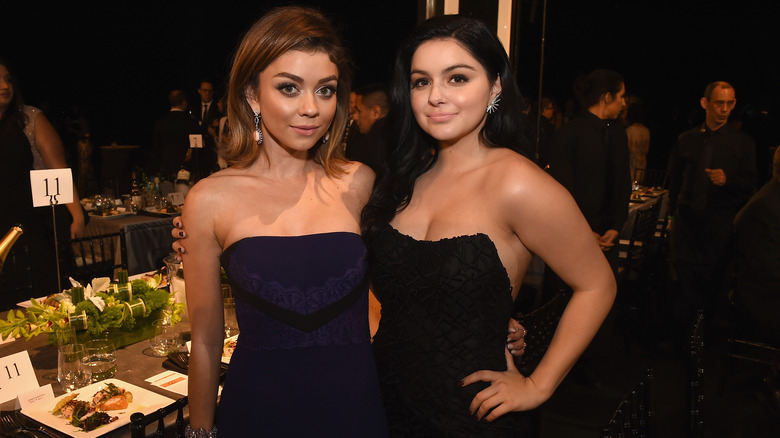 Kevin Winter/Getty Images
Not all co-stars end up as friends, but Sarah Hyland and Ariel Winter apparently have an unbreakable bond. So much so that the "Struck by Lighting" star never misses Winter's birthday — literally. "Happy 18th birthday @arielwinter!!!!! It blows my mind that you're now the age I was when we first met," Hyland wrote in 2016. "Love you little sister." In 2020, Hyland shared yet another heartfelt Instagram tribute to her television sister. "The Dunphy sisters might have an expiration date but I hope ours never does...like twinkies," she wrote.
Now, even though "Modern Family" has come to an end, Hyland's bond with Winter has not wavered. Alongside a selfie of them together, Hyland wrote on Instagram: "Little sister is 24 today!! We love to see it [prayer-hand emoji]..... (did I say that right @arielwinter ???) Happy birthday sissy!!! I love and miss you so much!!"
But even though Hyland and Winter have a wide age gap between them, the actors both had to deal with the horrors of growing up in front of the cameras. "It's really difficult to grow up in front of millions of people who have an opinion on everything you do, and who are allowed to say it at any point," Winter explained in 2020 (via People), with Hyland also admitting that "people really love to attack women especially." However, rather than allow this to bring them down, it has only made them closer!
Sarah Hyland will always have Ariel Winter's back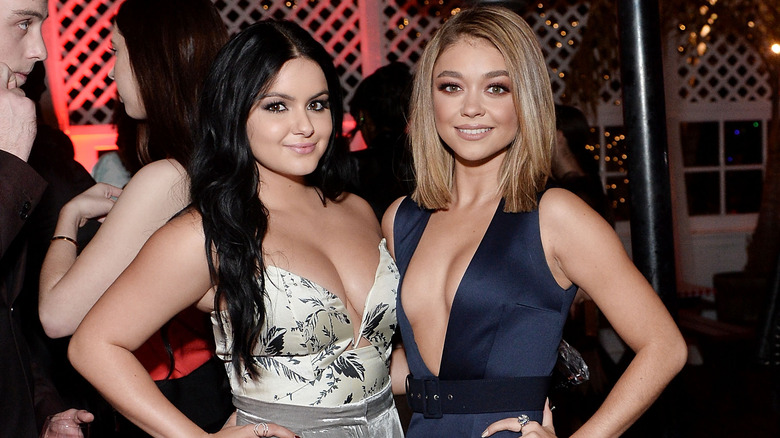 Stefanie Keenan/Getty Images
Though they have both been victims of cyberbullying, Sarah Hyland proudly wears her "big sister" tag and will most likely be found defending her little sister. To celebrate the "Modern Family" season finale in 2020, Hyland shared an Instagram post of herself and Ariel Winter both wearing black dresses. But while the "Geek Charming" star donned a tight-fitting knee-length dress, Winters opted for a sheer outfit — which apparently did not sit well with a number of fans, per Yahoo.
"Why is that girl always in her underwear," one fan commented. "A little too revealing...I'm sure every 20-something on here loves it but it's too bikini-like for me," a second user added. When a third person asked to know what Winter was thinking with her choice of outfit, Hyland could simply not have it anymore. "That she's a sexy and confident woman," Hyland wrote, adding that "everyone that is making a negative comment about my sister can back the f**k up because I will not tolerate it."
This is, however, not particularly surprising, seeing that Hyland has previously admitted to helping Winter get comfortable in their own skin. "I like to think we — me, Julie Bowen and Sofia Vergara — helped her be confident with her body and herself," Hyland told People in 2017. "I tried to be a good role model for her, and a true older sister for her because she's such a sweet little girl." Now, talk about #sistergoals!