Inside Amber Heard And Johnny Depp's Shared Love Of Cars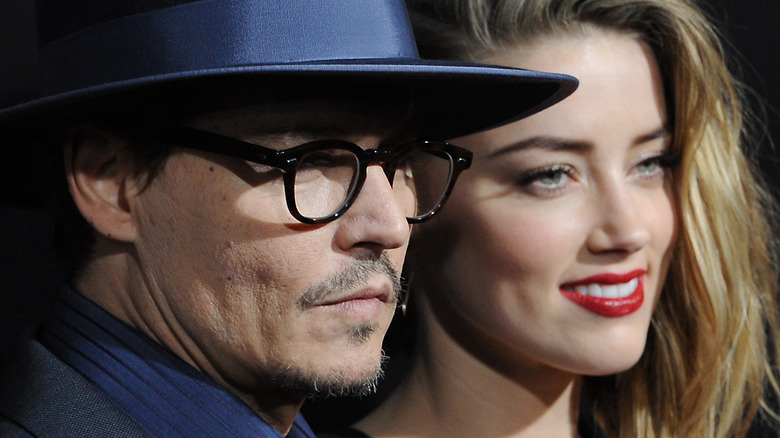 Featureflash Photo Agency/Shutterstock
Johnny Depp and Amber Heard didn't agree on much over the course of their relationship, but they did harbor a shared love for one thing: cars.
In 2011, the "Aquaman" star divulged to the Daily Mail that she has a penchant for muscle and vintage cars, in particular. "Maybe it's the Texan in me, but I've always been into muscle cars," she shared. "My '68 Mustang is my favourite. I love cars that have character, and I've had a number of them, including a '63 Checker and a '67 Mercedes."
Depp, on the other hand, isn't as vocal about his interest in vehicles as much as his ex-wife, but reports say that he has invested millions of dollars in his car collection. His former business managers revealed that he lived an extravagant lifestyle, spending millions "acquiring and/or maintaining at least 45 luxury vehicles," per Vanity Fair. 
Depp and Heard have an impressive collection of vehicles among them, but apparently, cars also caused drama throughout their relationship.
Johnny Depp surprised Amber Heard with a car when they were together
Amber Heard knows that her cars are highly coveted, which is why she's used to them getting swiped. Her favorite Mustang was stolen multiple times — so often that she was confident she would recover it eventually. "I've had my Mustang for six years; it's in the shop right now because it was stolen — it gets stolen a lot," she said in her interview with the Daily Mail. "I park it on the street for one minute and someone takes it for a joyride but they always recover it... I just have to do the maintenance and repair the damage. My dad taught me enough about cars so that I'd never have to ask a man on the side of the road for help."
But while Heard's skilled in fixing cars, Johnny Depp once took it upon himself to do her a favor and do a complete overhaul of her favorite vehicle. In 2015, on an episode of "Overhaulin," Depp made her believe that her Mustang had been stolen once again, only to surprise her with the same car, except that it was pimped out with a modern racing engine and drivetrain. "Working with Johnny, it was cool because he's such a down-to-earth guy and he loves the creative process," host Chris Jacobs told Entertainment Tonight.
While Heard fell for the prank at first, she was happy with the surprise. "I'm blown away! I'm speechless," the actor said. "I can't believe all of this." She also shared how much she loved the car, no matter how beat up it used to be. "I bought it as kind of a driveable piece of junk, a beautiful piece of junk," she added.
Cars were involved in Amber Heard and Johnny Depp's divorce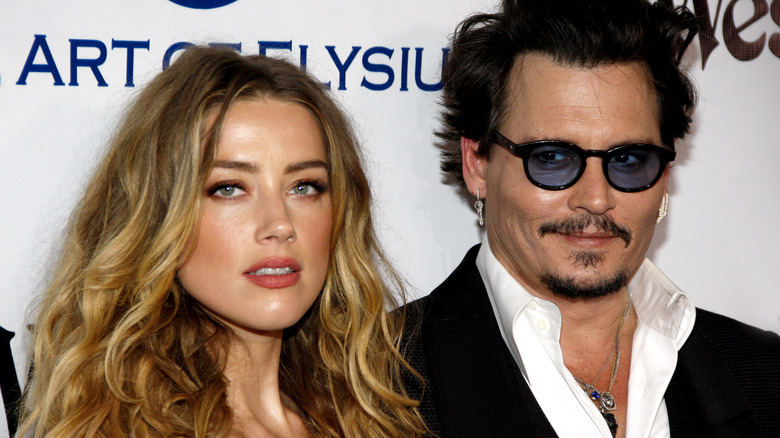 Tinseltown/Shutterstock
While cars were a source of bonding for Amber Heard and Johnny Depp, they also became a source of drama.
During their divorce, Heard apparently demanded that Depp pay her and grant her use of their apartments and car. Her attorney, Samantha Spector, requested "exclusive use and possession" of the black Range Rover she was driving, which Depp also had to continue making payments for, per Insider. She also asked to continue living at their penthouses in West Hollywood, while Depp was "to continue to pay mortgage and utility bills." Additionally, Heard's team also demanded attorney fees amounting to $100,000 and $25,000 for a forensic accountant. These demands came in as an exchange for keeping their issues "out of the media spotlight."
Heard and Depp have long since been divorced, and their defamation trial is over and done with. But the word is still out on whether or not Heard will get to keep the vehicles she had been given.