Why RuPaul Has A Problem With Jimmy Fallon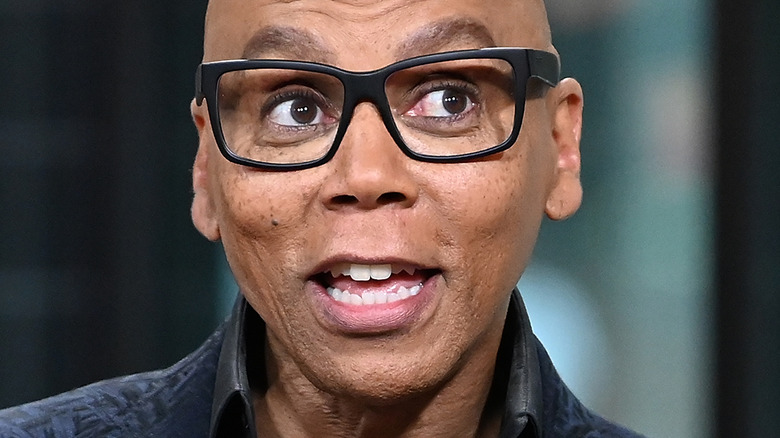 Slaven Vlasic/Getty Images
They say that to be successful, you need friends, and to be very successful, you need enemies. This apparently rings true with RuPaul, who has somehow gotten involved in feuds with multiple people over the course of his career.
For instance, he had a controversial beef with "RuPaul's Drag Race" contestant Pearl, who claimed she was disrespected by the host, according to Jezebel. "I turned to RuPaul and said, 'Oh my god, thank you so much. It's such a honor to be here, such a pleasure to meet you, you have no idea.' Just giving her everything I ever wanted to say to her," Pearl said. "She turned to me and she said, 'Nothing you say matters unless that camera is rolling.'" Katya echoed the sentiment, telling Joseph Shepherd's "Exposed," "My perception of Ru is ... I watched your interview with Pearl and she says it best: don't meet your heroes."
RuPaul has notably been mum about the people who have a bone to pick with him, rarely calling out his so-called industry enemies. Jimmy Fallon, however, was an exception.
RuPaul described Jimmy Fallon's Lip Sync Battle as a 'poor ripoff' of Drag Race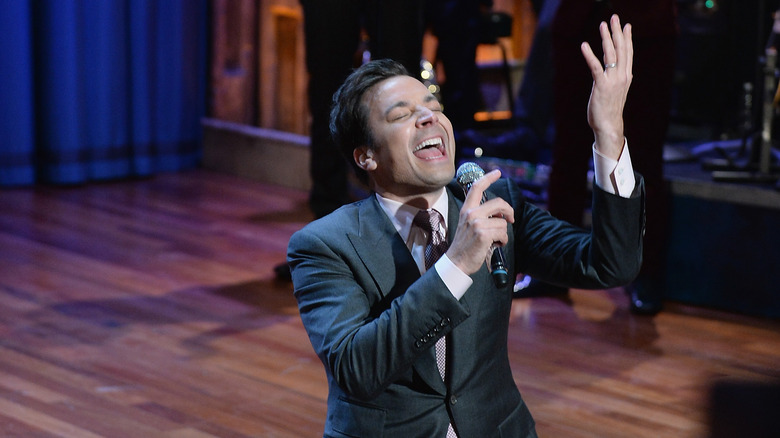 Theo Wargo/Getty Images
Fans know that Jimmy Fallon is a big fan of lip-syncing, as evidenced by his segment on "The Tonight Show Starring Jimmy Fallon," where he asks celebrity guests to perform various songs by, well... lip-syncing. It eventually turned into a full-blown show, even receiving a Primetime Emmy Award nomination in the Outstanding Structured Reality Program category. Many have been delighted to see their favorite stars go head-to-head on-stage — except for RuPaul.
In an interview with Vulture in 2016, RuPaul shared his thoughts on the show, saying it's a shoddy imitation of his "Drag Race" series and LGBT culture in general. "Oh, I don't think of it. It's a poor ripoff of our show," he said. "Regular, straight pop culture has liberally lifted things from gay culture as long as I can remember. And that's fine, because guess what? We have so much more where that comes from. Take it!"
He went on to say that, while it seems that society is more accepting of the queer community now, he still thinks that most of it is just surface-level. "This so-called 'Will & Grace acceptance' era is just people f*****g posing. Things haven't changed that much," he added. "You see it in politics right now — that's the f*****g truth of people. And you know, people will have you think, 'Oh, we're fashion. We're gay. That's my gay over there!' It's like, no. We're still a very, very, very primitive culture."
Jimmy Fallon called RuPaul a 'drag queen' on television
Aside from copying his show, RuPaul also called out Jimmy Fallon for addressing him incorrectly on TV. In a 2020 appearance on "The Tonight Show," Fallon called RuPaul something that he seemed to take offense with. "This is the first time a drag queen has ever been put on the cover," Fallon told the audience, before RuPaul corrected, "A drag queen? A drag queen?!" Fallon was then rendered speechless until RuPaul made an iconic statement: "I am the queen of drag."
The awkward moment went viral on Twitter, so much so that Fallon had to address it in a subsequent episode. He said that he thought he was going to get "canceled" by fans after the incident. "Some people said I looked a little nervous at one point during the interview," he recalled. "I really thought it was over. 'That's it, I'm canceled'. I started my own hashtag, #JimmyFallonIsOverParty. 'I had a good run, I had 10 years in the business'. I was like, 'Wait, what did I do wrong?' It was so funny."
But it looks like RuPaul took it in stride, so Fallon doesn't need to sashay away — for now!