Brad Pitt And Angelina Jolie's Relationship Continues To Get Messier And Messier
Jason Merritt/term/Getty Images
Brad Pitt and Angelina Jolie were once known as America's foremost supercouple. While acting as husband and wife in the iconic 2005 film "Mr. & Mrs. Smith," Pitt and Jolie fell in love, and shortly thereafter began a relationship. This relationship, which would come to be known as known as "Brangelina," would proceed to dominate the media. At the height of its spotlight in 2006, it became so intense that some said it had "reached the point of insanity," according to The Age. 
Together, they share six children, two of whom — already adopted by Jolie — were adopted by Pitt after he and Jolie became official, one of whom was adopted after they became a couple, and three of whom are theirs biologically. They then made their relationship official in 2014, marrying in a private ceremony in the French countryside. 
However, the dominant power couple would separate only two years later, much to the surprise of the American media and people. They later officially divorced in 2019. Now, however, despite Pitt and Jolie's relative silence the past few years, the story between them appears to have gotten even messier, with Pitt now publicly slamming his ex-wife for apparently going behind his back in a business they have controlling stakes in. 
Brad Pitt slams Angelina Jolie for trying to sabotage him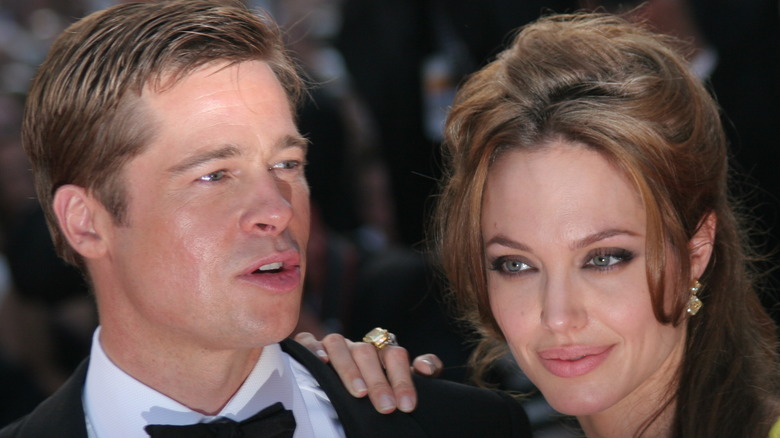 Denis Makarenko/Shutterstock
In February, Brad Pitt sued his ex-wife Angelina Jolie, according to People, alleging that she illegally sold stakes in a winery they purchased together without informing him or seeking his consent, which violated an agreement they had made while still a couple. The winery, called Château Miraval, per People, is located in the French vineyard in which they got married in 2014. 
Now, their legal troubles are only getting messier, with Pitt alleging that Jolie had planned to sell her interest to a wine group called Tenute del Mondo, which he alleges is indirectly owned by a Russian billionaire named Yuri Shefler, according to People. "Jolie pursued and then consummated the purported sale in secret," read a legal document Pitt filed in Los Angeles on June 3, "purposely keeping Pitt in the dark, and knowingly violating Pitt's contractual rights." 
Pitt, who is seeking a trial by jury, alleges that Shefler committed a hostile takeover of Miraval, and engages in "cutthroat business tactics and dubious professional associations." The documents added, "Jolie has sought to force Pitt into partnership with a stranger, and worse yet, a stranger with poisonous associations and intentions." The amount that Pitt is seeking will be determined at trial. Meanwhile, the two A-listers are also embroiled in a bitter custody battle, with a source telling Us Weekly that the "Troy" star believes Jolie "will never agree to joint custody and is going to run out the clock until the kids are 18."