Queen Latifah Has A Lot To Say About Criticism Of Her Weight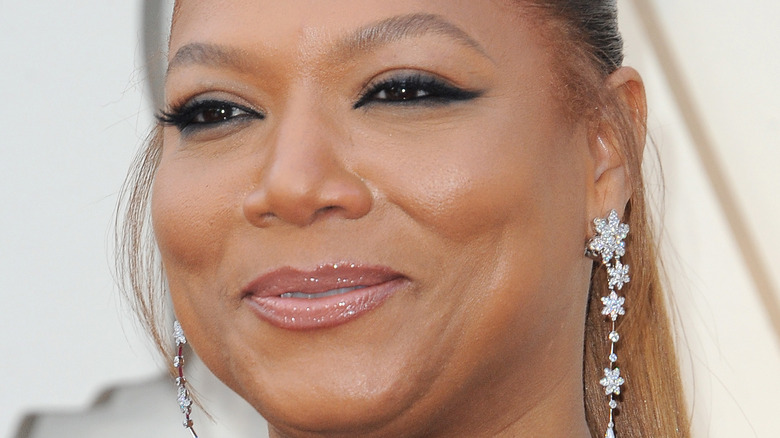 Tinseltown/Shutterstock
Queen Latifah has encountered pushback from the industry regarding her body size since the early days of her career. Between 1993 and 1998, the hip-hip icon starred in the Fox sitcom "Living Single," but the show's popularity didn't deter producers from asking all of its main stars to watch their calories. "Here we are, four different women, four different body types and we needed to lose weight," she told Entertainment Tonight in October 2021. "If anything it angered me and disheartened me, but it really angered me."
That was far from the first time Latifah was body-shamed. The star, whose real name is Dana Owens, was bullied all throughout school. "Luckily, I had a mom who would tell me, 'Love yourself regardless, love comes from the inside,'" she added. It took practice and overcoming tragedy, but Latifah decided to follow her mother's advice. "When I was around 18, I looked in the mirror and said, You're either going to love yourself or hate yourself. And I decided to love myself," she told Us Weekly in 2013.
As a public figure, Latifah has been open about her weight struggles, becoming a Jenny Craig spokesperson in 2009, according to ABC News. But even then, she was clear about her goals. "This is not about losing weight. This is about health," she explained. "It's not an image thing. I'm really content with my body image." Through it all, Latifah learned to stand up for herself. And she won't allow anyone to criticize her for her weight.
Queen Latifah wants to change the conversation around obesity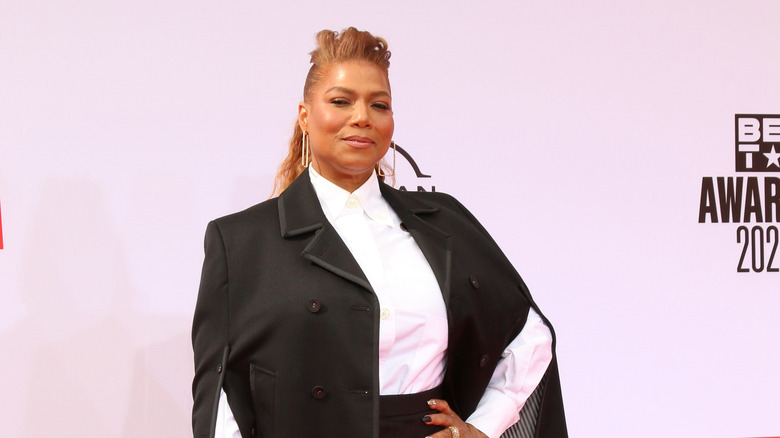 Kathy Hutchins/Shutterstock
Queen Latifah has an issue with how society understands and talks about obesity. She goes into detail about her thoughts on "Red Table Talk." She recalled going to see a trainer who insisted on using the Body Mass Index to determine she is obese. "I was mad at that," she laughed with co-hosts Jada Pinkett Smith, Willow Smith and Adrienne Banfield-Norris. "I was like, 'What? Me?' I mean, I'm just thick." 
In the upcoming episode, Latifah and the hosts discuss the flaws of using BMI charts and similar parameters to assess obesity, which often ignore racial, gender, and other social and biological circumstances, People reported. To Latifah, the way obesity is portrayed by the public needs to change. With that in mind, she joined the pharmaceutical company Novo Nordisk's "It's Bigger Than Me" campaign in 2021 to shift the conversation. "I think obesity is always connected to a stigma, to shame," she told Entertainment Tonight. "And what we want to do is just really educate people about what it really is, which is a health condition."
Besides, a high BMI doesn't correlate with poor health. "You can be healthy and be a big girl. I feel like I am, and I'm very healthy," she told Healthline. The goal is to nurture the body, regardless of the number on the scale. "I don't really diet," she told People in 2010. "I kind of keep everything in moderation, exercise and eat right."