The True Meaning Behind Dua Lipa's Tattoos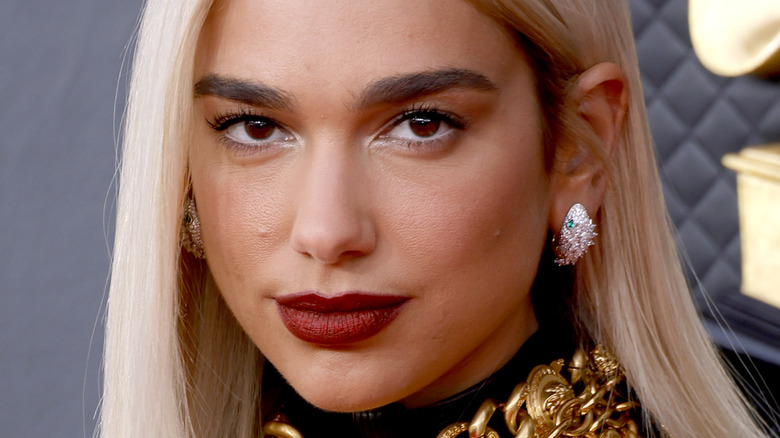 Frazer Harrison/Getty Images
In addition to her global number-one hits, image and fashion have played a big part in Dua Lipa's rise to the top. During a 2018 interview with Refinery29, Lipa opened up about her personal style and why she believes she and other women should keep pushing the boundaries. "Everyone is allowed to wear whatever the f**k they want, and it's so important that they do," the "New Rules" hitmaker said, adding, "We have to break the norms. If women wearing womenswear is deemed normal, women wearing menswear should be normal, too. But normality is a tricky one. It's putting things in a box, and it shouldn't be like that. Because what is normal, anyway?"
That passion for fashion has been apparent in recent years. As previously reported by Grazia, Lipa teamed up with the brand Pepe Jeans in 2019 to release her own collection. That same year, she attended her first Met Gala event and stunned in a multicolored Versace gown with matching tights and heels, per the Daily Mail.
Lipa's head-turning ensembles aren't the only thing that has caught our eye over the years. The singer also has a fair share of tattoos that all have different, special meanings to her that are worth talking about.
Dua Lipa has more than 15 tattoos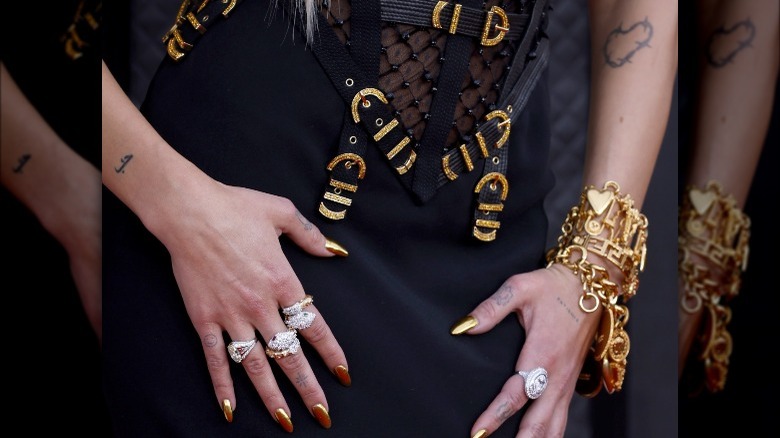 Frazer Harrison/Getty Images
Dua Lipa is a fan of tattoos. In fact, that's an understatement, as What Stars Own has noted the singer has inked her canvas an impressive 18 times. Her first tattoo, however, is one Lipa still says remains one of her favorites. In a discussion with Refinery29, the "Don't Start Now" hitmaker revealed she got her first tattoo at the age of 19 in 2015 by artist Sean Williams. Located on her right arm, Lipa chose to have "Sunny Hill" inked for a special reason. "It's the neighborhood my parents grew up in Kosova," she told the outlet, adding, "[Sunny Hill] became the name of our foundation and then the name of our festival. It holds a special meaning for me." Not all Lipa's tattoos seem to have a deep meaning, however. As seen in the snapshot above, she has a flame and a smiley face on her fingers.
During an online Q&A on YouTube's "Ask Anything Chat," Lipa went into detail about the meaning behind some of her tattoos after a fan asked about them. After getting "Sunny Hill" inked on her right arm, Lipa decided to get "This means nothing" down her left arm next, explaining it has no real meaning. Lipa's palm tree tattoo on her left elbow is down to spending a lot of time in LA and is her favorite tree. On both her thumbs, she has Keith Haring drawings, admitting she couldn't afford his art, therefore, a tattoo was a cheaper option.
Dua Lipa's award-winning album title is also inked on her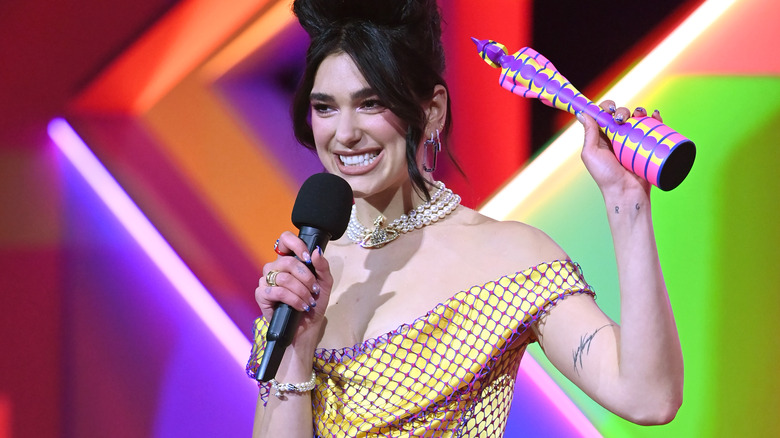 Dave J Hogan/Getty Images
As seen in the snapshot above, Dua Lipa has an "R" and a "G" tattooed on her left wrist. During her "Ask Anything Chat" on YouTube, she explained they are the first-name initials for siblings Rina and Gin. Other tattoos include the words "Angel" on her right shoulder and "Patience" on her left hand. "I guess having an angel on your shoulder is having someone looking over you, in a sense," she said, before remembering her drummer's wife inked a star on her finger and an all-seeing eye on her foot as a housewarming gift. "An all-seeing eye kind of protects you from any evil," Lipa added.
After a huge breakthrough with her self-titled debut album, Lipa's sophomore LP was highly anticipated. So anticipated, in fact, she decided to get the album title, "Future Nostalgia," inked on her left arm before announcing it to the world. Posing in a matching bikini, Lipa took to Instagram in December 2019 to share the title and tattoo with her millions of followers. As seen above, the decision to have it on her skin permanently probably isn't one she likely regrets as the album won her a BRIT Award as well as a Grammy. This isn't the first time Lipa has honored her career with a tattoo, however. In 2019, she told Refinery29 that she decided to get "245" on her arm as it was the number of concerts she had performed at that time.