Why You Won't See Dax Shepard And Kristen Bell's Kids On Social Media
Quinn Jeffrey/Shutterstock
Dax Shepard and Kristen Bell are one of the most famous celebrity couples in Hollywood. 
Bell rose to fame playing the title role in "Veronica Mars," and most recently starred in "The Good Place," which ran from 2016 to 2020. Shepard, meanwhile, has worked as an actor, comedian, and director, and has hosted a successful podcast since 2018. According to Brides, the two met at a dinner party in 2007. Describing their on-and-off again relationship in an Instagram Q&A in 2018, per E! News, Bell said there "weren't any sparks" at first. She continued, "Truly, his first text to me was: 'Hi. My name is Dax. I violated your privacy and got your number from Shauna. How do you feel about that?' And I thought...what the hell?? This kid is sassy."
Despite the fact that they didn't hit it off from the get-go, the pair ended up getting married in Beverly Hills in 2013, according to Brides. Since then, they've been transparent about both their personal and professional lives, whether it be discussing their marriage openly on Shepard's podcast, "Armchair Expert," or their candid views on mental health in interviews. But there's one big part of their lives that Shepard and Bell have done their best to shield from the public eye. 
Kristen Bell and Dax Shepard cover their daughters' faces on social media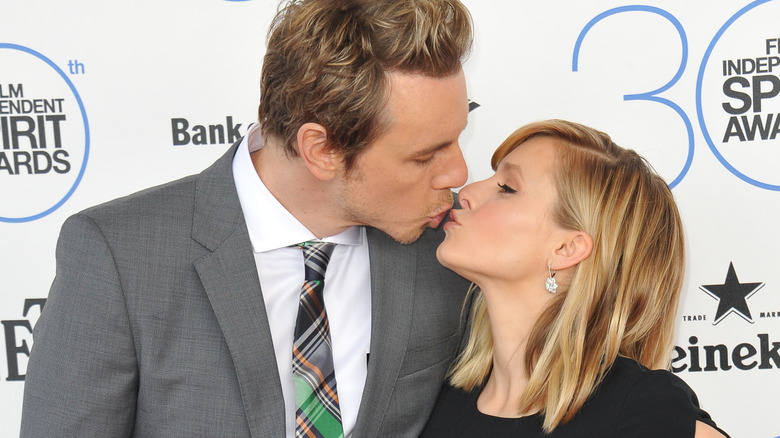 Featureflash Photo Agency/Shutterstock
Dax Shepard and Kristen Bell are parents to daughters Lincoln and Delta, but fans don't know what their girls look like. Why? Bell and Shepard don't show their faces on social media. Those who follow Bell on Instagram will often see her covering the girls' faces with emojis in photos.
In her Romper cover story published in 2020, Bell shared, "My feeling is that I chose a career in the public eye. I chose to be quoted, I chose to have my picture taken. I don't know them yet. I don't know if they will want that. So I really don't have the right to choose for them." 
That being said, Bell is still open about her daughters' lives. In fact, in a recent episode of "Armchair Expert," she revealed that her daughters sleep on their bedroom floor. And on "Momsplaining with Kristen Bell," she admitted that her daughter still wore diapers at age five. It seems Shepard and Bell remain open about their journey as parents, but really value privacy in their family.
Kristen Bell and Dax Shepard spearheaded the No Kids Policy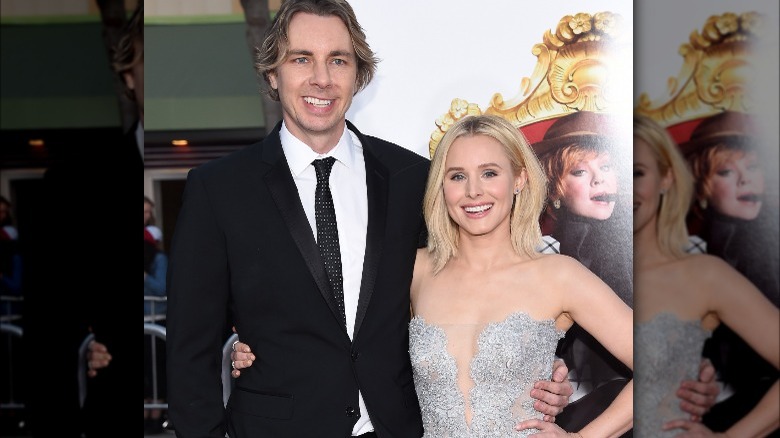 DFree/Shutterstock
The phrase "No Kids Policy" may ring a bell to some people. Back in 2013, Kristen Bell and Dax Shepard lead the charge with the initiative, which prevents the paparazzi from taking photographs of celebrities' children. In a 2014 interview with CBC, Bell said, "I feel a lot safer because I'm not followed at all now. It makes me feel like we all rallied and did something — the good people that were on the side of responsible parenting and passionate about child welfare spoke up and made a difference, and that's a really invigorating feeling."
When the movement was gaining traction, a number of celebrities rallied in favor of it, from Amy Adams and Jennifer Aniston to Bradley Cooper and Katie Holmes, according to The Washington Post. And it wasn't just celebrities interested in keeping kids' faces out of the press. In September 2013, a childhood anti-paparazzi bill was signed by California Gov. Jerry Brown, according to Deseret News.
It can't be denied that Shepard and Bell's efforts were instrumental in keeping photos of kids out of tabloids, and the husband and wife continue to keep their own children out of the public eye.