Tori Spelling's Daughter Is Practically Her Twin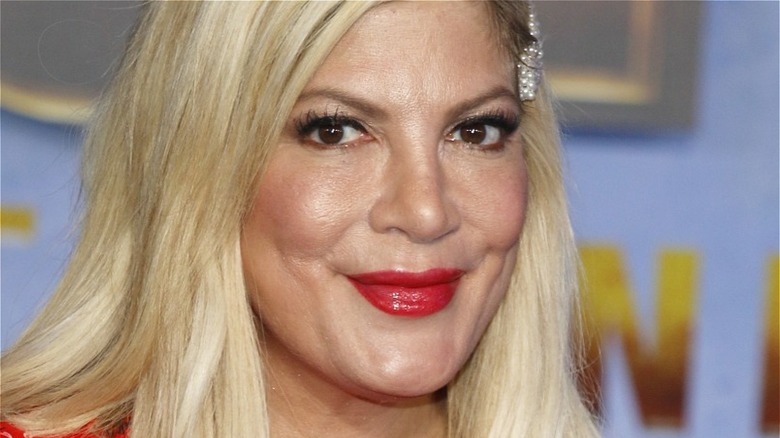 Tinseltown/Shutterstock
Tori Spelling may have been the original "Beverly Hills 90210" party girl, but in real life, she gave up the glitz and glamor to become a mom. Spelling and Dean McDermott have five children together, and she knows a thing or two  about motherhood. She told Morning Honey that she previously put a lot of pressure on herself before realizing her limits. Spelling said, "I used to think I had to be the perfect mom. I used to compare myself to other moms, and if they make that, I am going to make something even better." The actor noted, "Being the imperfect mom is a game-changer ... Shedding that layer of perfection helps you move on." She added, "The mom life is my favorite life, and I know all of the work I do is for them."
On June 9, Spelling waxed poetic about her daughter Stella McDermott, who graduated from middle school. She took to Instagram to talk about all the obstacles Stella overcame to reach her goals. The reality TV star shared that Stella faced  "bullying, COVID, adversity, migraines, severe anxiety, and sadly teachers and counselors who didn't believe she could do it all in time to graduate." She went on to rave about her daughter's kindness and drive, and said that she believed that she could accomplish anything. Spelling added "#likemotherlikedaughter," and fans couldn't agree more. 
Teenage Stella is Spelling's mini-me, and she has the looks to prove it.
Tori Spelling and Stella McDermott could be twins
Tori Spelling and her daughter Stella McDermott are carbon copies of each other. From their blond tresses to the shapes of their faces and noses, mother and daughter are spitting images of each other. Spelling shared a snap of her daughter on her Instagram page, as McDermott posed with a bouquet of flowers in her arm. The graduate wore a blue graduate gown and a garland of white blooms around her neck, as her hair fell softly on her shoulders. The teenager even smiled similarly to her mom's famous pout in the snap. One fan noted, "Donna Mart... Oops I mean Stella McDermott graduates." Of course, Spelling played the role of Donna Martin in the original "Beverly Hills 90210."
The celebration continues in the Spelling-McDermott household. A day later on June 10, Spelling took to social media to congratulate McDermott on her 14th birthday. Spelling wrote, "Happy Birthday to my first born girlie Buggy! Can't believe you are 14 @stella_mcdermott08. My Jill of all trades. The most creative human I know." She listed some of her daughter's attributes, sharing that McDermott loves animals, takes care of others, and is a good sister and friend. She raved, "Your makeup, baking, crocheting, and crafting skills impress me to no end!" Spelling added, "I love you so much and my heart beams with proudness every day." Congratulations on your birthday and graduation, Stella!