What We Know About Alexandria Ocasio-Cortez's Time In College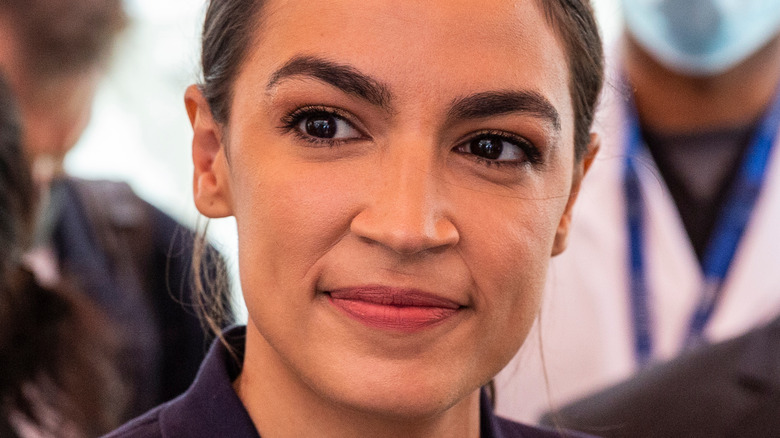 Lev Radin/Shutterstock
It's safe to say that Alexandria Ocasio-Cortez is a polarizing figure; people either love or loathe the politician. More than enough New Yorkers love her, though. In 2018, she beat 10-term incumbent Joe Crowley in a shocking win during the mid-terms to become the Democratic representative candidate for New York's 14th congressional district. AOC swept to victory during the general election, usurping Republican Anthony Pappas by a wide margin. At just 29, she became the youngest woman ever to have served in the U.S. Congress.
She ran her campaign at a grassroots level within her South Bronx neighborhood. AOC maintains a high presence on social media, speaking directly to her target group — enabling her to win "nearly nine out of 10 elec­tion districts where the aver­age age of the voter was below 55," per the Brennan Center for Justice. The AOC effect saw a sharp uptake in the youth vote, with supporters desperate for change. And change is exactly what she promises.
AOC advocates for the abolition of ICE, free Medicare for all throughout the U.S., sustainable environmental policies, stricter gun control measures, and free public college for students, per her campaign website. She proudly identifies as a Democratic Socialist –- a political philosophy that's widely vilified and misunderstood within the U.S. It's little wonder that Republicans hate her. But before she became a political darling, she studied and studied and studied.
Alexandria Ocasio-Cortez made her college time doubly worth it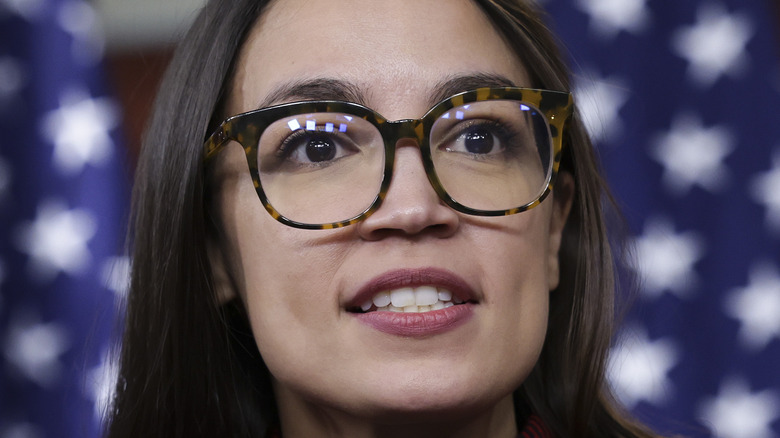 Kevin Dietsch/Getty Images
When Alexandria Ocasio-Cortez was a child, her family moved to the suburbs so she could attend Yorktown High School, a better school than those in the Bronx, per her congressional website. After graduating from Yorktown, AOC attended Boston University. She made the most of her time in college, double majoring in international relations and economics. AOC interned for Senator Ted Kennedy and tweeted about how it opened her eyes to the injustice of ICE.
In 2011, she graduated cum laude with two B.A.s, but AOC doesn't boast about her smarts. "I don't think she ever took an environmental course in college. She did go to college, right?" Donald Trump asked in 2020, per The Hill. AOC clapped right back. "I could say yes, but who cares?" She tweeted. "Plenty of people without college degrees could run this country better than Trump ever has."
AOC's net worth is lower than the average politico. Despite being paid a salary of $174,000, her overall assets are around $200,000, according to Celebrity Net Worth. In 2019, she made a point about how much college debt she still had, eight years post-graduation. "I literally made a student loan payment while I was sitting here at this chair, and I looked at my balance, and it was $20,237.16," she admitted during a hearing on student debt. "I just made a payment that took me down to $19,000, so I feel really accomplished right now."
Alexandria Ocasio-Cortez got her groove on in college
Alexandria Ocasio-Cortez's time in college resulted in one of AOC's most controversial moments – which actually wasn't controversial in the slightest. Given her willingness to speak out and hit back at detractors, it's not surprising her every move is scrutinized. Even AOC's Vanity Fair cover caused a stir. People slammed the costly clothes she wore despite them being loaned by the stylist.
However, it was a 2010 video of AOC dancing back in her Boston U days that right-wingers seized upon to, erm, dance-shame her? "Boston University BratPack mashup" was a take on the 2009 craze of people gyrating to "Lisztomania" by Phoenix inspired by "The Breakfast Club." In the video, college kids of all ethnicities are seen dancing wildly. Still, AOC's moves caught the ire of the conservative right wing in 2019, leading a Twitter troll to dub presumably sensual drum music over her getting down.
The dubbed video, that's since been deleted, went viral but totally backfired. "Now she's totally done for. Newly unearthed video reveals that when @AOC was in college, she was ... adorable," tweeted Washington Post columnist Karen Tumulty. In response, AOC posted a video of herself busting a move to "War," Edwin Star's 1970 smash hit.