Machine Gun Kelly's Strange New Accessory Has People Asking About Megan Fox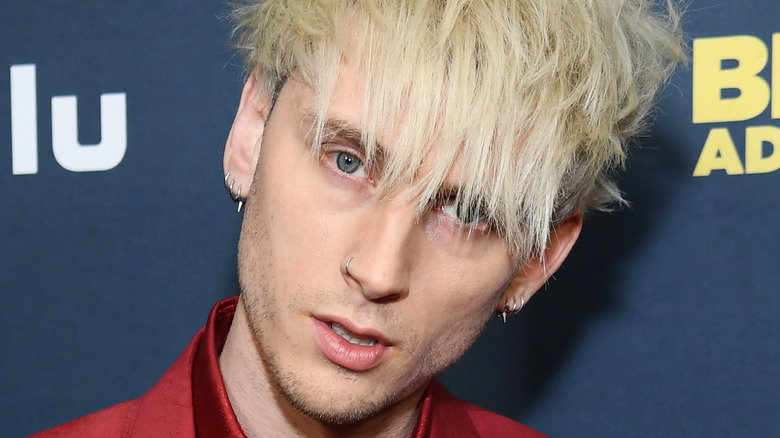 Dimitrios Kambouris/Getty Images
Machine Gun Kelly knows how to make a statement with his accessories, and the message he often conveys is that he's an artist who likes to walk on the wild side.
Kelly has become a real trendsetter with his punk-goth jewelry picks, which can be edgy, whimsical, and a bit macabre. At the 2021 MTV Video Music Awards, he encrusted his face with tiny pearls and rocked a knuckle duster that made it look like he was grasping the fingers of a silver-dipped Thing from "The Addams Family." According to Who Wore What Jewels, the slightly creepy name of the CHRISHABANA piece was "You're Never Alone." He's also a fan of intricate lip jewelry, like the Dolce & Gabbana lip ring he rocked at the Super Bowl LVI: Bud Light Music Fest, per HollywoodLife. It featured a DG charm and a large gemstone that dangled below his chin.
But some of Kelly's most attention-grabbing accessory choices have been inspired by his relationship with Megan Fox. The singer and his fiancee made sure that they remained side-by-side at a launch event for Kelly's UN/DN LAQR nail polish line by rocking chains that linked their pierced pinky nails together, per Insider. And let's not forget the barbed engagement ring that Kelly presented Fox with. "The bands are actually thorns. So if she tries to take it off, it hurts," Kelly told Vogue. He also stepped out wearing an earring that looked like it was capable of inflicting pain.
Machine Gun Kelly rocked another bloody statement piece
As reported by Page Six, when Machine Gun Kelly showed up to the June 9 premiere of his movie "Taurus," he had on an earring that sparked speculation over whether it contained his fiancee's DNA. It was shaped like a syringe filled with blood, complete with a red, drop-shaped jewel dangling from the needle.
Blood has been a major theme throughout Kelly and Megan Fox's relationship. They fell in love while filming a movie about a serial killer, "Midnight in the Switchgrass," and Fox appeared in Kelly's "Bloody Valentine" music video. While speaking to British GQ, the couple memorialized their gothic romance by giving each other matching tattoos that read, "The darkest fairytale." Fox's was etched above the blood vein on her inner arm.
Kelly even has a necklace with a vial containing Fox's blood, which he spoke about on "The Ellen DeGeneres Show." He explained that he received the bizarre gift when Fox left for Bulgaria to work on a movie. "Some people give like a handkerchief to their partner or whatever; she gave me her DNA," he said of the memento, per ET. It could also serve as a quick snack. "It's just a few drops, but yes, we do consume each other's blood on occasion for ritual purposes only," Fox told Glamour UK in April, prompting The New Orleans Vampire Association to warn the couple to get their blood tested before consuming it, per TMZ.