Megan Fox And Machine Gun Kelly's Relationship Is Even More Bizarre Than We Thought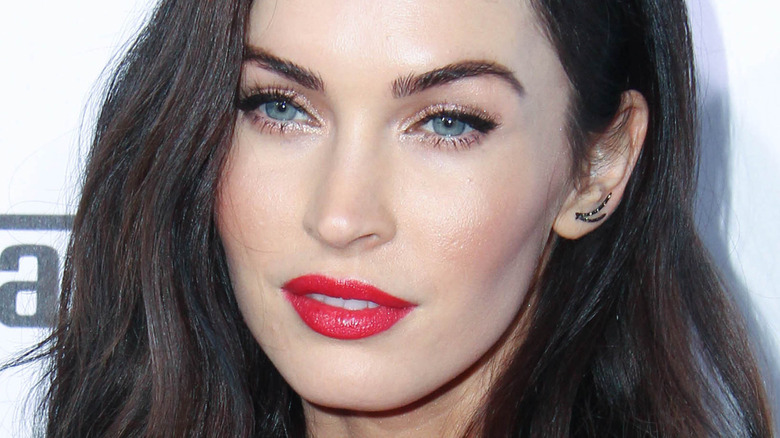 Kathy Hutchins/Shutterstock
Megan Fox and Machine Gun Kelly's relationship has its way of captivating the public's attention. The pair was first reported to be an item in May 2020 shortly after the "Transformers" star announced her separation from Brian Austin Green, per the Daily Mail. Speculation of the pair's budding romance also dominated headlines on the heels of Kelly's "Bloody Valentine" music video release, which featured the rapper sharing steamy moments with Fox. The public had little time to relish in the rumors, though. By the following month, Kelly, whose real name is Colson Baker, confirmed he and Fox were together. "'I'm calling you girlfriend, what the f***.' Life imitated art on that one," he tweeted on June 15, 2020.
The latest it-couple has continued to draw attention over their unusual behavior. Speaking on "Jimmy Kimmel Live" in March, Kelly noted taking ayahuasca with Fox helped solidify their bond. "We were exorcising some things out of us that we needed to get rid of," he told Kimmel. Kelly has also stabbed himself trying to impress Fox. "Travis [Barker] got me this knife that had an engravement from the new album on it and I was like, 'Check this out, this is sick,' and I threw it up and it came and stuck in my hand," he said on "The Tonight Show Starring Jimmy Fallon" in December. But those are just the mild examples. Kelly and Fox are bloody serious about their relationship, and they spare no efforts to prove it.
Megan Fox and Machine Gun Kelly drink each other's blood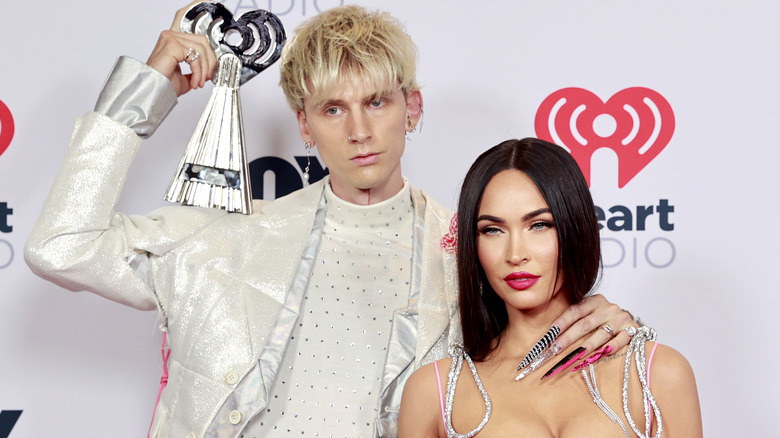 Emma Mcintyre/Getty Images
Megan Fox and Machine Gun Kelly aren't afraid to exchange DNA material. As it turns out, the love birds often taste each other's blood, though it isn't as bad as it sounds, Fox assured in an April 26 Glamour UK feature. "I guess to drink each other's blood might mislead people or people are imagining us with goblets and we're like 'Game of Thrones,' drinking each other's blood," she said. But the reality is far from that and only happens for very specific purposes. "It's just a few drops, but yes, we do consume each other's blood on occasion for ritual purposes only," Fox clarified.
That may or may not appease readers' concerns, but it was a necessary elucidation following Fox's wild engagement announcement in January. Fox uploaded a video of Kelly's proposal to Instagram, accompanied by a caption alluding to it. "I said yes ... and then we drank each other's blood," she wrote. In October, Fox mentioned that blood was an important element in their relationship, noting that theirs was (among other things) a "solar flare of a romance featuring: feverish obsession, guns, addiction, shamans, lots of blood," she captioned the post.
The rituals aren't the only way they embrace the element. Fox and Kelly also have necklaces containing each other's blood. MGK shared the symbolic accessory on Instagram, writing, "I wear your blood around my neck." Talk about a Bloody Valentine!