Machine Gun Kelly And Megan Fox's Relationship Gets Weirder And Weirder
Theo Wargo/Getty Images
It's no secret that "Transformers" actor Megan Fox and multi-platinum recording artist Machine Gun Kelly, whose real name is Colson Baker, don't have a typical relationship. Fox and MGK are known to match each other's outfits, something the "Till Death" actor explained on "Jimmy Kimmel Live" that she started doing to keep up with her new man's colorful and versatile style. And much to fans' delight, they haven't been shy about showing affection to one another, never missing the opportunity to post a sizzling selfie together.
The famous match went Instagram official in July 2020, four months after rumors initially began flying that they were dating, per Cosmopolitan. That's when MGK posted a black and white photo of him and Fox together, captioning it, "waited for eternity to find you again." In January 2022, the newest Hollywood it-couple announced their engagement, with Fox writing that the two "walked through hell together" within just one and a half years of dating. Fox described accepting his proposal, writing, "just as in every lifetime before this one, and as in every lifetime that will follow it, I said yes."
Now, three months after MGK and Fox celebrated their engagement, fans are getting more details about what Fox really meant in her engagement post about their hellish tribulations. MGK recently revealed on "Jimmy Kimmel Live" that he and his bride-to-be went throught an unforgettable psychedelic experience. 
MGK and Megan Fox exorcised together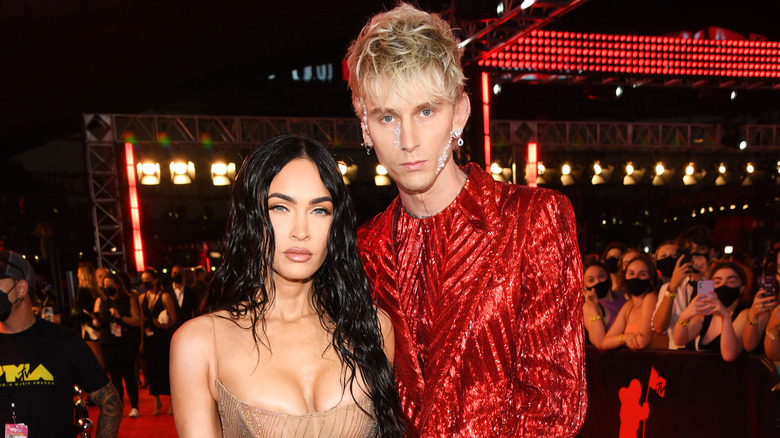 Kevin Mazur/mtv Vmas 2021/Getty Images
Six months before Megan Fox and Machine Gun Kelly announced their engagement, Fox opened up on "Jimmy Kimmel Live" in July 2021 about a trip to Costa Rica the couple took together that summer. But it wasn't a glamorous retreat, as Fox explained that she and MGK drank psychoactive tea together while deep in the jungle, leaving them with no access to shower. The model specified that indigenous people guided them, and added they weren't "allowed to eat after 1 p.m." and were instructed to purge before the ritual. 
MGK recently gave more details about the couple taking ayahuasca while on "Jimmy Kimmel Live" on March 29. The "Wild Boy" artist said the overall experience "was one of the most important things that happened" to him in his life. MGK also noted he consumed more than everyone else there because their spiritual guide told him that he had an especially "big shadow of darkness." 
While everyone else at the retreat had a single glass of psychoactive tea, MGK stated he was given four. Kelly noted that he had a much more pleasant time than his now-fiance, who told the audience during her "Kimmel" appearance that she "went to hell for eternity" and had a "real ego death" during the trip. The singer explained that he and Fox underwent the experience because they were "exorcising some things" out of their bodies that they needed to get rid of. These twin flames sure do share a penchant for weirdness.