Justin Bieber Reveals The Serious Health Issue Preventing Him From Performing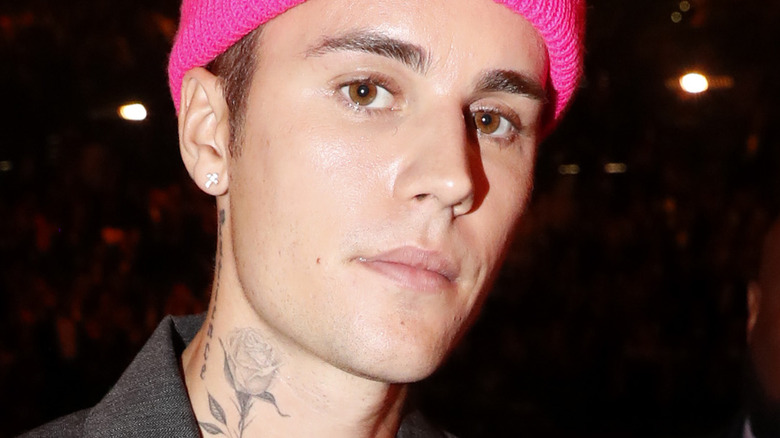 Johnny Nunez/Getty Images
Justin Bieber is now opening up about the mysterious illness that led to him postponing his Justice World Tour right at the last minute. In early June, the singer alerted fans that he was going to be pausing shows for now because of his sickness in an Instagram Story, but without giving out many details. 
"Can't believe I'm saying this. I've done everything to get better but my sickness is getting worse," Bieber wrote in the post (via Billboard). "To all my people I love you so much and I'm gonna rest and get better."
According to Billboard, this is actually the third consecutive time that Bieber has canceled this tour. Originally, the tour was supposed to happen in 2020 but had to be pushed back twice because of COVID-19. Bieber obviously wasn't the only performer forced to cancel shows during the pandemic, but it's still understandable for fans who have been waiting two years to see him to get frustrated, or at least want some answers. 
Half of Justin Bieber's face is paralyzed
A few days after posting that cryptic Instagram Story, Justin Bieber shared what was going on in more detail in a new Instagram video. In the short vid, Bieber revealed he is suffering from a partially paralyzed face, which he explains is caused by Ramsay Hunt syndrome. "It is from this virus that attacks the nerves in my ear and my facial nerves," he said, demonstrating how he can't move the right side of his face at all. 
"So for those who are frustrated by my cancelations of the next shows, I'm just physically obviously not capable of doing them," Bieber continued. "This is pretty serious as you can see, but obviously my body's telling me I gotta slow down and I hope you guys understand." The pop star said he'd be using his time to relax and heal so he can get back to doing "what I was born to do." Bieber's manager Scooter Braun commented, writing "Love you and proud of you." Bieber's wife, Hailey Bieber, shared a Story, writing on her post, "I love u baby." 
The Mayo Clinic notes that the same virus that causes chickenpox also causes Ramsey Hunt syndrome. And though the former ailment clears up, the virus itself will lay dormant in one's system for years — eventually returning and attacking the facial nerves. Here's to wishing Bieber a speedy recovery!