Dakota And Elle Fanning Have A Little-Known Connection To The Royal Family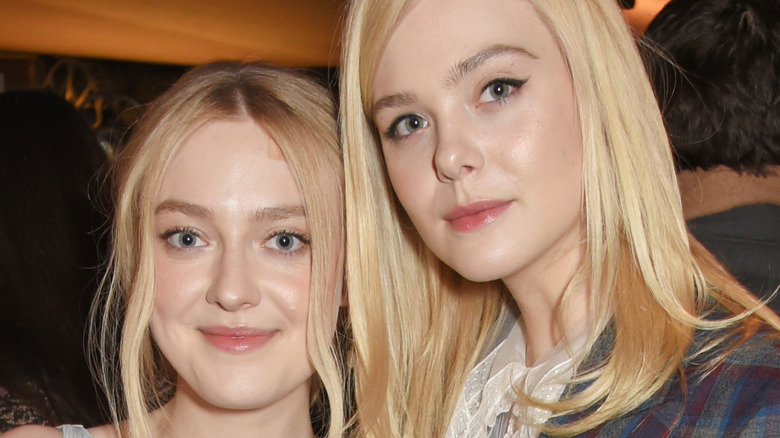 David M. Benett/Getty Images
Growing up in the spotlight is something Dakota and Elle Fanning have become accustomed to — and that's a good thing, as these two were literally born to be famous.
Known for their roles in prominent Hollywood films, the Fannings shot to stardom as young kids. In fact, Dakota began her acting career so young that she quickly became an esteemed actor; even as a child, she acted in everyone's favorite childhood movies. From "Tomcats" in 2001 to 2003's "The Cat in the Hat" and "Uptown Girls," per IMDb, Dakota solidified her role in Hollywood. And as little sisters do, younger sister Elle quickly followed in her sister's footsteps and took off on her own acting career the second she was able to. From then on, like her big sister, Elle quickly became a household name in Hollywood — with both of the sisters starring in blockbuster films such as "Twilight" for Dakota and "Maleficent" for Elle. 
While the two sisters' careers shot them into stardom, at one point their risk to become actors was a gamble, as their family had to move from Georgia to Los Angeles — though it was a gamble that would immensely pay off. But even if the Fanning sisters' acting skills didn't land them in the spotlight in Hollywood, they seem to have a royally big family connection that would have served them well — if they needed it.
Dakota and Elle Fanning are related to King Edward III and Kate Middleton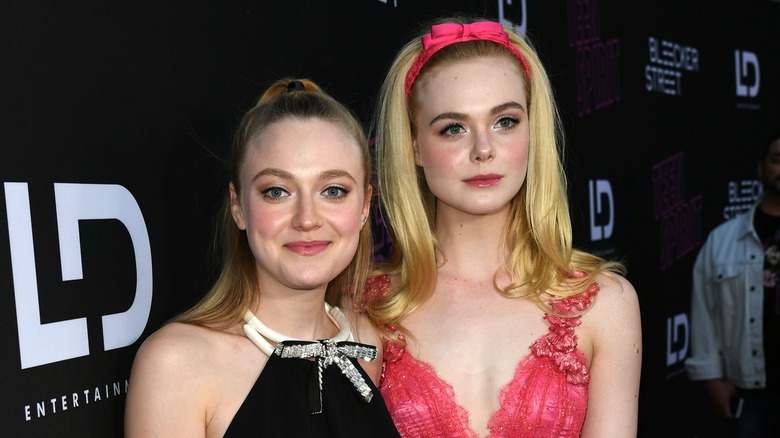 Kevin Winter/Getty Images
Seems like the Fanning sisters are not just Hollywood royalty — they are real royalty as well! In tracing the lineage of the royal family, researchers for Ancestry found out that Dakota and Elle are related to the royals, as they are the 22nd great-granddaughters of King Edward III. "You can consider [Elle] a long-lost princess. This connection is so unique and rare," Ancestry's Michelle Ercanbrack told People.
While the sister's royal ancestor was around long before they were, their relative King Edward III certainly held a lot of esteem. In fact, he was the King of England beginning in 1327 and became well known for his strategy in the Hundred Years War. And it seems Dakota and Elle picked up some of the royal traits from their relative — like starting your career as early as possible — as King Edward III took to the throne as a kid, at only 14-years-old, according to the Historic U.K.
Proving the lineage, according to Ancestry, there are 700 years of paperwork that conclude the sisters are related to King Edward III through their mom, Heather Joy Arrington (via Elle). And if being related to a king wasn't enough for the Fanning siblings, the two are also cousins of Kate Middleton! The Duchess of Cambridge's mother, Carole, was also related to King Edward III.
Dakota and Elle take from the royal family in their personal life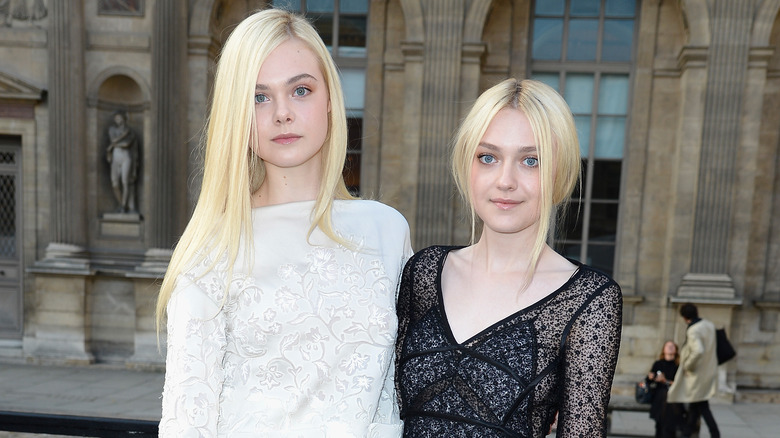 Pascal Le Segretain/Getty Images
Being royal and being Hollywood royalty certainly share their differences, but there are plenty of similarities, too. And it seems both Dakota and Elle Fanning have taken from their royal family counterparts — whether they know it or not — on how to navigate life in the spotlight.
While almost everyone knows of the Fannings — other than their family and friends — none of their fans actually know much about their personal lives. Instead, just like the royals, what we know about them is more or less speculation. In fact, that mystery is something Dakota herself alluded to but, in royal style, didn't divulge any information to change it. "There are [things that people don't know] — 1000%," she told Who What Wear in 2022, "I can't tell [you], because then my mystique is gonna be lost."
But just like their fellow family member Kate Middleton, the Fanning sisters don't see themselves as any different despite the spotlight on them. "I certainly get overwhelmed, and I've certainly made mistakes, and I'm certainly not perfect. All the clichés are true, like with anybody. But I am pretty together," Dakota said. Sister Elle also revealed to The Hollywood Reporter that she was brought up to "keep everything private." And now looking at it, it really is no doubt the Fanning sisters became famous. They were literally born into it — but just took a different path and became Hollywood royalty.