How Alexa Demie Accidentally Injured Sydney Sweeney On The Set Of Euphoria
Eugene Powers/Shutterstock
HBO's "Euphoria" is one of the network's most popular series. The show — which follows the drama-filled lives of a group of teenagers at East Highland high school — is the second-most watched show on the channel, behind "Game of Thrones." According to Deadline, the Season 2 premiere of the show also broke the HBO Max streaming record, with an astounding 2.4 million viewers across all platforms.
The series is centered around Zendaya's character, Rue, and her battle with drug addiction, though the other characters are just as messy. Maddy Perez and Cassie Howard — played by Alexa Demie and Sydney Sweeney, respectively — are also at odds on the popular show, as their love triangle with Nate Jacobs (Jacob Elordi) was a key storyline for the second season. And it appears the events behind the scenes are just as exciting as what fans watch on television, as Sweeney is opening up about how Demie accidentally injured her toe.
Sydney Sweeney says her toe 'exploded'
During an appearance on "The Late Late Show with James Corden," Sydney Sweeney revealed that her "Euphoria" castmate Alexa Demie injured her toe while filming a scene. When asked by Corden how the cast celebrated its record-breaking second season, Sweeney explained that there was a wrap party — which she almost missed out on due to an accident on-set.
"Well, my toe got stepped on during filming and it just exploded. So, I ended up at the ER," Sweeney said. Sweeney further explained that she showed up to the party "high on morphine," but that her toe was "fractured in three places." Sweeney jokingly tried to avoid revealing which cast member stepped on her show, but ultimately confirmed it was Demie. "The White Lotus" star then explained that she never told her co-star about the incident, but says she is "okay now." She also joked about naming her damaged toenail Durt and expecting it to fall off soon.
Sweeney did not confirm what scene the toe-breaking occurred, though many speculate it was the infamous fight scene between her and Demie at the end of Season 2. "the reason we didn't get more of a maddy cassie fight was probably bc Sydney broke her toe in a earlier take and they couldn't film with her anymore," argued one fan. "I want to know how did Cassie break her foot ... during some scene but that fight didn't look like it would cause a scratch," said another.
It's all good between Sydney Sweeney and Alexa Demie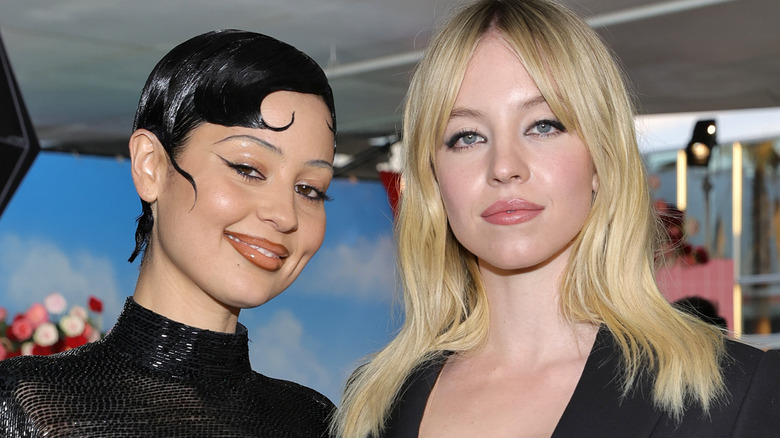 Amy Sussman/Getty Images
For fans who may be wondering if Sydney Sweeney and Alexa Demie's on-set blunder will affect the future of "Euphoria," it appears as if the cast has already moved on. Following the Season 2 finale, Sweeney shared a slideshow of photos from the set — which included several images of her and Demie. "Thank you for this incredible season ... love all of you," Sweeney captioned the Instagram post.
The pair even won an award for their on-screen chemistry — or feud in this case — at the 2022 MTV Movie and TV Awards. While accepting the golden popcorn trophy for Best Fight, Sweeney took another playful jab at her co-star, who was not present at the show. "I wish Alexa was here so she could thank the amazing fans that we have because you all are so incredible," Sweeney said, adding, "But I have to be honest. Maddy might have gotten the last punch, but Cassie has never, ever been happier."