What Alexa Demie Was Doing Before Euphoria
Eugene Powers/Shutterstock
After wrapping up two successful seasons that had the internet weighing on the storylines from just about every angle, it's safe to say HBO's "Euphoria" is a certified fan-favorite program. According to Deadline, Season 2 of the teen drama series gained an average of over 16 million people watching per episode. 
The show's strong fanbase has fallen in love with the performances of the cast members, including Zendaya, Sydney Sweeney, and Alexa Demie. Demie convincingly portrays Maddy: A bold, outgoing, tough-as-nails high schooler with a complex backstory and a heart of gold. 
Early on, Demie was interested in playing the controversial role because she believed it would push her acting skills to the limit. "I was drawn to Maddy as a character because I knew she would pull me out of my comfort zone," Demie said in a July 2019 HBO interview. Though Maddy is seen as an aggressor in Season 1, in Season 2, her vulnerable side is shown much more frequently. This shift has allowed Demie to dive deeper into her performance abilities. "I like that we see more vulnerability," Demie said of Season 2 to Entertainment Weekly in February 2022. "I like that she's a little bit more nuanced and complex this season and not so in your face every second."
"Euphoria" may have made the world more familiar with Demie's talents, but she was putting out creative content years prior to this scoring this gig.
Alexa Demie pursued many artistic ventures before Euphoria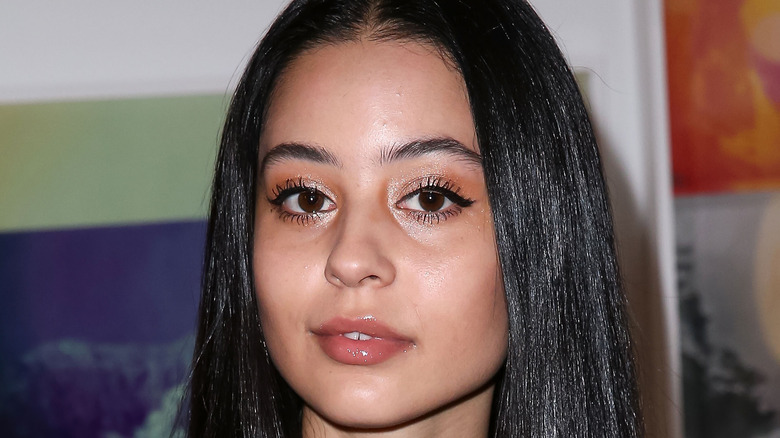 Imeh Akpanudosen/Getty Images
Prior to starring in HBO's "Euphoria," Alexa Demie was acting, singing, writing, and designing fashion pieces. Demie's acting credits in the years leading up to "Euphoria" include guest roles on shows like "Ray Donovan" and "Love," per her IMDb credits. She also played Estee, a lead role in the 2018 film, "Mid90s," which was written and directed by Jonah Hill. 
In a 2019 interview with The New York Times, it was revealed that Demie also previously designed sunglasses, which started as a hobby she took on while still in high school. This endeavor proved to be highly successful as stars like Nicki Minaj wore Demie's sunglasses brand, Mainframe.
In addition, Demie has been writing and singing songs for years and has released singles titled "Leopard Limo" and "Girl Like Me" on her YouTube channel. In fact, Demie was so invested in music prior to "Euphoria" that she nearly quit acting to solely focus on this passion of hers. "I wasn't reading anything that I liked," Demie told Vogue in 2019. "I thought about not acting and just focusing on music." However, soon the signs revealed to the rising star that "Euphoria" would be the next job she was meant to score.
Alexa Demie noticed 'spiritual' messages hinting that her role in Euphoria was meant to be
Eugene Powers/Shutterstock
Although any of Alexa Demie's artistic passions could have been the source of her rise to fame, her acting work has taken the lead in her recent career success. The phenomenal popularity of "Euphoria" has brought her work to new heights. However, even before she secured the role of Maddy, Demie had a feeling the part was destined to be hers.
In 2019, Demie told Collider, "Euphoria" was a project that called out to her on a deep level. "It was a spiritual experience ... I went to a sandwich shop and there was a cheese called Euphoria. I just kept having this synchronicity," Demie said before adding, "Even with [Zendaya] being Rue, she was in my dream before I met her. And then, when we met, it was like we knew each other, forever. It was like this instant like family bond."
These positive omens toward the project have proven to be fitting, as "Euphoria" has been confirmed for a highly anticipated third season. But fans will have to patiently wait; L'Officiel reported that new episodes are projected to premiere sometime around late 2023 or in 2024.