Are Kat Dennings And Beth Behrs Still Friends?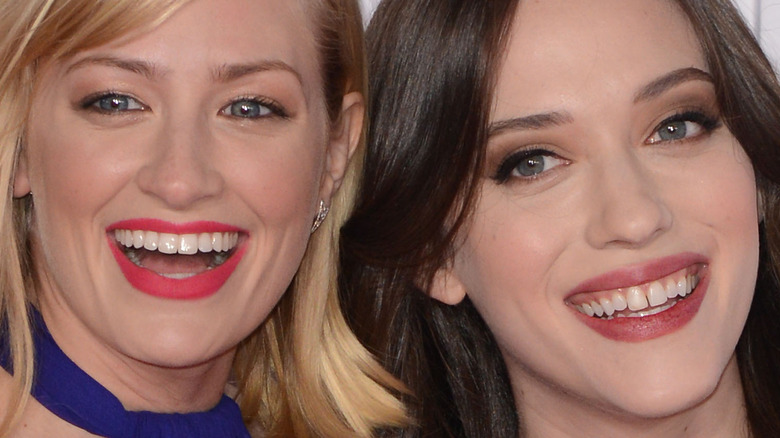 C Flanigan/Getty Images
On "2 Broke Girls," Beth Behrs and Kat Dennings played two characters who went together like French fries and frosting; it's an unexpected combo, but somehow it just works. However, it took some time for Max Black, the scrappy, street-smart waitress played by Dennings, to warm up to Caroline Channing, a perky ex-socialite who was bound and determined to pull herself out of poverty.
According to Behrs, she was actually broke when she auditioned for the role of Channing. On "The Drew Barrymore Show," she revealed that she was bartending and working as a nanny to make ends meet. "Seven days a week, I was working full-time," she said. "I didn't even own a pair of high heels." When she was asked to wear a classy outfit for her final screen test, Behrs purchased some clothing from Nordstrom and didn't remove the tags in case she didn't get the gig and needed to get her money back.
Dennings had a much easier time securing her role. She had previously worked with the show's co-creator, Michael Patrick King, on a 2000 episode of "Sex and the City" titled "Hot Child in the City." Dennings played a wealthy teen socialite who seemed like someone Channing might have known in her previous life. "I don't think there's anybody else like her so we basically hunted her down for ['2 Broke Girls']," King told GQ in 2011. Luckily, Behrs and Dennings had undeniable chemistry on-screen, and they also became friends in real life.
Kat Dennings taught Beth Behrs some useful skills
After six seasons of serving up sweet treats and spicy jokes, "2 Broke Girls" was canceled in 2017, but Kat Dennings seemed certain that her and Beth Behrs' relationship would persevere. "We are so proud of our time on '2 Broke Girls' and of all the things this experience has given us, the most treasured is our lifelong friendship," she tweeted.
In a 2021 interview with The List, Behrs revealed that she and Dennings were still keeping in touch. "I was just talking to her the other day about our gardens, because she's the gardening expert," Behrs said. Her gal pal with the green thumb possesses another talent that came in handy when Behrs needed to make it look like she knew what she was doing for a scene in the 2015 movie "Hello, My Name Is Doris." On "The Drew Barrymore Show," Behrs confessed, "Kat had to teach me how to knit because I totally didn't know how."
Unlike their characters, Behrs and Dennings hit it off right away. "Even on hiatus, we still talk all the time," Behrs told Vulture in 2011. "It feels like I've known her, like, my whole life." The co-stars even came up with an adorable portmanteau name for themselves: Behr-Kat. So it's no shocker that Dennings told People Now that she'd be down to do a reunion show, while Behrs told Hollywood Life that she'd love to give fans an update on their characters' lives.
Beth Behrs helped Kat Dennings find love
In a very Caroline Channing move, Beth Behrs once played matchmaker for Kat Dennings. Behrs was close friends with musician Josh Groban, and she told People that she had to wait to set her two pals up with each other in 2014 because Dennings had been dating someone else. "It didn't take much coaxing for either of them," Behrs said. "They're both nerds at heart." Dennings confirmed that Behrs deserved some credit for their romance on "The Ellen DeGeneres Show," saying, "She's always talked about how great he is."
Unfortunately, the match didn't stick; Dennings and Groban called it quits in 2016. When someone is friends with a couple that breaks up, it can makes things awkward between that person and their pals, but in 2018, Behrs proved that she and Dennings were closer than ever by asking her former co-star to be one of her bridesmaids when she wed "Mad Men" star Michael Gladis. Dennings would eventually have her own wedding to plan; she got engaged to musician Andrew W.K. in May 2021. The following month, Behrs told PopCulture, "I'm so happy for her."
While both actors moved on to other projects — Dennings appeared in "WandaVision" and Behrs landed a lead role in the CBS sitcom "The Neighborhood" — fans of "2 Broke Girls" can take comfort in knowing that Dennings and Behrs have something sweeter than cupcake frosting that no amount of money can buy: an enduring friendship.