The Truth About Angelina Jolie And Elle Fanning's Friendship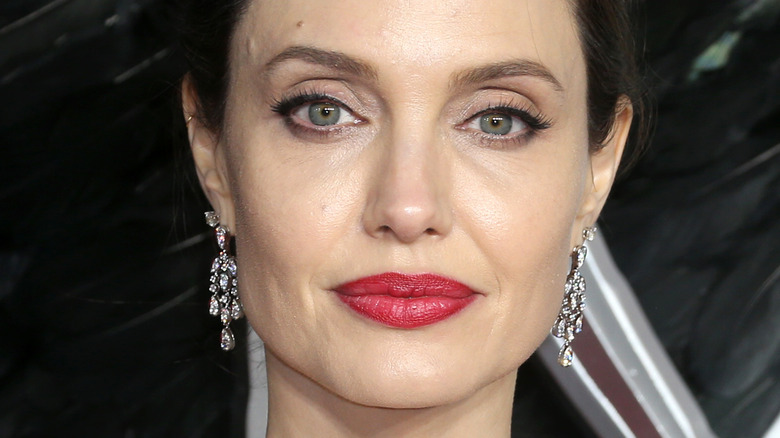 Cubankite/Shutterstock
Angelina Jolie doesn't really talk much about her friendships, although she's had plenty of high-profile ones with a few of her famous acquaintances over the years. In fact, no one can forget the playdate that Jolie and her kids had with Gwen Stefani in London back in 2011, per Us Weekly. Because she's not the kind of celebrity who will share selfies with her mom friends on Instagram or talk about her nights out with her gal pals, most of Jolie's fans were shocked to find out that she and Stefani were actually close. One source even said at the time, "All of the kids are very close in age. They've attended each other's birthday parties and gotten together several times at each others homes."
That said, Jolie has also admitted that there aren't a lot of people in her social circle. She told Marie Claire (via NBC News) in 2011, "I'll talk to my family," but added, "I don't know. I don't have a lot of friends I talk to." That might be one of the reasons why so many fans are surprised that Jolie also has a tight friendship with another unlikely Hollywood friend: Elle Fanning. 
Elle Fanning can count on Angelina Jolie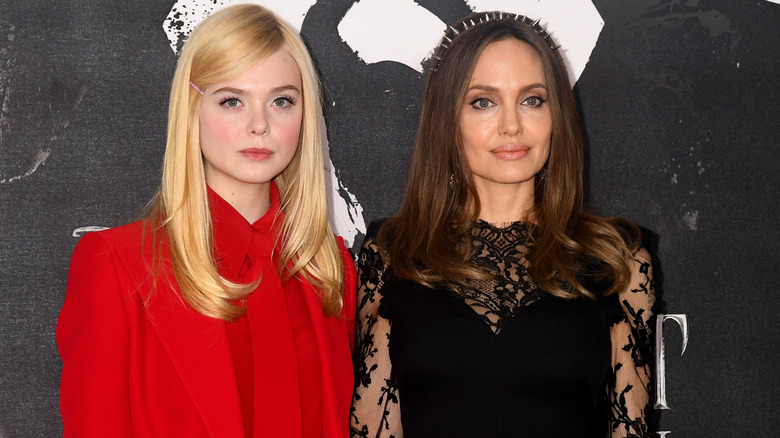 Dave J Hogan/Getty Images
With six children in her life, it shouldn't come as a surprise to anyone that Angelina Jolie is also very maternal with her younger co-stars on the sets of her films. In fact, Jolie and her "Maleficent" co-star bonded off-screen, as well as Elle Fanning told People in 2019 that their unlikely friendship has turned into a strong one in recent years. She said, "I'm older, and the things we can talk about now are different. I feel like I can ask her anything — and I have!" If that weren't enough, Fanning has also seen Jolie's mama bear side come out, but in a positive way. She added, "She really stands up for what she feels is right and will protect you at all costs. I've truly seen that — her nurturing and protective instincts. It's so beautiful."
In a joint interview with Entertainment Tonight in 2019, Jolie also told Fanning that she's always been proud of the way she's carried herself, despite the fact that she started her Hollywood career at such a young age. Jolie told Fanning, "You've also maintained — which I think is almost unheard of in this business — such sweetness and gratitude for the job and for every minute and for everybody." In 2020, Fanning also revealed another interesting turn in her friendship with Jolie.
Angelina Jolie doesn't have to censor herself around Elle Fanning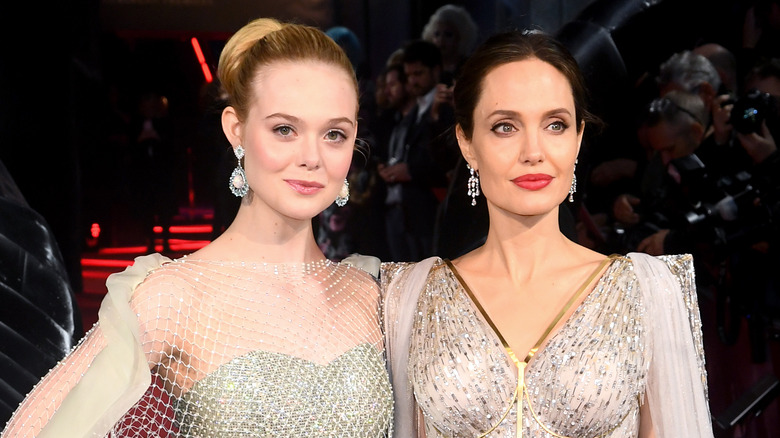 Dave J Hogan/Getty Images
While it's highly unlikely that fans will see Angelina Jolie grabbing a coffee with Jennifer Aniston or chatting with Gwyneth Paltrow at a red carpet event, if there's one person she can vent to from time to time, it would be Elle Fanning. The young actor told Marie Claire in an interview back in 2020 that Jolie sometimes doesn't hold back when she's talking to her. "Angelina's and my relationship definitely changed. She didn't have to look at me as a kid; she didn't have to censor what she could talk about. That was exciting, to have that relationship," she told the publication.
Now, as far as what Jolie has talked to her about, Fanning didn't say, but that hasn't stopped fans from guessing. Could it be about her separation from Brad Pitt? Or maybe her work as a celebrity humanitarian, or some of the more pressing matters in the world today? No one knows, but if there's anything that fans are sure of, it's that Jolie is the kind of friend anyone would feel lucky to have. It's no wonder Fanning keeps her so close.