Angelina Jolie And Brad Pitt Can Agree On One Truth About Shiloh Jolie-Pitt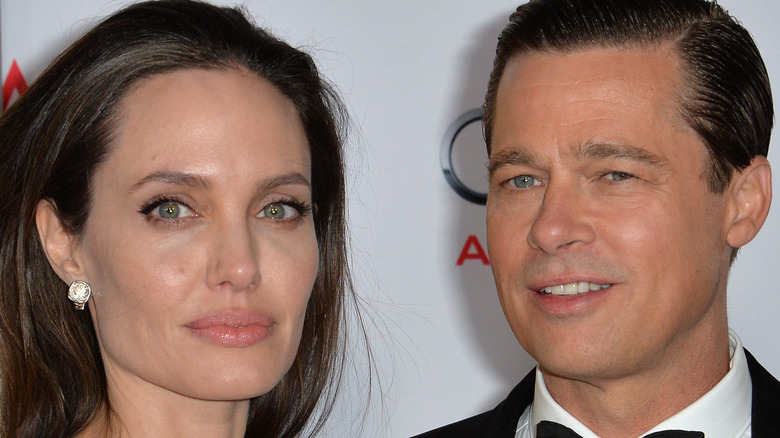 Featureflash Photo Agency/Shutterstock
Angelina Jolie and Brad Pitt have been playing out a real-life version of Mr. and Mrs. Smith (without the guns and machetes, presumably) since the shocking announcement of their split in 2016. The former spouses met and fell in love on the set of the 2005 action comedy that's about a married couple battling to kill each other. Although, both insist they kept things purely platonic, until after Pitt split from his then-wife Jennifer Aniston.
Nobody really knows what went wrong between Pitt and Jolie. After 12 years together, two years of marriage, and six kids, it appeared they would be together forever. But, then, just like that it was all over. A very nasty, very public and very drawn-out divorce followed. Accusations were hurled around and both told their version of events in various interviews. Jolie placed the majority of blame on Pitt's drinking and alleged weed smoking. He 'fessed up to developing, and then overcoming, a dependency on alcohol in an interview with GQ, admitting it played a part in their split.
Although their divorce was finalized in 2019, Pitt and Jolie's custody battle is reportedly still far from over. She continues to fight for sole custody of their children, alleging domestic abuse and admitting that she feared "for my family. My whole family." However, Angelina Jolie and Brad Pitt can agree on one truth –- about Shiloh Jolie-Pitt.
Shiloh Jolie-Pitt can really bust a move
There's been so much drama that's happened since Brad Pitt and Angelina Jolie's divorce that it's hard to keep up. However, Jolie and Pitt can agree on one thing and it's about one of their children. Which is pretty amazing, because when it comes to everything else, they're still duking it out. Pitt's latest of many lawsuits alleges Jolie "sought to inflict harm" and engaged in "unlawful and tortious conduct" when she sold her stakes in their former winery Château Miraval.
However, the proud parents did take a much-needed breather from their never-ending battle to praise their daughter Shiloh Jolie-Pitt. The teenager has grown into the spitting image of her parents. She shares the best physical features of both Jolie and Pitt, resulting in, well, a perfect hybrid. And, it seems Shiloh has also inherited her famous folks' talent for performing too. Although, she's taking to the stage to dance, not act.
Shiloh has been hitting the headlines for her viral TikTok vids showing off all her best moves. She's been getting rave reviews, with Pitt and Jolie as her biggest cheerleaders. "Brad and Angie are both very proud," a source told Us Weekly. "They'd have no issue if she wants to turn pro, but they're not pushing it on her by any means." Meanwhile, Shiloh continues to wow the crowds with her killer hip-hop moves. A recent video shows her busting out to "About Damn Time" by Lizzo, and she's definitely got her street down.
Shiloh has a close bond with Angelina Jolie and Brad Pitt
Frazer Harrison/kca2015/Getty Images
Shiloh Jolie Pitt is an inspiration to both her mother and father. As fans know, she is the couple's first biological daughter together, and she made plenty of headlines with her arrival back in 2006. The famous former couple does not talk about their kiddos in interviews very often, so when they do, it intrigues us.
In a sit-down with Entertainment Tonight in August 2020, Jolie revealed that it was Shiloh who inspired her to voice a character in "The One and Only Ivan." "Well, Shiloh years ago told me that she had read a book that she loved, and she wanted me to read it," she shared. "I read it on my own, and then we looked at some of it together and talked about why she loved it." Jolie did a little bit of investigating to see whether or not Hollywood had plans to make the book into a movie, and she found out that it was "in the works." She signed onto the project because of the special meaning to herself and Shiloh. "It's a very special story. It's an important true story, and I think that resonates with all of us," the actor revealed.
On the flip side, Pitt also shares a close bond with his first-born. "They have the same big heart," a source told In Touch of their similarities. "They're very compassionate and loving. They're both very open; they enjoy meeting new people. Shiloh seems to have somehow picked up Brad's midwestern demeanor." When it comes to her parents, it sounds like Shiloh got the best of both worlds.