What Really Happened Between Kat Dennings And Matthew Gray Gubler?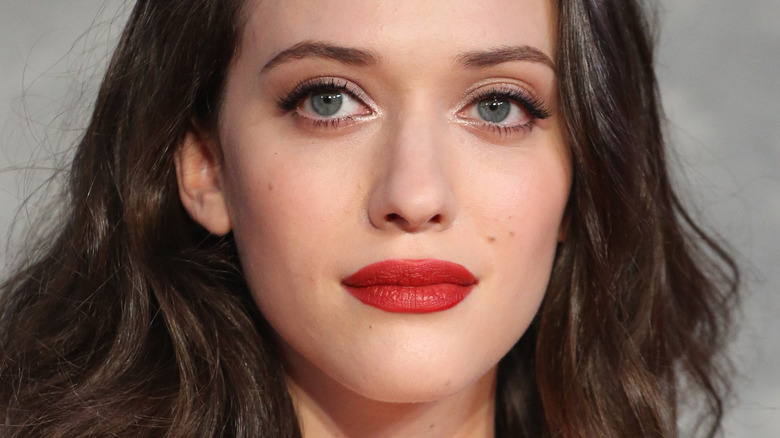 Featureflash Photo Agency/Shutterstock
Kat Dennings and Matthew Gray Gubler have more in common than you would think. In the late aughts, the actors both starred in quirky rom-coms with memorable music moments — "Nick and Norah's Infinite Playlist" and "500 Days of Summer," respectively — and they both landed roles on long-running CBS series. However, the characters they portrayed couldn't have been more different.
On "Criminal Minds," Gubler played Dr. Spencer Reid, a brilliant FBI agent who was endearingly nerdy, socially awkward, and courteous. Meanwhile, Dennings' "2 Broke Girls" character, Max Black, was a waitress with an acerbic tongue and a fondness for vagina jokes. But Gubler and Dennings discovered they were compatible enough in real life to couple up in 2007. "I fall in love with wonderful people and people that can't be replicated," Gubler told Glamour of what it takes to win his heart in a 2015 interview. As for Dennings, it doesn't sound like there's a dull moment when it comes to her relationships. "I've had a storied love life," she told InStyle in 2019.
According to Who's Dated Who, Dennings' dating history includes singer Josh Groban, actor Nick Zano, and musician Andrew W.K., to whom she got engaged in May 2021. As for Gubler, there were rumors that he and Taylor Swift were potentially an item in 2013, per Cosmopolitan. But, while it's evident that Dennings and Gubler have long since moved on from their relationship, they didn't cut ties with each other completely.
Kat Dennings and Matthew Gray Gubler worked on a horror movie together
In his 2015 Glamour interview, Matthew Gray Gubler revealed that his split with Kat Dennings was an amicable one, saying, "I'm still really good friends with her. I love Kat. She's the best." He explained that his long hours working on "Criminal Minds" were simply making it difficult to be in a serious relationship, but he did manage to find enough time to squeeze in the filming of the 2014 horror flick, "Suburban Gothic." One of his co-stars was none other than Dennings herself.
In an interview with Shockya, Gubler explained why he remained friends with his ex. "It's very rare to find weirdos who are like yourself, (laughs) so when you find them, you keep them close. Kat's one of them," he said. Dennings confirmed Gubler's assessment of her in a 2011 blog post, writing, "As you are undoubtedly aware from reading this endless omnibus of redonkulousness, I am kind of a weirdo."
In a 2007 post, Dennings described her Easter plans as thus: "Lying in the moss covered forest of life being fed grapes by the woodland elves of the universe." And in 2015, Gubler gave Vanity Fair a tour of the "haunted tree house" that he lives in, showing off a fireplace that he built himself and saying, "I wanted it to look like a drunk gnome had built it." So you can see how the two would get along.
Kat Dennings told a story that made fans feel bad for Matthew Gray Gubler
In a 2011 appearance on "Jimmy Kimmel Live!," Kat Dennings raised a few eyebrows when she confessed to occasionally using the exes who wanted to reconcile with her as her unwitting chauffeurs. "They did you wrong and it's just not happening, but you can be like, 'Well, drive me to Santa Monica if you like me so much,'" the actor said. She recounted how she had one of these exes drive her to Woody Harrelson's house, before sending him on his way. "I was like, 'Just leave,'" she recalled.
Dennings said that the ex in question was a Las Vegas native, which also happens to be where Matthew Gray Gubler is from. "I'm so hurt for Matthew," read one response to a video clip of the interview on YouTube. "How dare she speak on Matthew's name like that," another viewer wrote.
If Dennings was talking about Gubler, he's seemingly long since forgiven his ex. In addition to filming "American Gothic" with her, he played one of her potential love interests on the Hulu sitcom "Dollface" in a handful of episodes beginning in 2019. And it sounds like he'd work with her again in a heartbeat. "If I'm going to date someone, it's a real big thing for me," Gubler told Glamour. "It means that I feel that we're tied together for life, whether they like it or not!"