Inside Kate Beckinsale's Relationship With Her Daughter Lily Sheen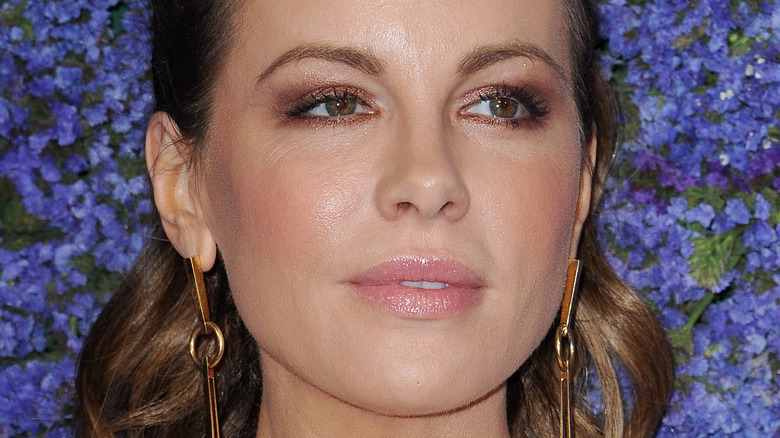 Tinseltown/Shutterstock
Kate Beckinsale and "Home Again" actor Michael Sheen were one of the many "it" couples of Hollywood back in the '90s. Per People, the actors first met in 1995 while on a touring production of the play adaptation of "The Seagull," and welcomed their daughter Lily Sheen in January 1999. Four years after Lily was born, Beckinsale and Michael called it quits and have since remained close friends.
But even though her relationship with Michael was short-lived, Beckinsale is forever grateful for the gift of their daughter. Like many others, motherhood came with some changes — one that has definitely influenced her art over time. "I have found being a mother has made me emotionally raw in many situations," Beckinsale told Parade in 2012. "Your heart is beating outside your body when you have a baby."
Now amid Beckinsale's strange love life and her rather busy schedule, the actor remains as close as ever to Lily. Here's a look into the relationship between the famous mother-daughter duo!
Kate Beckinsale wants Lily Sheen to find her own path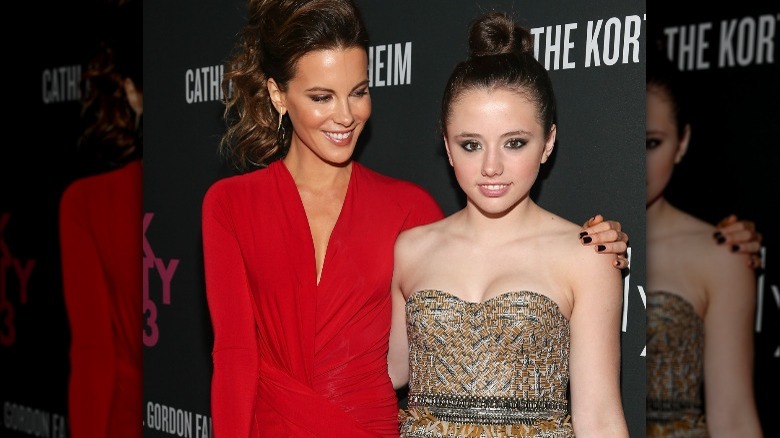 Imeh Akpanudosen/Getty Images
Like her mom, Lily Sheen is set to make a name for herself in Hollywood and Kate Beckinsale couldn't be any prouder. Still, Beckinsale is careful not to overwhelm her daughter's journey. "I'm not calling her up and saying, 'Now, I've got a pearl of wisdom, get ready!'" she told ET in October 2021. "It's been very important to me to be very independent in that respect."
The "Underworld" actor also explained that Lily, who used "Beckinsale" as her last name while growing up, dropped the name to avoid having to live in her mother's shadow. "I think it's really important to her to have her own thing and blaze her own trail and do her own stuff," Beckinsale said. "So as much as it's quite difficult not to kind of be poking into her business all the time, I really do respect that." Lily's first big role was starring as Nicolas Cage's daughter in the 2022 movie "The Unbearable Weight of Massive Talent."
But even though Beckinsale is clearly supportive of Lily, the young star told People in an April 2022 interview that her mom would have preferred if she became a surgeon. "You wouldn't want me to be doing any surgeries. And I think she knows that!" she quipped. Nonetheless, the 23-year-old is grateful for the support system she has in her parents. "Both my parents, they would've accepted whatever I did, which is incredibly lucky to have," Lily admitted.
Kate Beckinsale and Lily Sheen were separated for two years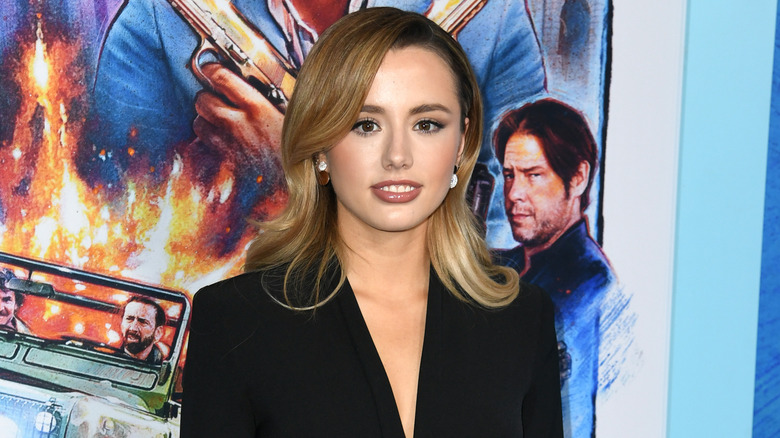 Jc Olivera/Getty Images
With Lily Sheen in New York pursuing her acting career and Kate Beckinsale living in Los Angeles, per the Mirror, the pair was faced with a new reality amid the COVID-19 pandemic — being apart from each other. During a July 2021 appearance on "Live with Kelly and Ryan," Beckinsale opened up about the agonizing time she spent unable to see Lily. "I haven't seen my daughter for two years because of everything," the "Total Recall" actor revealed. "Two years of not seeing your child is to me the most preposterous thought." However, as Beckinsale shared, the mother-daughter duo was able to keep in touch via FaceTime and phone calls.
Of course, regardless of thousands of miles between them, there was no way Beckinsale would have missed out on celebrating Lily's 22nd birthday, albeit on social media. "Well 22 you sly dog. Happy birthday @lily_sheen the best person ever invented," the "Jolt" star gushed on Instagram in January 2021. Thankfully, Beckinsale and Lily's separation eventually ended when the pair finally reunited on July 23, 2021 at John F. Kennedy International Airport in New York City, per Daily Mail.
Clearly not one to ever want to be too far away from her daughter, here is to hoping this adorable mother and daughter continue to spend as much time together as they'd like to!