How Chrissy Teigen Was Really Discovered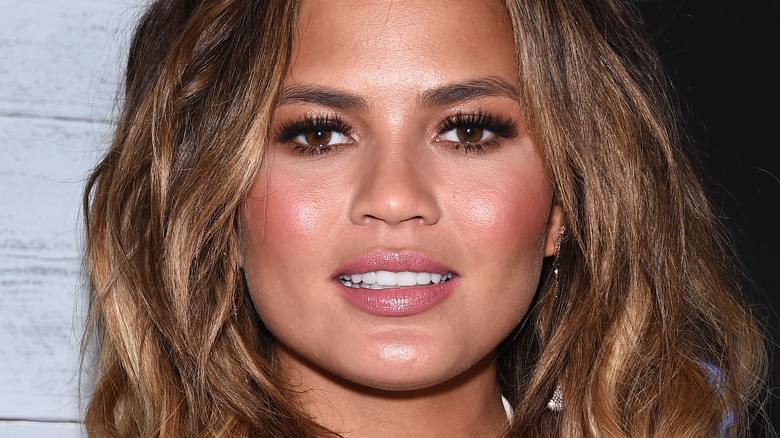 DFree/Shutterstock
Chrissy Teigen has evolved into a celebrity jack of all trades. That's because she's a television personality and host, a cookbook author, a social media enthusiast and, of course, a model. And while she's been on numerous magazine covers over the years, her job hasn't always been very easy. She told Net-A-Porter in 2019 that she wasn't the kind of model that rubbed elbows with Gisele Bündchen back in the day. She said, "I never thought of myself as a real model. I made consistent money working for catalogues and websites, where they didn't care if your eyes were open or closed, because you didn't even see my face. I was modeling the back of a shirt with words on it."
And while Teigen did get her big break by appearing on the cover of Sports Illustrated, fans can't help but wonder how she got discovered. Her story is an interesting one, if not also a unique one.
Chrissy Teigen never dreamt of becoming a model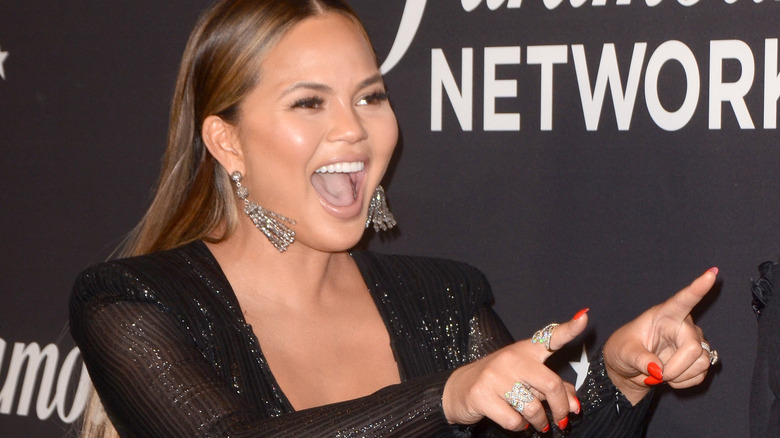 Kathy Hutchins/Shutterstock
Even though she's got the smoldering look down pat and knows how to walk a runway with the best of them, Chrissy Teigen once admitted that she never dreamt of becoming a model. In fact, she had other aspirations before she was discovered while working at a surf shop in California at the tender age of 18. Teigen told the Daily Beast that she originally wanted to be a teacher, or "do something with food." She explained, "But modeling, I just never thought I could do it myself really ever. I still have trouble calling myself a model. I just never thought I was tall enough or skinny enough. [When I was starting] it was the time of the very thin, waif-y runway models. So I knew I couldn't do that."
Luckily for Teigen, she did manage to "do something with food" in her life, as has two best-selling cookbooks and has another one in the pipeline, according to People. Teigen also often talks about all of the time she spends in the kitchen and is one celebrity who is not afraid of posting photos of herself chowing down on pizza or snacking on pickles with ranch seasoning. And while Teigen seems to have found her footing in the cookbook and food marketing world, she's also held on to some grievances from her past as a model, too.
Chrissy Teigen was fired from one of her first modeling jobs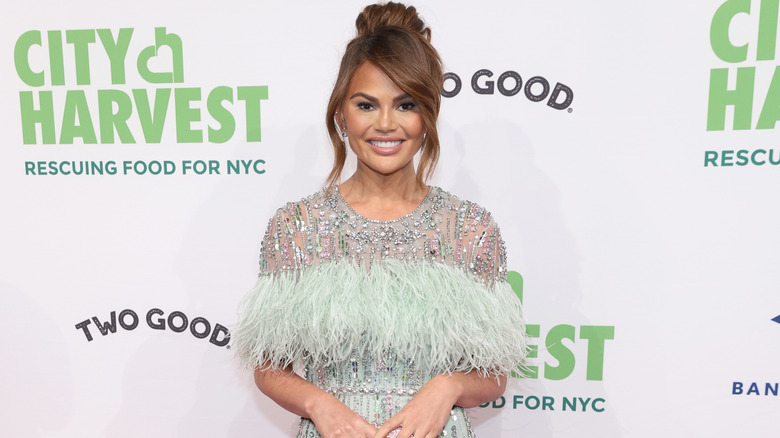 Dimitrios Kambouris/Getty Images
Chrissy Teigen admitted to DuJour that she's had plenty of highs and lows during her time as a print model. The celebrity mother-of-two said that she was pink slipped from a modeling job that she was supposed to do with shopping mall retailer Forever 21 for apparently not fitting their standards. She recalled, "They booked me directly when I was much younger, and [when] I showed up on set, they asked me if they could take a photo. And they shoot that photo off to my agency, who then calls me as I'm sitting in the makeup chair, and they say, 'You need to leave right now; they just said you are fat and you need to come get your measurements taken." If that weren't enough, Teigen exclaimed, "I hate you, Forever 21. I hate you so much. Honestly, you are the worst." Ouch.
Seeing how Teigen went on to pose for such prestigious fashion bibles, such as Vogue, Cosmopolitan, and even Vanity Fair, we would say that she has done fairly well for herself over the years, both in front of a camera and in her favorite place in the world: the kitchen.